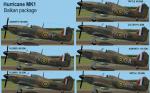 10.82Mb (371 downloads)
Seven new skins New 1680x1050 widescreen 2D panel with gauges Reworked dynamic shine. Uses the Aeroplane Heaven Hurricane. Morton
Posted Apr 13, 2013 22:38 by Morton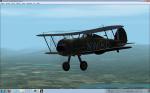 4.18Mb (395 downloads)
Gladiator Skins for thicko's Mk. II Gladiator model. While obsolete in the European theatre, the Gloster Gladiator played a major role for the Royal Air Force in North Africa and in Greece. The Gladiator proved, especially when flown agressively, an equal of the Italian biplane fighters, and could also handle some Italian monoplanes, such as the Fiat G-50 Freecia. In Albania, RAF 33, 80, and 112 Squadrons were primarily resonsible for offensive fighter sweeps and bomber escort until February 20th, 1941. On this day, Hawker Hurricanes equipped the pilots of RAF 80 Squadron, allowing for the Hurricanes to engage newer Italian monoplanes, such as the Macchi Mc-200 Saetta, and later German fighters, such as the Messerschmitt Bf-109 and Bf-110. These skins represent some of the aircraft flown by these brave pilots, including Nigel Cullen, Richard Acworth, and "Pat" Pattle.
Posted Apr 13, 2013 11:43 by Smashing Time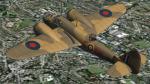 3.45Mb (334 downloads)
Five repaints for Thicko's wonderful Blenheim Mk. I, Mk. IF, and Mk. IV-I. These repaints are from the Greek campaign 1940-41. I have only included those that I have repainted so you will need the original texture folder and allow mine to overwrite them. I have also included a slightly revised DP For the Mk. IF so that it acts as a fighter not a bomber. One is for a Mk. I (Fighter) of 30 SQN RAF The other is for a Mk. IV-I of 84 SQN RAF. The only profile I could find for this machine showed it in temperate Dark Green/Dark Earth/Sky Type S. I believe that it should have the Mediterranean scheme. If anyone can find out definitely I can change the colours easily. The Mk. I is from 211 Sqn RAF in late 1941. The Mk. IV-I is from 113 Sqn RAF in March 1941. The Mk. IV-I is from 11 Sqn RAF. The colours are Light Earth/Dark Earth topsides and Light Mediterranean Blue under surfaces. My reference is Scale Aircraft Modelling Magazine April 1985, drawings by Mike Keep. These textures are freeware but not to be used in any payware release. Use at your own discretion. Watchdog 22
Posted Apr 13, 2013 11:41 by watchdog22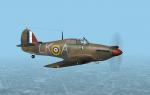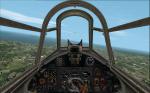 10.78Mb (1333 downloads)
Complete package with 7 skins for the Aeroplane Heaven Hurricane Mk1. Widescreen panel etc
Posted Mar 10, 2013 05:05 by Morton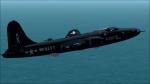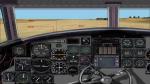 32.72Mb (620 downloads)
The Martin P4M Mercator was a maritime reconnaissance aircraft built by the Glenn L. Martin Company. The Mercator was an unsuccessful contender for a United States Navy requirement for a long-range maritime patrol bomber, with the Lockheed P2V Neptune chosen instead. It saw a limited life as a long-range electronic reconnaissance aircraft. Its most unusual feature was that it was powered by a combination of piston engines and turbojets, the latter being in the rear of the engine nacelles.
Posted Jan 22, 2013 18:35 by Pepe Rezende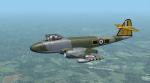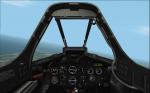 21.21Mb (1403 downloads)
Following the F3, here's then the upgrade of the Alphasim Gloster Meteor F8 with 8 new skins and new panel.
Posted Oct 15, 2012 16:30 by Morton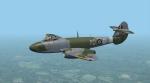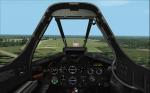 16.30Mb (711 downloads)
These textures will give your Meteor a much more realistic and detailed look than the old originals. And a new widescreen monitor panel is included as well.
Posted Oct 14, 2012 20:01 by Morton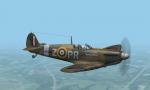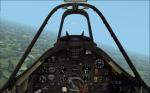 9.36Mb (2158 downloads)
The Aeroplane Heaven Spit MK1 really needed some new skins and a better panel. So here it is: 9 new skins New 1680x1050 widescreen 2D panel Reworked dynamic shine, weapons etc
Posted Oct 14, 2012 16:37 by Morton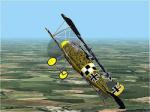 1.21Mb (432 downloads)
Repaint- Albatros DV Sachsenberg Skin for Aerocrate's Albatros DV By John Fortin (AKA Polar_Lion) The repaint is of Gotthard Sachsenberg Albatros D V of mid 1917. Original Aircraft: Gary Aumaugher and Model by David Eckert This download requires the Aerocrate's Albatros D.V aircraft available here: http://www.aerocrate.com/documents/Alb_DV.zip
Posted Aug 26, 2012 14:33 by John P Fortin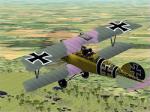 1.16Mb (515 downloads)
Repaint- Albatros DV Osterkamp Skin for Aerocrate's Albatros DV By John Fortin(AKA Polar_Lion) The repaint is of Theo Osterkamps Albatros D V of 1917. As there are no pictures, this is a fictional texture based on two descriptions of his aircraft. "Albatros D.V from July 1917 had mauve /green wings and horizontal stab. The fuselage natural wood stippled with mauve/green. Two black fuselage bands with thin white edges. Yellow spinner and forward cowling. Black(?) wheel centres and the serial number D.2130/17 with a small 24 above serial number." "Theo Osterkamp painted a Maltese cross and two black strips on his D.V D.2130/17 which then looked like a wasp." Original Aircraft: Gary Aumaugher and Model by David Eckert This download requires the Aerocrate's Albatros D.V aircraft available here: http://www.aerocrate.com/documents/Alb_DV.zip
Posted Aug 26, 2012 14:29 by John P Fortin