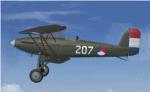 5.01Mb (797 downloads)
CFS2 Fokker D.XVII A Fokker build fighter for the Dutch L.VA, (Aviation section of the Dutch Army) as a replacement for the D.VII's. First flight 1932, Only 11 were build and they became obsolete short before the outbrake of war. Although a few were used to attack the invading German Forces. Textures by Wim Regeer using templates by Huub Vink. Aircraft design and flight dynamics Wim Regeer. CFS2 conversion by Pedro Paulo Rezende
Posted Nov 1, 2009 12:51 by wim regeer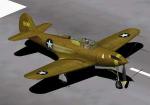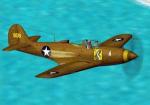 1.43Mb (580 downloads)
Two US Skins for the Stock CFS2 P-39. The zip contains two US textures, one without (Texture) the 8/11 Corbra insignia and one wtih (Texture2. Whether you fly the stocker or just use it as an AI in missions, she can use some new threads.
Posted Nov 1, 2009 02:17 by Tom Sanford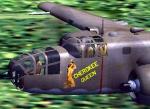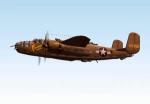 1.32Mb (1260 downloads)
This is yet another skin for TR's B-25C/D....available here on page 5. It's a simple drop-in texture folder to replace the original in your TR_B25cv aircraft folder.
Posted Oct 30, 2009 04:04 by Tom Sanford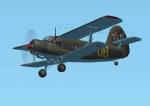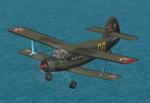 4.32Mb (895 downloads)
This is a straight forward development of my Fox Four AI 'Annie' to a much-improved player version. 'Annie' is a real treat to fly with exceptional low-speed and short-field capabilities. The AN-2 went into service in 1946, and remains in service to this day. She is the largest single-engine aircraft ever put into production. Textures by the Bob McGee (Bub). Panel by Matthias Lieberecht.
Posted Sep 26, 2009 22:57 by Tom Sanford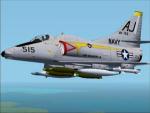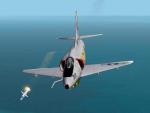 5.07Mb (6070 downloads)
This is the stock Alpha A4E Skyhawk modified for correct Wingman/AI performance and Afterburner Takeoff from the Catapult start position on aircraft carriers. There are no other downloads required. The aircraft uses the Alphasim Modern Weapons pack, included. The Panel is by Mike Eustace, IndioBlack, and contains the VN_GPS100A Gauge which can be called up using SHIFT+5(window 5) on your panel. This gauge is programmed for Korean and Vietnam airfields. Channels 1-40 for Korea, 45-60 for Vietnam
Posted Sep 26, 2009 22:25 by Tom Sanford
5.81Mb (620 downloads)
The design that took Emile Dewoitine's parasol fighter formula to the apex of its development was the D 27, which was evolved to meet the requirements of the STAe 1926 C1 leger programme for lightweight fighters. Adhering closely to the structural concept of preceding fighters, but embodying much aerodynamic refinement and a split-axle (with independently articulated wheels) rather than cross-axle undercarriage, the D 27 was powered by the 500hp Hispano-Suiza 12Mb (HS 57) 12-cylinder Vee engine and had an armament of two synchronised 7.7mm guns. The liquidation of the Construction Aeronautique E Dewoitine in January 1927 resulted in the transfer of development of the D 27 to the EKW in Switzerland, where a prototype flew on 3 June 1928. Swiss Fliegertruppe used them until 1940.
Posted Sep 14, 2009 22:22 by Pedro Paulo Rezende, AKA Peper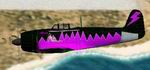 (8 downloads)
Athena Corsair repaint. This Aircraft is Dedicated to "Athena" of the 341st Sqn, known in the CFS2 Games for her honesty and dedication to the game as well as her positive attitude in both Vitories & Losses she just loves the game. Her favorite plane is the Nik2-J "George" although she is much more deadly in an A6M2, I decided to do this Re-paint in her honor. A Big ~S~ To You Athena Robert (Falcon) Heun. 1.6MB
Posted Aug 24, 2009 06:46 by archive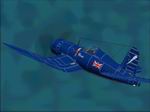 1.69Mb (262 downloads)
Carrie Corsair - default textures repaint. This Corsair is another one of My Re-paints I am dedicating to the "Girls of CFS2" This one is for "Carrie", one of the best Corsair pilots in CFS2, and very well known & loved in the Zone. Who also left her mark in the original CFS European theater Carrie... this ones for You! with a big " ~S~ " Thanks for all your help and Guidance. Robert (4thFG_Falcon1) Heun. 1.7MB
Posted Aug 24, 2009 06:46 by archive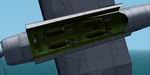 2.41Mb (1028 downloads)
CFS2 stock mdl replacements which enable the bomb bay doors on the TBF, B-25, B-24 and Betty bombers. Tweak dicovered by Lee Bruemmer. Files modified by John Shields. 2.5MB
Posted Aug 24, 2009 06:46 by archive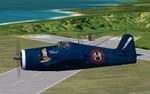 1.61Mb (470 downloads)
"LAce" Hellcat. 4thFG_Falcon Dedicates this Hellcat to Zonemember "OR_LAce" "LAce" is the most honorable and loved member in the CFS2 Games Her preferred weapon is the F6F3 Hellcat and she utilizes the Aircrafts ability to it's fullest, allowing her to dominate her opponents. "LAce......This one's for You" ~S~ Robert (4thFG_Falcon) Heun. 1.7MB
Posted Aug 24, 2009 06:46 by archive