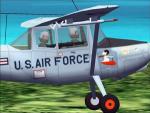 0.09Mb (508 downloads)
These files will visually add an M60 machine gun to the observer's position of the O-1F Bird Dog. Now you can give guy on the ground some fire support until the Sandies arrive on scene. The idea came from BUB, Bob McGee. I did the M60_MG.BGL and associated files. To install simply place the files from the download folders/subfolders into the corresponding folders/sunfolders of your CFS2 Main directory. This is freeware, but must not be uploaded to another site or modified without permission. Enjoy.
Posted Feb 11, 2010 13:20 by Tom Sanford, Tango_Romeo
0.01Mb (559 downloads)
This file will add texture to the smoke rockets on your Alpha O-1F Bird Dog. Simply paste the ~Tiny.bmp file into your SCENEDB/weapons/texture folder. You're done
Posted Feb 11, 2010 13:17 by Tom Sanford, Tango_Romeo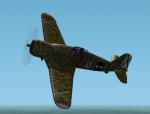 3.42Mb (1161 downloads)
This is the same model as the earlier G50 with a full cockpit added, higher tail and spinner removed. This aircraft was one of the best fighters used by Nationalist forces in the Spanish Civil War. Model by William Dickens Airfile by Pedro Paulo Rezende, altered by W. Dickens Panel by Pedro Paulo Rezende Paint Scheme adapted by W. Dickens Prop Textures by Kelticheart Engine from Dave Eckert Source
Posted Feb 10, 2010 22:35 by William Dickens
0.00Mb (500 downloads)
Hi All, Found the right files, so here they are. Installation is straightforward, just put the files in their appropriate places. If you have problems, let me know and I'll try to get you fixed up. Thanks to TR for his assistance. Bub
Posted Feb 10, 2010 21:27 by Bob McGee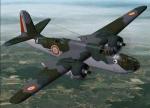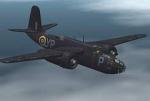 4.12Mb (1675 downloads)
The TR_Boston represents the early model A-20/DB-7/Boston. The skin is DB-7 #96 of GB I/19, 2nd Escadrille, l'Armee de l'Air, 1940 by James Peach, Sopwith Chameleon: http://sopwithc.wetpaint.com An alternate RAF skin is provided: Havoc Night Intruder of 23 Squadron, 1940. The engine graphic used in both skins is by Larry Brown, AKA Oldwheat. Weapons are by FDG. Please checkout the CHECKLIST and NOTES for valuable flight and navigation information. Be aware that the panel is fully equipped with AP and ADF. To install simply place all files from the download folders into the respective folders of your CFS2 Main Directory. This is freeware but must not be uploaded at any other site, or modified without permission. Enjoy!
Posted Feb 10, 2010 15:38 by Tom Sanford, Tango_Romeo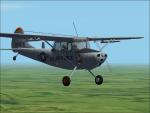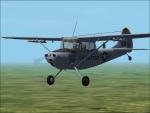 5.76Mb (1579 downloads)
This Aircraft is the AlphaOldies O-1F BirdDog. The textures are mine and represent "Little Puff" of the 19th TASS out of Bein Hoa Air Base. Check the readme's for the credits and other info relating to this aircraft. Thanks to all who made this possible. Have Fun, Bub
Posted Feb 10, 2010 14:19 by Bob McGee
2.32Mb (957 downloads)
This upload is a complete one and intends to representate a French MB.151 at 1939. They were used as training fighters but were used in anger at the German attack. This upload contains a modified Oldwheat MB.152 texture file. It was painted using a Wing Pallete image. I rename texture folder, the model folder, airfile, DP and air.cfg to avoid conflict with the Greek version. I also included a panel that intends to be more representative of the one used by MB.151 to MB.155 fighters. In Brazil we say that there are three way of doing: the right, the wrong and the French way, everytime a criative and unique approach, but, sometimes, not a pratical one. Believe it or not, almost all French single engined fighters, with the notable exception of Dewoitine D.520, used NO artificial horizon. They used a complex instrument that measures speed, angle of attack, turn indicator and G Forces! It was installed at the panel centre. But they NEVER flew without a precision altimeter that mesures each meter high. They used it to very low attack aproach (sometimes only 10 meters, around 30ft) and to land. Unhappily, to be completely truthfull, we need a new engine control. To accelerate, they push the throttle instead of pull it (the only country that used it). The French Hawk 75 were made within this requirement. This cause a lot of incidents when Free French and ex-Vichy pilots converted to American, British and Soviet planes. Good flights Pepe
Posted Feb 7, 2010 00:28 by Pedro Paulo Rezende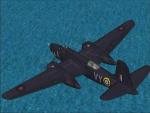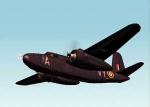 1.91Mb (1080 downloads)
This is the British conversion of the DB-7/Boston to duty as a nightfighter they dubbed the Havoc. This name soon stuck to the entire US line of A-20s. She carried an eight-MG forward-firing armament in the nose, and the Mk IV radar. The standard medium bomber versions continued to be known as the Boston, and came in three marks. The skin is by Sopwith C and is from RAF 23 Sqdrn Nightfighter, the rest is by myself. To install simply paste the TR_Havoc folder into your CFS2 Aircraft folder. Enjoy! This is freeware, but must not be posted to other sites or modified without permission. Enjoy!
Posted Feb 6, 2010 22:24 by Tom Sanford, Tango_Romeo
0.84Mb (553 downloads)
Tweaked MDL file for the CFS2 TR_P-70_Nighthawk (Not the TR_P-70B... This MDL file simply improves the fit and detail around the rear canopy and frame. Just drop the file into the Model folder, allowing it to overwrite the original. Your done.
Posted Feb 5, 2010 18:21 by Tom Sanford, Tango_Romeo
1.68Mb (1039 downloads)
These are textures for the B24 Guy's Stock Avenger Overhaul found here: They represent the TBM-1c Avenger, "Charlie 88", flown by Lt. T.B. Coughtie and his crew, PO2 J. Simokatis and PO2 E.W. Yates of Composite Squadron VC-20, stationed aboard the USS Kadashan Bay, CVE-76. This unit flew against the Japanese fleet at Leyte Gulf attacking the Yamato and Nagato. The aircraft goes well with Collin's new CVE-76 which can be dowloaded here: http://www.simviation.com/lair/cfs2shipyard.htm The base texture is from a revamp of the stock one done a while back. Unfortunatly I can't remember who. I wish to thank whomever for pushing me in the right direction. I removed most of the weathering, did some recoloring and added the markings. Installation is straightforward and as usual all legalities apply. Have fun!
Posted Feb 5, 2010 00:14 by Bob McGee