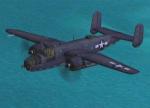 3.28Mb (1425 downloads)
Marines do love their Peanut Butter & Jelly. The attached file contains an original PBJ-1C, the Marine version of the B-25C. Textures by Sopwith Chameleon. It is not, however, just a blue B-25. The retractable ventral turret has been replaced by a retractable radome for a surface search radar, and that position can also be occupied by a 300-gallon drop tank for long-range missions. The radome is operated by the EXITS command. The PBJ also had two fixed .50s firing forward in addition to the bombardier's flexible gun, and sported a single .50 in the tail position with the tailcone replaced by flat plexiglass plate. The texture is by Sopwith Chameleon and the Droptank is by Pen32Win. The droptank is included in the download.
Posted Jun 17, 2009 18:48 by Tom Sanford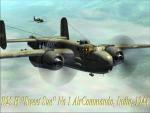 1.15Mb (821 downloads)
This is an alternate skin for Tango's B-25H by Sopwith Chameleon. 'Sweet Sue' flew with the 1st Air Commando in India.
Posted Jun 17, 2009 18:34 by Tom Sanford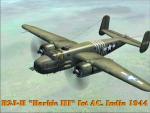 3.58Mb (1930 downloads)
This is an original model of the B-25H based. The model features breaking parts, has a full DVC and is LODed for higher framerates. The objective being to provide a good mixture of realism and performance. This particular version is skinned by the incomparable Sopwith Chameleon as'Barbie III'. Textures for the G Model should also fit the H without modification. The MDL file is shined, but an unshined version is included in the Model folder (MNS extension) for those who wish a truly flat finish. The model has a nice 'mouseable' 2D panel with AP (Gauges included), animated forward and rear hatches and a bombay toggled by the SPOILER command. She is armed with sixteen .50 cals and a 75mm cannon, DBolt's bombs, my AI Bombs, an auxiliary dropable fuel tank by the inexhaustible Pen32Win and the standard torpedo (all weapons included). She is also equipped with a rear gunsight which shows in the rear view of the 2D cockpit. The forward guns are on the gun trigger and the turrets are on the cannon trigger.
Posted Jun 17, 2009 18:27 by Tom Sanford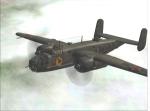 3.42Mb (744 downloads)
This is an original model of the B-25C30 export model flown primarily by Russia. The skin is by Sopwith Chameleon, , the droptank for Bombs Medium Longrange by Pen32Win and the B25_AI_Bombs by myself. All are included in the download. The name of the aircraft is "For the Blood of Vitebsk!", a reference to the hometown of the pilot.
Posted Jun 17, 2009 18:10 by Tom Sanford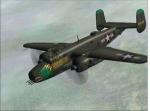 4.69Mb (1344 downloads)
This is the 'painted nose' gunship version of my original B-25C (C1)that served extensively in the Pacific theatre as a shipping raider. The authentic Dragon Skin is by Sopwith Chameleon.
Posted Jun 17, 2009 18:03 by Tom Sanford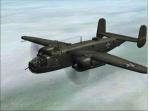 4.56Mb (1335 downloads)
This download contains four skins by Sopwith Chameleon for Tango's new TR_B25VC: - Dirty Gerty From Bezerte - Ruptured Duck - Hari-Kari-Er - RAF
Posted Jun 17, 2009 00:39 by Tom Sanford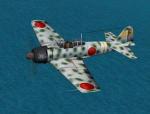 2.35Mb (1478 downloads)
This is a rework of Ivan Hsu's A6M2 source file into the clip-winged A6M3 Type 32 Zero fighter. She is wearing the color scheme of Zeros flying out of Rabaul.
Posted Jun 16, 2009 02:47 by Tom Sanford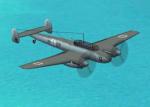 4.23Mb (1587 downloads)
This is an original model of the primary production model of the Messerschmidt BF110, the C model, which was used in the Battle of Britain. The model has breakable parts and is multi-LOD for good FPS, It features full animation, except for the canopy, including steerable tailwheel. She has a nice 2-D panel by Paul Metcalf with AP,ADF and GPS panels, as well as a basic VC. An alternate texture (Gray Camo) has been provided in the GRYtexture folder. You can switch it out with the Blue/Green version as you like.
Posted Jun 16, 2009 02:30 by Tom Sanford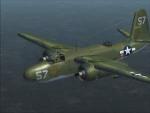 6.93Mb (2616 downloads)
This is a new A-20G Havoc. Features include multi-LOD, full DVC, rear gunsight, full animation including the canopy, landing light, bomb bay and ventral gun position. Textures by Sopwith Chameleon. Weapons are by FDG and are included. She is skinned as A-20G, 'Irene', 646th BS/410th BG, 9th AF,RAF Gosfield, 1944/5. The panel includes windows for throttle, trim, AP and ADF. There are three alternate skins included in the package's Alternate Textures folder. The project is based on the original FDG FSC file.
Posted Jun 16, 2009 02:21 by Tom Sanford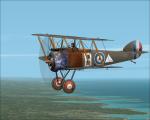 14.38Mb (1618 downloads)
Sopwith_Camel_148th aero squadron USA version2. cfs2 aircraft only. The fourth in a selection of world war one aircraft, uses new sounds (130hp clerget), includes missing textures from version1, revamped aircraft.cfg allowing prop disc to be shown, modified MOI eliminating shuddering at high speed. complete aircraft in 148 aero squadron colours with modified mdl adding spinner. This model (version2) was created using FSDSpro, animated wheels with SDLEdit, it has multi-res mdl. Please do not upload this to any other sites. This item is a part of several ww1 aircraft uploads in the near-ish future. P J Walker.
Posted Jun 14, 2009 16:55 by peter jonathan walker