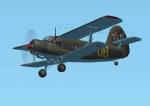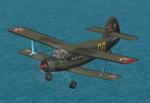 4.32Mb (952 downloads)
This is a straight forward development of my Fox Four AI 'Annie' to a much-improved player version. 'Annie' is a real treat to fly with exceptional low-speed and short-field capabilities. The AN-2 went into service in 1946, and remains in service to this day. She is the largest single-engine aircraft ever put into production. Textures by the Bob McGee (Bub). Panel by Matthias Lieberecht.
Posted Sep 26, 2009 22:57 by Tom Sanford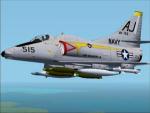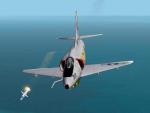 5.07Mb (6226 downloads)
This is the stock Alpha A4E Skyhawk modified for correct Wingman/AI performance and Afterburner Takeoff from the Catapult start position on aircraft carriers. There are no other downloads required. The aircraft uses the Alphasim Modern Weapons pack, included. The Panel is by Mike Eustace, IndioBlack, and contains the VN_GPS100A Gauge which can be called up using SHIFT+5(window 5) on your panel. This gauge is programmed for Korean and Vietnam airfields. Channels 1-40 for Korea, 45-60 for Vietnam
Posted Sep 26, 2009 22:25 by Tom Sanford
5.81Mb (689 downloads)
The design that took Emile Dewoitine's parasol fighter formula to the apex of its development was the D 27, which was evolved to meet the requirements of the STAe 1926 C1 leger programme for lightweight fighters. Adhering closely to the structural concept of preceding fighters, but embodying much aerodynamic refinement and a split-axle (with independently articulated wheels) rather than cross-axle undercarriage, the D 27 was powered by the 500hp Hispano-Suiza 12Mb (HS 57) 12-cylinder Vee engine and had an armament of two synchronised 7.7mm guns. The liquidation of the Construction Aeronautique E Dewoitine in January 1927 resulted in the transfer of development of the D 27 to the EKW in Switzerland, where a prototype flew on 3 June 1928. Swiss Fliegertruppe used them until 1940.
Posted Sep 14, 2009 22:22 by Pedro Paulo Rezende, AKA Peper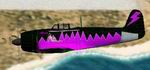 (8 downloads)
Athena Corsair repaint. This Aircraft is Dedicated to "Athena" of the 341st Sqn, known in the CFS2 Games for her honesty and dedication to the game as well as her positive attitude in both Vitories & Losses she just loves the game. Her favorite plane is the Nik2-J "George" although she is much more deadly in an A6M2, I decided to do this Re-paint in her honor. A Big ~S~ To You Athena Robert (Falcon) Heun. 1.6MB
Posted Aug 24, 2009 06:46 by archive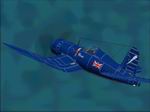 1.69Mb (319 downloads)
Carrie Corsair - default textures repaint. This Corsair is another one of My Re-paints I am dedicating to the "Girls of CFS2" This one is for "Carrie", one of the best Corsair pilots in CFS2, and very well known & loved in the Zone. Who also left her mark in the original CFS European theater Carrie... this ones for You! with a big " ~S~ " Thanks for all your help and Guidance. Robert (4thFG_Falcon1) Heun. 1.7MB
Posted Aug 24, 2009 06:46 by archive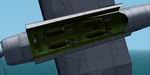 2.41Mb (1115 downloads)
CFS2 stock mdl replacements which enable the bomb bay doors on the TBF, B-25, B-24 and Betty bombers. Tweak dicovered by Lee Bruemmer. Files modified by John Shields. 2.5MB
Posted Aug 24, 2009 06:46 by archive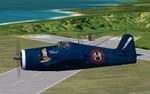 1.61Mb (562 downloads)
"LAce" Hellcat. 4thFG_Falcon Dedicates this Hellcat to Zonemember "OR_LAce" "LAce" is the most honorable and loved member in the CFS2 Games Her preferred weapon is the F6F3 Hellcat and she utilizes the Aircrafts ability to it's fullest, allowing her to dominate her opponents. "LAce......This one's for You" ~S~ Robert (4thFG_Falcon) Heun. 1.7MB
Posted Aug 24, 2009 06:46 by archive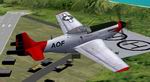 2.52Mb (693 downloads)
CFS2/FS2000 P-51D Mustang Tuskeegee of the 100th Fighter Group. This is a North American P-51D Bomber Escort . The Tuskeegee of the 100th Fighter groups Paint scheme. repaint-Robert Heun E-mail Note- There is no sound or panel on this aircraft. 2.6MB
Posted Aug 24, 2009 06:46 by archive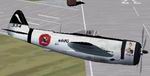 2.55Mb (857 downloads)
Updated P-47N Thunderbolt. Revision 1.2 New version with updated visual model & other improvements. Final long range version of the P-47 developed for use in the Pacific Theater. All moving parts model designed specifically for good frame rates in Multi play on almost any system. Includes panel & sound files. By Bill "_352nd_Razor" Ross. 2.5MB
Posted Aug 24, 2009 06:46 by archive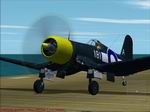 1.02Mb (628 downloads)
Corsair of 1850 Squadron Fleet Air Arm, Served from Carrier HMS Vengeance In the Pacific. Textures only fits perfectly to the stock Corsair!!! By George Cox. 1MB
Posted Aug 24, 2009 06:46 by archive