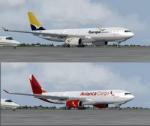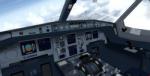 77.52Mb (2728 downloads)
FSX/P3D Airbus A330-200F Avianca/Tampa Cargo twin pack. Avianca Cargo is a Columbian airline formerly called Tampa cargom and operate 5 Airbus A330-200F to Miami and south American destinations. Model by Thomas Ruth. Added the better Thomas Ruth modified VC with latest updates by Chris Evans and Louis Quintero. I added the textures by Leonardo Corrales. Fixed contact points. Added wing views and better VC. Includes built in FMC by Garret Smith. FMC will display in VC. Includes A330 manual. Custom A330 sounds included. FSX : requires either FSX Acceleration or Service packs 1 & 2. Assembled and tested in P3Dv4 by Chris Evans Should also be fine in FSX and earlier P3D versions.
Posted Feb 9, 2019 08:45 by chris evans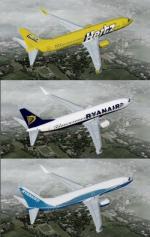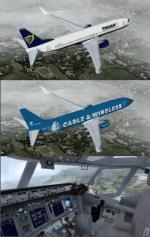 36.56Mb (2080 downloads)
FSX/P3D Boeing 737-800 Ryanair 5 livery package. Ryanair is an Irish airline founded in 1984 and based at Dublin and London Stansted Airports and is the single largest airline in Europe with a fleet of 438 Boeing 737-800, the world's largest operator of the Boeing 737-800. Original Boeing 737-800 model for FS2004 by Eric Cantu/Kittyhawk, converted to FSX native by Eagle Rotorcraft Design. The VC is the Alejandro Rojas Lucena/FSND fantastic revised Boeing 737-800 VC model. This VC model includes Working wipers (right mouse click on switch) with rain effect. Switches for LCD Screens, EICAS, PFD, MFT. Autobrake switch. Opening pilots window. Cabin Lights switch. Realistic FMC. Ground Proximity Warning System (GPWS), More Realistic night VC textures. There are custom Boeing 737 sounds included for that extra realism. I have added the great textures by Andy Medley, Dirk Kiefer. Converted to DDS format. Included a Boeing 737 checklist. See VC docs to get the best out of the VC and FMC. Assembled and prepared for P3D4.2 by Chris Evans. Will also work in earlier P3D versions as well as FSX.
Posted Feb 8, 2019 11:43 by chris evans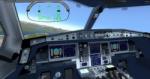 82.14Mb (1819 downloads)
FSX/P3D Airbus A350-900 French Bee Package. Based at Paris-Orly Airport, French Bee (formerly French Blue) is a French leisure airline flying to tourist destinations around the world. As of February 2019, French Bee operate 2 A350-900 with another awaiting delivery. Added the better Thomas Ruth VC with updates by Louis Quintero and Chris Evans. Use FMC under Views/Instrument panel in FSX menu. (FSX : Go to Views -Instrument Panel. P3D: Go to Vehicle - Instrument panel). Added better views. Added the high quality textures by Joel Branchu. The Airbus A350 XWB is a family of long-range, twin-engine wide-body jet airliners from the European aircraft maker Airbus. The A350 is the first Airbus aircraft with both fuselage and wings made mainly from carbon fibre structure. The A350 is intended to replace the A340 and compete with Boeing's 787 and 777. Tested on P3Dv4.2 and should be ok in FSX and earlier P3D versions by Chris Evans.
Posted Feb 7, 2019 11:10 by chris evans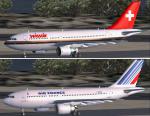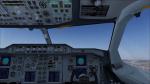 91.13Mb (2199 downloads)
FSX/P3D 3 & 4 Airbus A310-221 Swissair HB-IPB "Neuchatel" and Airbus A310-203 Air France F-GEMG. Swissair operated 9 A310's, while Air France operated 11. FSX Native Model by Thomas Ruth, with full animations and flexi-wings. Complete A310 VC by Thomas Ruth, with Altitude Callout, FMC and night lighting corrections. Updated flight dynamics: combined engine performance for P&W and GE turbines, weight and balance, aircraft geometry, contact points, electricals and other parameters. Realistic P&W JT9D-7R4D1 and GE CF6-80C turbofan engines and environment sounds. All textures are highly detailled, saved in DXT3 format, with updated alpha layers and specular lighting. Also features 12 external camera views, new lighting, new effects and correct ATC callsign, type and model. Jetway ready (CTRL-J). Frame rate friendly. Tested with FSX Acceleration and DX10. Although not tested, should work in P3D 3 & 4.
Posted Feb 7, 2019 05:40 by Philippe Marion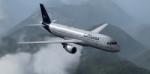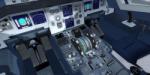 88.87Mb (2598 downloads)
FSX/P3D Airbus A320-200 Lufthansa new colors package. Lufthansa is Germany's flag carrier airline and the Lufthansa Group of airlines is Europe's largest. As of February 2019, Lufthansa operate 73 Airbus A320-200 and a further 3 on order. Added the better Thomas Ruth VC with updates by Louis Quintero and Chris Evans. Use FMC under Views/Instrument panel in FSX menu. (FSX : Go to Views -Instrument Panel. P3D: Go to Vehicle - Instrument panel). Added better views. Model by Project Airbus. Added the realistic weathered textures by Stefan Bree. Converted textures to DDS. FMC by Garret Smith. Includes A320 checklist by Werner Schott. Airbus sounds included. Tested in P3D v4.2 and should be ok in FSX and other P3D versions. Zip preview for images. Custom packaged by Chris Evans
Posted Feb 5, 2019 07:21 by chris evans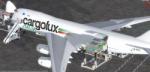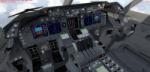 48.65Mb (1267 downloads)
FSX/P3D Boeing 747-400F Cargolux Italia Package. Based at Milan-Malpensa Airport, Cargolux Italia is the Italian division of Cargolux and as of February 2019, operate 4 Boeing 747-400 Freighter aircraft. Project Opensky Boeing 747-400 assembled and upgraded for FSX with the fantastic Boeing 747 internal cockpit (VC) from Alejandro Rojas Lucenda (Manual included). This is the Project Opensky FSX native Boeing 747-400F model, and includes ground cargo servicing, stairs (FSX - Go to Views - Instrument Panel -Posky Utility. P3D go to Vehicle - Instrument Panel -). Included CF engine sounds from BrandonG, with realistic jet whine to make your flight sound great. Thank you to Project Opensky for their contributions to the worldwide community of flight simulation. I have added the quality textures by Xudeva Irribarra. Also includes the Boeing 747 VC textures upgrade. This give a much clearer 747 interior virtual cockpit look. Zip preview for larger pictures. Added wing views. Tested in P3D v4.2 and should be ok in FSX and previous P3D versions. Zip preview for images. Custom packaged by Chris Evans
Posted Feb 4, 2019 11:49 by chris evans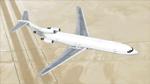 101.97Mb (1326 downloads)
Originally designed by Erick Cantu under the Vistaliners label, now available as FSX native models. Features 4 models, specular mapping, bump mapping, virtual cockpit by Thomas Ruth, authentic Pratt & Whitney JT8D sounds by Adam Murphy. By Eagle Rotorcraft Simulations
Posted Feb 4, 2019 06:20 by George Arana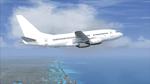 27.98Mb (858 downloads)
Originally designed by Erick Cantu under the Kittyhawk Studios label, now available as FSX native models. Features 4 models, specular mapping, bump mapping. Virtual cockpit, sounds, panel aliased from the default Boeing 737-800. By Eagle Rotorcraft Simulations
Posted Feb 3, 2019 21:19 by George Arana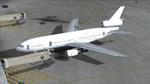 18.85Mb (954 downloads)
Originally designed by Erick Cantu under the SGA/FFX label, now available as FSX native models. Features 6 models, specular mapping, bump mapping, virtual cockpit by Thomas Ruth. By Eagle Rotorcraft Simulations
Posted Feb 3, 2019 21:19 by George Arana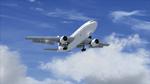 36.61Mb (777 downloads)
Originally designed by Erick Cantu under the SGA label, now available as FSX native models. Features 6 models, specular mapping, bump mapping, virtual cockpit by Thomas Ruth
Posted Feb 3, 2019 21:19 by George Arana