51.10Mb (1956 downloads)
FSX/P3D (all versions) Boeing 727-200 American Airlines Package. America & the world's largest airline, American, operated the Boeing 727-200 between 1964 and 2002. Boeing made the classic 727-200 between the early 1960's to 1984. It has a max. range of 2700nm. Boeing 727-200 model by TDS/ Tenkuu Developers Studio with Thomas Ruth's great Boeing 727 VC added. Includes utility for ground services, Passenger bus, cargo, stairs, refuelling truck etc (find it under - Views - Instrument panel - Util) The wonderful native FSX Boeing 727-200 from TDS will be enjoyed by many more people with this VC added to this FSX native model. The VC includes working wipers, Honeywell FMC and more. See Panel manual for more info. I have used the high quality textures by Stephen Groom. Model is not modified in any way. Thomas Ruth VC added and aircraft.cfg edited to allow correct VC views, wing views etc. TDS wonderful native FSX Boeing 727-200 model. See panel docs to get the best out of the VC. Zip preview for more imgages. Tested on P3Dv4 and should be ok in FSX and earlier P3D versions by Chris Evans
Posted Jul 20, 2018 09:14 by chris evans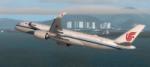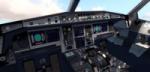 74.91Mb (1370 downloads)
FSX/P3D Airbus A350-900XWB Air China package. Air China is China's national airline and one of China's major airlines. Based at Beijing–Capital International Airport, Air China has a fleet size of over 400 flying to destinations around the globe. As of July 2018, Air China have 10 A350-900 on order with deliveries due to start anytime. Added the better Thomas Ruth VC with updates by Louis Quintero and Chris Evans. Use FMC under Views/Instrument panel in FSX menu. (FSX : Go to Views -Instrument Panel. P3D: Go to Vehicle - Instrument panel). Added better views. Added the quality textures by Mario Gasparella The Airbus A350 XWB is a family of long-range, twin-engine wide-body jet airliners from the European aircraft maker Airbus. The A350 is the first Airbus aircraft with both fuselage and wings made mainly from carbon fibre structure. The A350 is intended to replace the A340 and compete with Boeing's 787 and 777. Tested on P3Dv4 and should be ok in FSX and earlier P3D versions by Chris Evans
Posted Jul 19, 2018 08:20 by chris evans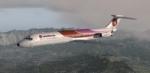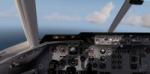 83.69Mb (1167 downloads)
FSX/P3D (all versions) Native McDonnell Douglas DC-9-50 Hawaiian Multi Livery Package. Honolulu based Hawaiian Airlines is America's 10th largest airline and operated the DC-9-50 between 1975 and 2001 . This package includes liveries of 1975, 1980's, 1990's and the last 1999 livery. This is the native SGA MD DC-9-50 conversion by Eagle Rotorcraft Simulations of the Eric Cantu/SGA original. The DC-9 has an analogue cockpit so the nearest analogue jetliner VC I can find is Thomas Ruth's DC10 which I have slightly modified to resemble a 2 engine jetliner. Please ignore 3 throttles! I have added the great textures by James Kremmel. Model is not modified in any way. VC added and textures. Fixed wheel sink. Views fixed. See VC docs to get the best out of the FMC. Thank you to Eric Cantu, Eagle Rotorcraft, Thomas Ruth and Simviation for their great contributions to the flight simulator hobby. Assembled and prepared and tested for P3D (all versions) & FSX by Chris Evans.
Posted Jul 18, 2018 07:26 by chris evans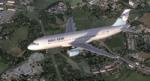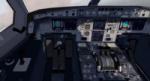 71.87Mb (459 downloads)
FSX/P3D Airbus A320-200 Aigle Azur package (updated). Based at Paris Orly Airport, Aigle Azur is France's 2nd airline and currently (July 2018) operate 9 A320 aircraft to destinations around Europe and North Africa. Added the better Thomas Ruth modified VC with latest updates by Chris Evans and Louis Quintero, camera views, jetways and wheel levels. Model by Project Airbus. Textures by Mathieu Vos. Enhanced VC & panel included by Thomas Ruth with updates by Louis Quintero, FMC by Garret Smith. Airbus sounds included. Tested in P3D v4 and should be ok in FSX and other P3D versions. Zip preview for images. Custom packaged by Chris Evans. Previous version had 1542 downloads.
Posted Jul 17, 2018 08:19 by chris evans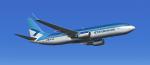 11.18Mb (162 downloads)
TDS Boeing 737-800 Estonian Airlines textures by Jacques Louw. Estonian Air was the flag carrier airline of Estonia between 1991 and 2015. Headquartered in Tallinn it operated scheduled services from Tallinn Airport. Prior to its closure, the airline flew from Tallinn to 11 destinations in Europe. Model by Hiroshi Igami. Master textures by Kyle Schurb. Flight dynamics by Nick Wilkinson and David Biggar. Requires the TDS Boeing 737-800 B--EW2 model.
Posted Jul 16, 2018 08:26 by Jacques Louw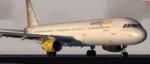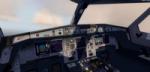 67.27Mb (1247 downloads)
FSX/P3D (incl. v4) Airbus A321-200 Vueling package. Barcelona based low cost carrier Vueling is Spain's largest airline and flies to destinations throughout Europe as well as Russia, the Middle East and Africa. As of June 2018, Vueling operate 15 A320-200 aircraft. Native FSX model by Project Airbus. Thank you to Dave Oromas for the great textures. Includes enhanced Thomas Ruth Airbus VC with updates by Phillip Wallaert, Louis Quintero and some further edits by Chris Evans. Fixed wheel levels. Fixed jetway codes. Tested in P3D v4 and should be ok in FSX and other P3D versions. Airbus sounds included. Zip preview for images. Custom packaged by Chris Evans
Posted Jul 16, 2018 07:38 by chris evans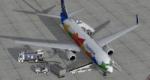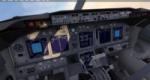 66.16Mb (794 downloads)
FSX/P3D (incl. v4) Boeing 737-800 Copa Airlines 'Biomuseo' package. Paint theme based on Biomuseo, the natural history museum of Panama, with focus on the major impact on the ecology of the planet Earth. Panama flag carrier Copa is based at Tocumen International Airport and flies to destinations all over South America, the Caribbean Islands as well as several cities in the USA. Package includes advanced 737-800 VC added. Including utility for ground services, Passenger bus, cargo, stairs, refuelling truck etc (find it under - Views - Instrument panel - Util) The wonderful Boeing 737-800 from TDS will be enjoyed by many more people who do not know how to install a VC into a FSX native model. The VC is the Alejandro Rojas Lucena/FSND fantastic revised Boeing 737-800 VC model. This VC model includes Working wipers (right mouse click on switch) with rain effect. Switches for LCD Screens, EICAS, PFD, MFT. Autobrake switch. Opening pilots window. Cabin Lights switch. Realistic FMC. Ground Proximity Warning System (GPWS), More Realistic night VC textures. There are custom Boeing 737 sounds included for that extra realism. I have added the great photoreal textures by Alejandro Magadan. VC added and aircraft.cfg edited to allow correct VC views, jetways, wheel levels and wing views. See VC docs to get the best out of the VC and FMC. Tested in P3D4 & will certainly also work in earlier P3D versions as well as FSX. Assembled by Chris Evans.
Posted Jul 15, 2018 07:46 by chris evans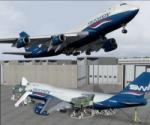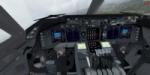 52.83Mb (1107 downloads)
FSX/P3D>v4 Boeing 747-400F Silk Way Package. Silk Way is a cargo airline based at Heydar Aliyev International Airport in Baku, Azerbaijan. Currently SilkWay operate 5 Boeing 747-400F to destinations around the globe. Project Opensky Boeing 747-400 assembled and upgraded for FSX with the upgraded Boeing 747 internal cockpit (VC) from Alejandro Rojas Lucenda (Manual included). This is the Project Opensky FSX native Boeing 747-400F model, and includes ground cargo servicing, stairs (FSX - Go to Views - Instrument Panel -Posky Utility. P3D go to Vehicle - Instrument Panel -). Included CF engine sounds from BrandonG, with realistic jet whine to make your flight sound great. Thank you to Project Opensky for their contributions to the worldwide community of flight simulation. I have added the realistic textures by Mathieu Vos. Also includes the Boeing 747 VC textures upgrade. This give a much clearer 747 interior virtual cockpit look. Zip preview for larger pictures. Assembled and edited for P3D 3 / 4 & FSX by Chris Evans
Posted Jul 14, 2018 06:42 by chris evans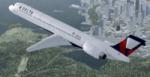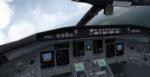 48.36Mb (1613 downloads)
FSX/P3D (up to)v4+ McDonnell Douglas MD-90 Delta package. As of summer 2018, Delta still fly around 50 MD-90 aircraft. These are being replaced by Airbus A321 and Boeing 737-900ER. AI Ardvark AI MD90. Fairly basic AI model but the great modified VC by David Hoeffgen added. Includes built in FMC, working wipers and more (see VC docs in folder). Made flyable and cfg edits (views, exits, etc) by Chris Evans.
Posted Jul 13, 2018 09:13 by chris evans
71.90Mb (1133 downloads)
FSX/P3D (all) Airbus A321-200 Wizz Air package. Based in Budapest, Hungary, Wizz Air is a low cost airline with destinations all over Europe, the Middle East and North Africa. As of July 2018, Wizz operates 30 Airbus A321 with 11 more on order. Native FSX model by Project Airbus. Thank you to Stefan Bree for the great textures. Includes enhanced Thomas Ruth Airbus VC with updates by Phillip Wallaert, Louis Quintero and some further edits by Chris Evans. Fixed wheel levels. Fixed jetway codes. Tested in P3D v4 and should be ok in FSX and other P3D versions. Airbus sounds included. Zip preview for images. Custom packaged by Chris Evans
Posted Jul 12, 2018 05:26 by chris evans