74.58Mb (2230 downloads)
FSX/P3D Airbus A321-200 Easyjet Package in 'neo colors'. Based at London Luton, UK, Easyjet is a low cost carrier and currently have 11 Airbus A321neo with a further 19 on order, flying to popular destinations around Europe and North Africa. This is the A321 model by Project Airbus painted in 'neo' theme. Added the better Thomas Ruth VC with updates by Louis Quintero and Chris Evans. Use FMC under Views/Instrument panel in FSX menu. (FSX : Go to Views -Instrument Panel. P3D: Go to Vehicle - Instrument panel). Added views. Added additional G1000 MFD and PFD screens. Includes A321 checklist. Airbus sounds included. Tested in P3D v4.5 and should be ok in FSX and previous P3D versions. Zip preview for images. Textured and packaged by Chris Evans
Posted Jun 4, 2020 03:32 by chris evans
85.76Mb (1837 downloads)
FSX/P3D Airbus A320-200 ANA All Nippon Airways package painted in NEO theme. Japan's largest airline ANA has it's main hubs at Tokyo-Haneda and Tokyo-Narita Airports and as of June 2020, have 11 A320neo in their fleet. A320 sharklets model by Project Airbus updated by Collin MacKenzie. Revised original VC by Microsoft updated by Collin MacKenzie to include built in FMC and more. Textured and assembled for P3D/FSX by Chris Evans. Should work in FSX and other P3D
Posted Jun 3, 2020 08:06 by chris evans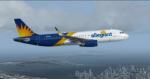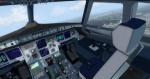 79.79Mb (1656 downloads)
FSX/P3D Airbus A320-200SL Allegiant Air package. Las Vegas based low cost airline Allegiant currently has 64 Airbus A320-200. 2020 revised Project Airbus model and 2020 revised FSX native VC. Added better views. Model by Project Airbus. FMC by Garret Smith. Includes A320 operation manual and checklist. Airbus sounds included. Added the textures by Britney Ren. Assembled for P3D v4.5 by Chris Evans. Should work in FSX and other P3D
Posted Jun 2, 2020 07:55 by chris evans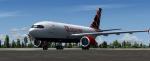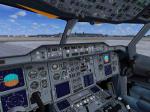 49.78Mb (708 downloads)
Fictional livery. Loganair is a regional airline based at Glasgow Airport near Paisley, Scotland. It was established on 1 February 1962 by Willie Logan of the Logan Construction Company Ltd. Model by Thomas Ruth with VC
Posted Jun 2, 2020 02:57 by JALopezR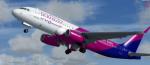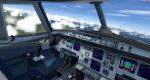 80.18Mb (2193 downloads)
FSX/P3D Airbus A320-200 Sharklet Wizzair package. Original model by Project Airbus with 2020 updates to model and VC. Wizzair is a Hungarian low cost airline based at Budapest Airport and currently have 72 Airbus A320-200 flying to tourist destinations around Europe, Russia, North Africa, the Middle East and Turkey. A320 sharklets model by Project Airbus updated by Collin MacKenzie. Revised original VC by Microsoft updated by Collin MacKenzie to include built in FMC and more. Textured and assembled for P3D/FSX by Chris Evans. Should work in FSX and other P3D
Posted Jun 1, 2020 05:49 by chris evans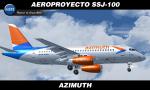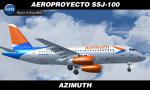 5.99Mb (268 downloads)
Aeroproyecto Sukhoi Superjet 100 (SSJ-100) in Azimuth livery. Texture only for freeware Aeroproyecto v2.0 model:Repaint by Sergey Gleba aka serg09. Link to my products on SimMarket: http://secure.simmarket.com/paintsim.mhtml
Posted May 31, 2020 13:58 by Sergey Gleba aka serg09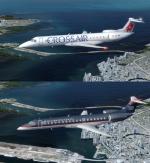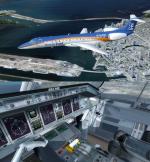 55.58Mb (1084 downloads)
FSX/P3D Embraer ERJ-145 FSX Native Package 3. Includes US Airways, Crossair and Bonair liveries. Project Opensky Embraer ERJ-145 FSX native model and VC. Models: Exteriors by Project Opensky. VC Models by Jacob Kubique and Corey Ford of Project Opensky. Paint Jacob Kubique. XML Coded Animations by Hiroshi Igami of Project Opensky. FSX and Prepar3Dv4 Adaptations by Speedbird77.
Posted May 31, 2020 05:41 by anon
54.78Mb (635 downloads)
FSX/P3D Boeing 737-800 Shanghai Airlines package. Part of China Eastern, Shanghai Airlines is based at Shanghai Hongqiao International and Shanghai Pudong International Airports. Currently Shanghai has 76 Boeing 737-800 flying to destinations around China, other Asian countries and Eastern Europe. Package includes advanced 737-800 VC added. Including utility for ground services, Passenger bus, cargo, stairs, refuelling truck etc (find it under - Views - Instrument panel - Util) The VC is the Alejandro Rojas Lucena/FSND upgraded Boeing 737-800 VC model. This virtual cockpit model includes working wipers (right mouse click on switch) with rain effect. Switches for LCD Screens, EICAS, PFD, MFT. Autobrake switch. Opening pilots window. Cabin Lights switch. Realistic FMC. Ground Proximity Warning System (GPWS), More Realistic night VC textures. Custom sounds included for that extra realism. VC added and aircraft.cfg edited to allow correct VC views, jetways, wheel levels and wing views. Includes PDF B737 checklist, additional G1000 MFD and PFD screens and HGS (HUD). Thank you for the high quality Boeing 737-800 model and paintkit from TDS. Textured and assembled for P3D 4.5 by Chris Evans. Should also work in earlier P3D versions as well as FSX.
Posted May 31, 2020 04:41 by chris evans
85.64Mb (2450 downloads)
FSX/P3D Airbus A320-200 'neo theme' LATAM Brazil with 2020 revised model and VC. LATAM Brazil is the Brazilian airline of the LATAM Airlines Group and based at Sao Paulo-Guarulhos International Airport. Currently LATAM Brazil operate 6 Airbus A320neo. Model by Project Airbus updated to FSX native and updated VC. SAS is the flag carrier airline of the Scandanvian countiores Denmark Norway and Sweden and has it's main bases at Copenhagen Kastrup, Oslo Gardermoen and Stockholm Arlanda Airports. SAS currently have 30 A320NEO with a further 41 on order. A320 sharklets model by Project Airbus updated by Collin MacKenzie. Revised original VC by Microsoft updated by Collin MacKenzie to include built in FMC and more. Textured and assembled for P3D/FSX by Chris Evans. Should work in FSX and other P3D
Posted May 30, 2020 03:07 by chris evans
96.11Mb (2103 downloads)
FSX/P3D Airbus A320-200 'neo theme' SAS Scandanavian Airlines with 2020 revised model and VC and painted in 'NEO' theme. A320 sharklets model by Project Airbus updated by Collin MacKenzie. Revised original VC by Microsoft updated by Collin MacKenzie to include built in FMC and more. Textured and assembled for P3D/FSX by Chris Evans. Should work in FSX and other P3D
Posted May 29, 2020 04:46 by chris evans