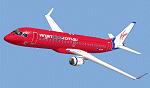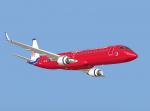 12.38Mb (10658 downloads)
FS2004 Embraer 190-LRV of Virgin Blue Airlines 98-114 seat regional airliner. Full package for FS2004 By Jean-Pierre Brisard, Barry Blaisdell, Bob May, Kevin Pardy and Danny Crance - Premier Aircraft Design.
Posted Jul 18, 2008 17:32 by archive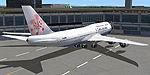 1.09Mb (11210 downloads)
FS2004 China Airlines Boeing 747-8, registration B-18748. Model: Andy Roesch. Paint by Yvan Ung.
Posted Jul 17, 2008 06:34 by archive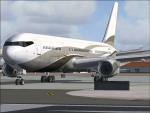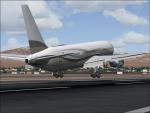 5.56Mb (28083 downloads)
This is a 767 Private P4-MES for FS9, but it may also work for FSX. It features dynamic shine, wing view, realistic FDE, opening doors, 3D flight attendants, all normal animations, accurate dimensions, accurate specifications, accurate flight performance, full damage profiles for major body locations, flaps, struts, tires and engine, different engine variants, different engine performance, thrust maps, and fuel burn per different engine type, different and accurate gauges based on engine type and performance, full operations manual complete with speed charts, new detailed lighting effects. Model by Project Open Sky. Livery by Cristiano Magnani.
Posted Jul 16, 2008 18:55 by archive
17.03Mb (12194 downloads)
Boeing 737-200 Aerolineas Argentinas. This is an updated version of the successful FFX 737 by Erick Cantu. This 737 includes dynamic shine, full animations, opening passenger doors, full and accurate lighting, and outstanding wing views, wire dipole over the fuselage, new exhaust engines. Only 12 textures for all aircraft!!! The 3d wheels are amazing to see as is the reversers and accurate flaps, esp. from the passenger view! Repainted by MARCELO ALLENDE
Posted Jul 16, 2008 18:41 by archive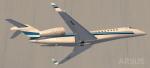 3.09Mb (10074 downloads)
the Aryus BJ-III Goldenbird is a fictional long range executive jet. Created by Alex Guedes (FDE very realistic)
Posted Jul 14, 2008 22:05 by archive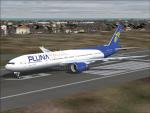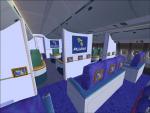 7.10Mb (13178 downloads)
This is a Boeing 777-300 with Pluna textures. The textures are fictional since Pluna doesn't have any 777-300, but this is (hopefully) what it would look like if they did. This is made for FS9, and I don't know if it will work in FSX or not. MelJet Boeing 777-300. . This 777 is a FICTIONAL aircraft of PLUNA. Painted by Sebastian Ferreira
Posted Jul 13, 2008 20:32 by archive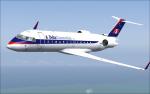 5.47Mb (11792 downloads)
This is a Bombardier Canadair Regional Jet CRJ600-200 for FS9 with Delta Airlines textures. Model by Mitsushi Yutaka. Textures by Samuel Hawks
Posted Jul 13, 2008 20:23 by archive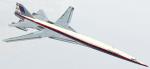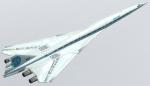 2.24Mb (39425 downloads)
This is a Boeing 2707 SST it was an aircraft on the drawing boards at boeing and was being designed to compete with European concorde. This plane comes with two textures, a Pan-am, and a United Airlines texture. This plane will make an incredible addition to anyones flight sim. Designed for FS9, but this may work for FSX. Based on the original by Kazunori Ito
Posted Jul 13, 2008 12:13 by archive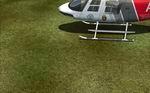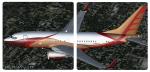 5.70Mb (6065 downloads)
This beautiful plane is for FS9 ONLY! Original model by Project Opensky.
Posted Jul 13, 2008 00:04 by archive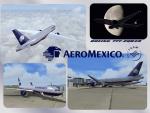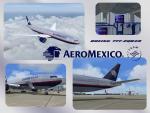 7.40Mb (8087 downloads)
This is the full Boeing 777 package with Aeromexico textures. This is for FS9, but it should work in FSX also. Model & Paint Kit: Melvin Rafi (Meljet) Textures: Julien Scavini
Posted Jul 12, 2008 23:59 by archive