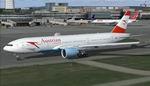 8.74Mb (7983 downloads)
FS2004 Boeing 777-200 Austrian. Model builder: Hiroshi Igami Yosuke Ube And with support of Posky membersDynamic flexing wings Body gear steering under 15kt above 1kt. Nose gear steering under 60kt above 1kt. Rudder lock under 60kt above 1kt. Ground spoiler only works on ground. Low speed aileron locks at high speed. Fully animated control surfaces Fully independent suspension Trim Animation Opening Passenger Doors Animated tilting bogies Rolling wheels Animated thrust reversers Detailed textures Full night lighting Crash affects Ground Service Vehicles when Cargo door open And more. Virtual Cockpit builder: Jacob Kubique FDE designer: Brandon D Henry Warren C. Daniel Master Painter: Yosuke Ube.
Posted Aug 27, 2008 06:01 by Project Opensky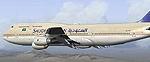 6.74Mb (6234 downloads)
FS2004 Boeing 747-300 Saudi Arabian. Model by Project Open Sky.
Posted Aug 27, 2008 05:46 by Ryan C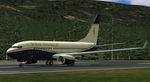 9.41Mb (6797 downloads)
Boeing BBJ1 (Boeing Business Jet) New House Color Scheme for FS2004 (Based on POSKY 737-700) by Marius Weber
Posted Aug 26, 2008 08:47 by Marius Weber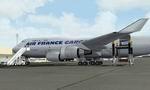 14.77Mb (9955 downloads)
Boeing 747-400BCF V4 Air France Cargo. Certain functions and visuals will not work on this aircraft if it is installed in FSX. Therefore, we (Project Opensky) will not provide support for FSX related issues with this A/C. Model : Hiroshi Igami Flight Dynamics : Warren C. Daniel, Brandon D. Henry Tested : Project-Opensky Members 747 Series Masters : Corey Ford, Yosuke Ube, Gabriel Parent-Nadon Painted : Gabriel Parent-Nadon Screenshots : Chappati_21, Youri, Gabriel Parent-Nadon
Posted Aug 26, 2008 08:32 by Gabriel Parent-Nadon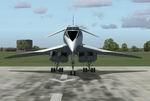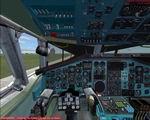 115.93Mb (71454 downloads)
FS2004 Tupolev TU-144 Complete Package 2.0. Soviet supersonic passenger aircraft. First flight in 1968, two months before the western Concorde. Also known as "Concordski" or "Charger". Four versions included: standard, improved and NASA version plus a never completed modernized version. New fully functional virtual cockpit, new 2D panel with INS, autoland and many other features. Many new customized XML animations. Sound files recorded on two different types of real running TU144 engines. By Thomas Ruth, Claudio Mussner.
Posted Aug 25, 2008 16:43 by Thomas Ruth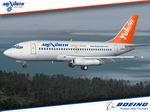 9.06Mb (2306 downloads)
FS2004 Tinmouse II Boeing 737-201 Air North 'Yukon' Textures only, registration C-GNAU. I am proud to present this realistic, detailed repaint of Air North's Boeing 737-201, registration C-GNAU, in the newer "Yukon livery". This aircraft has a distinct orange tail bearing the name of the territory which gives this airline its name; Yukon. Air North is based in WhiteHorse, Yukon. They operate the Hawker Siddeley 748, Beech 99 as well as several Boeing 737-200s. This project has been fun for a significant reason; the people of Air North. I contacted them with a request for their logos to use in this repaint, and they were gracious and professional in granting my request. So I dedicate this repaint to Air North and their kind personnel; especially Josh Clark. This is a "textures only" package; you must have the Tinmouse 737-200adv v2 base package and all patches installed. All textures very detailed, 32-bit with no mips. Repaint by Jeffrey S. Bryner. Air North Logos provided by Josh Clark of Air North and are copyrighted property of Air North. Model by the TinMouse II project.
Posted Aug 25, 2008 04:36 by Jeffrey Bryner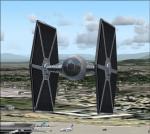 12.23Mb (5118 downloads)
FS2004 FS2002-FS2004 AI Hawker First modern Technology with classic and modern panel virtual joystick with autopilot includes a fighter HUD Atomic Nuclear Bomb. Originally developed by manufactured RAYTHEON twin engine re instrumented flight dynamics tuned by ING Alex Hassey
Posted Aug 24, 2008 21:36 by Alex Hassey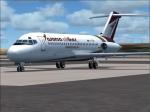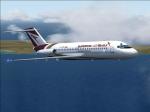 1.21Mb (5730 downloads)
Aserca Airlines McDonnell-Douglas DC-9-15, registration YV-703C, showing the 1998-2003 livery, and being the unique Dc-9-15 used by this airline. Textures only for SGA's latest Douglas DC-9 series release,(sga910.zip) By Antonio Sierra and Juan Ernesto Oropeza
Posted Aug 23, 2008 19:59 by Juan Ernesto Oropeza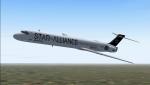 0.79Mb (11701 downloads)
Spanair 'Star Alliance' EC-HPF McDonnell Douglas MD-82, In Memory of all the families involved in the tragic events involving this aircraft at Madrid Barajas Airport, 20th August 2008, RIP, Model by Mike Stone, Texture by Alan Herkes
Posted Aug 23, 2008 16:56 by Alan Herkes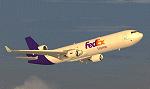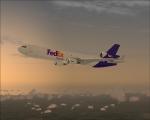 2.64Mb (20081 downloads)
FS2004 McDonnell-Douglas/Boeing MD-11(F) Fedex Express Cargo version. Long range cargo transport. Full package for FS2004. All new FSDS design with 2D panel, dynamic VC, sound, full moving parts, dynamic shine, operating crew & cargo doors, new FD, HTML check/ref lists and more. By Jean-Pierre Brisard, Barry Blaisdell & Bob May ¦ Premier Aircraft Design.
Posted Aug 23, 2008 06:06 by bob.may@premaircraft.com