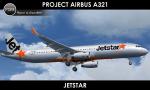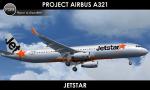 8.64Mb (502 downloads)
FS9/FSX JetStar Airways textures for the Project Airbus A321-231 IAE (Sharklets). Repaint by Sergey Gleba aka serg09
Posted Jul 21, 2018 11:21 by Sergey Gleba aka serg09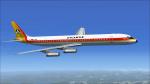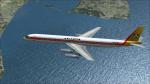 2.12Mb (172 downloads)
Textures for the HJG DC-8-63 in Atlantis Airways colors. The freeware DC-8-63 by Historic Jetliners Group, HJG is needed for this repaint. Atlantis Airways operated a total of 5 DC-8s. They had 2 DC-8-30 and 3 DC-8-63 models. Textures are DXT3. This aircraft was tested on FSX-SE. It should work on FS2004, FSX & P3D v1-3.
Posted Jul 19, 2018 23:09 by Ted Giana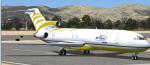 41.84Mb (588 downloads)
FS2004 Boeing 727-200 Aerotal Colombia & Airclass Cargo twin pack. This is a repaint of the 727-200 in the colors of Aerotal Colombia. Aerotal was a company that operates in Colombia with a fleet of Boeings 707's, 720's and 727's in the mid of 80's. Registration of this aircraft was HK-2637X. Model by: Vistaliners. Repaint by: Jorge Andres Calderon C.
Posted Jul 18, 2018 19:59 by Jhonatan Enrique Rosy Amaya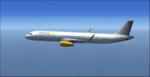 8.66Mb (588 downloads)
Project Airbus A321-231 IAE sharklets model painted in Vueling livery. This is the first a321 for vueling (EC-MGY). This aircraft has been tested in FSX but it should work properly in FS2004. Thanks to project airbus for this model.
Posted Jul 16, 2018 04:59 by chrisE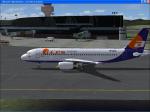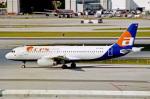 5.14Mb (241 downloads)
Aces Columbioa A320-200. VP-BVA "Manizales del Alma" and VP-BVB "Medellin Ciudad de Botero". Tribute to the best airline of Colombia. Beauty Orange and Blue lines from 1997, no the ugly gray color of Alianza Summa. ACES never will forgotten. Model by IFDG. Model included. Repaint By Mauricio Ibarra.
Posted Jul 14, 2018 08:32 by Jhonatan Enrique Rosy Amaya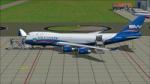 15.20Mb (332 downloads)
Boeing B747-4R7F of SilkWay Azerbaijan Cargo, Registration: 4K-SW800. Silk Way is a cargo airline based at Heydar Aliyev International Airport in Baku, Azerbaijan. Currently Silk Way operate 5 Boeing 747-400F to destinations around the globe. Repaint by: Mathieu Vos (APSS), Model by: Project Opensky.
Posted Jul 14, 2018 05:59 by chrisE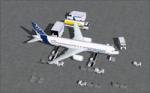 3.46Mb (290 downloads)
FS2004 Airbus House Colors Airbus A220-300 V5L. Night lighting effects have been upgraded, also featuring a new 2D panel. Including CamSim's own static displays and Animated Ground Servicing (AGS). Model design and paint by Camil Valiquette.
Posted Jul 14, 2018 03:14 by Camil Valiquette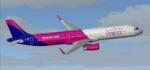 12.82Mb (609 downloads)
FS2004 Wizz Air Airbus A321-231. This is a repaint of the Project Airbus A321-231 (WL), in Wizz Air livery, HA-LXA. Model included. The textures are saved in 32 bit format for quality graphics. Shine effect. Contains accurate model with details such as: opening passenger and cargo doors, animated pack inlets and outflow valves, all operable control surfaces, detailed flap tracks and slat rails, hydraulics modelled on spoilers, landing gear doors and many more. By Stefan Bree.
Posted Jul 12, 2018 04:52 by chrisE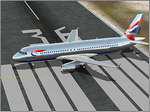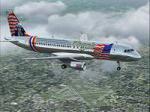 15.10Mb (202 downloads)
Garry Smith archive files: Airbus A320-200 Textures - Lufthansa, Northwest, BA, US Air, Air France, Ambroair, Girl, American Travel, Transworld, Northwest, Angel, Air France, Air 2000. These files are being posted so the community does not loose access to Garry Smith's files after his website went down. Model by Mike Stone. Textures by Garry Smith. Assembled by Ronald Falzon
Posted Jul 10, 2018 07:20 by Ronald Falzon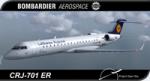 9.40Mb (409 downloads)
CRJ700 Lufthansa Regional by Cityline. Textures by Alex Sui. Model by Project Opensky.
Posted Jul 9, 2018 00:10 by chrisE