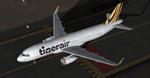 13.58Mb (531 downloads)
Airbus A320-200 in Tigerair livery. Tigerair is an Australian low cost airline based in Melbourne, Victoria and as of october 2017, operate 14 A320. Model By Project Airbus. Textures by Stefan Bree.
Posted Nov 2, 2017 09:33 by chrisE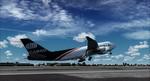 17.25Mb (376 downloads)
Boeing 747-400BDSF World Airways Cargo package. Model by Project Opensky. Textures by Wayne Jarrett
Posted Oct 18, 2017 08:53 by chrisE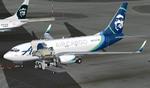 15.71Mb (1265 downloads)
Boeing 737-700F Alaska Air Cargo. In September 2017, Alaska Airlines began service with it's converted 737-700 freighter aircraft. Formerly used for passenger service, these aircraft were converted to an all-cargo configuration in Tel Aviv by Israel Aerospace Industries over a period of 19 months. Alaska will convert a total of three 737-700s into freighters, allowing the new, all-cargo fleet to carry 15 percent more capacity overall. These aircraft will replace the aging half-passenger half-cargo 737-400 combi fleet. Model developed by Tenkuu Developers Studio, features high resolution textures, dynamic flexing wings, nose gear steering, rudder lock, ground spoilers, low speed aileron locks at high speed, fully animated control surfaces, fully independent suspension, trim animation, opening passenger doors, rolling wheels, animated thrust reversers with reverser block doors, detailed textures, full night lighting, custom Alaska ground service vehicles and more. Model design by Hiroshi Igami. Flight dynamics design by Nick Wilkinson, with assistance from David Biggar. Master textures and paint kit by Kyle Schurb. Painted on the great TDS model. Enjoy!
Posted Oct 16, 2017 02:37 by chrisE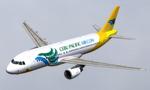 18.03Mb (400 downloads)
Cebu Pacific A320-214. Model by Project Airbus, livery by Britney Ren
Posted Oct 10, 2017 09:40 by chrisE
16.13Mb (791 downloads)
FS2004 Qatar Cargo Boeing 747-8F. Qatar Cargo is the third largest cargo operator in the world and operates 1 new B747-8F. Model by Project Open Sky. Texture by Santiago Spears.
Posted Oct 5, 2017 01:11 by chrisE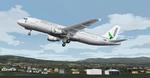 13.38Mb (279 downloads)
Azores Airlines Airbus A320-200. This is a repaint of the Project Airbus A320-214, in Azores Airlines livery, registration CS-TKQ. Model included. The textures are saved in 32 bit format for quality graphics. Shine effect. Night textures by Adam Hamada. Contains accurate model with details such as: opening passenger and cargo doors, animated pack inlets and outflow valves, all operable control surfaces, detailed flap tracks and slat rails, hydraulics modelled on spoilers, landing gear doors and many more. By Stefan Bree
Posted Oct 1, 2017 05:15 by chrisE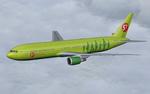 17.00Mb (321 downloads)
Boeing 767-300 S7 Airlines. Model features High resolution textures, Dynamic flexing wings, Body gear steering, Nose gear steering, Rudder lock, Ground spoilers, Low speed aileron locks at high speed, Fully animated control surfaces, Fully independent suspension, Trim Animation, Opening Passenger Doors, Animated tilting bogies, Rolling wheels, Animated thrust reverser's with reverser block doors, Detailed textures, Full night lighting, Crash affects, Ground Service Vehicles And more. Model Designer Hiroshi Igami/Yosuke Ube. Flight Dynamics Designer Warren C. Daniel. Textures by Philip Foglar. Livery by Philip Foglar.
Posted Sep 28, 2017 05:54 by chrisE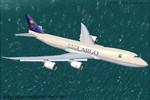 21.13Mb (446 downloads)
FS2004 Boeing 747-8F Saudi Arabian Cargo, registration HZ-AI3. Model by Skyspirit. Repaint By Carlos Eduardo Salas
Posted Sep 18, 2017 08:17 by chrisE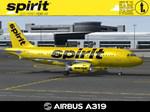 8.44Mb (1000 downloads)
FS2004 Project Airbus A319-132 Spirit Airlines 'BARE FARE', registration N534NK. Spirit Airlines, a discount carrier in the US based in Atlantic City, New Jersey (KACY), started a marketing campaign in July of 2014 called the "Bare Fare" campaign. By some measures it was cheeky with obvious sexual overtones, including $69 fares and celebs that stripped to their underwear in their provocative online ad videos. It even drew the eire of the American Family Association (AFA) from a member group called "One Million Moms." All that aside, the campaign includes several A319s and most recently an A320 painted to promote the campaign. This is one of those A319s, reg N534NK, painted taxi cab yellow and adorned with the campaign logos. The repainted textures in this package are 32-bit with no mipmaps for best clarity and quality. Full Installation package, Project Airbus A319-132 V2.1 model and air files included (FS2004 only). Repaint by Jeffrey S. Bryner, Model by Project Airbus. Uses default 737-400 panel and sounds.
Posted Sep 16, 2017 01:58 by chrisE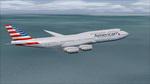 31.63Mb (981 downloads)
Boeing 747-81 American Airlines. Full model. A fictional livery for the skyspirit Boeing 747-8i. American have not ordered the new Boeing 747-8i (yet). Model by Skyspirit/Project Opensky. Textures by Luis Castro.
Posted Sep 11, 2017 07:59 by chrisE