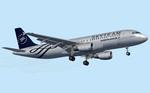 8.88Mb (983 downloads)
Airbus A320-200 Air France Skyteam. Project Airbus is proud to present the , version 2. Contains accurate model with details such as: opening passenger and cargo doors, animated pack inlets and outflow valves, all operable control surfaces, detailed flap tracks and slat rails, hydraulics modeled on spoilers and landing gear doors. Textures by Stephen Groom.
Posted Aug 1, 2016 09:43 by chrisE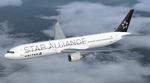 27.89Mb (1173 downloads)
Boeing 767-400ER andf 767-300ER United Airlines Star Alliance twin pack. United currently (2016) own 35 Boeing 767-300ER and 16 400ER. United was also a founding member of Star Alliance. One of each is painted in Star Alliance livery - N653UA (300) and N76055 (400). Model by Skyspirit. Textures by Philip Folgar.
Posted Jul 27, 2016 05:13 by chrisE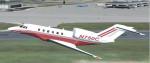 1.05Mb (687 downloads)
This is an update for FS9 of the Cessna Citation X by Chuck Dome. I have updated the flight dynamics, added the other wheels, corrected the contact points, fuel load, and max gross weight. There is a VC with some working gauges, but I don't think you can fly it that way very easy.
Posted Jul 25, 2016 17:28 by Bob Chicilo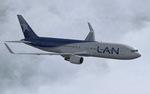 18.35Mb (1337 downloads)
Boeing 767-300 Lan Airlines. Model features High resolution textures, Dynamic flexing wings, Nose gear steering, Rudder lock, Ground spoilers, Low speed aileron locks at high speed, Fully animated control surfaces, Fully independent suspension, Trim Animation, Opening Passenger Doors, Animated tilting bogies, Rolling wheels, Animated thrust reverser's with reverser block doors, Detailed textures, Full night lighting, Crash affects, Ground Service Vehicles And more. Model Designer Hiroshi Igami/Yosuke Ube. Flight Dynamics Designer Warren C. Daniel. Textures by Philip Foglar. Livery by Philip Foglar.
Posted Jul 9, 2016 07:22 by chris evans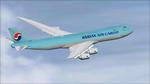 19.38Mb (557 downloads)
Boeing 747-8F Korean Air Cargo package. Model by Project Opensky. Textures by Mathieu Vos.
Posted Jul 7, 2016 12:04 by chrisE

12.52Mb (710 downloads)
Boeing 747-400 Korean Airlines. Model by Project Opensky. Textures by Ryan C.
Posted Jun 29, 2016 07:29 by chrisE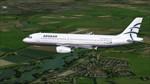 12.65Mb (1059 downloads)
Airbus A320-232 Aegean Airlines. Aegean is the largest Greek airline, flying to destinations through Greece as well ad Europe and the Middle East. Model by Project Airbus. Textures by Mathieu Vos.
Posted Jun 22, 2016 10:44 by chris evans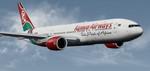 23.35Mb (847 downloads)
Kenya Airways Boeing 777-2U8/ER SY-KQS, painted on Project Opensky's Boeing 777-200/ER aircraft. The textures are saved in 32bit format for quality graphics. Its features are Opening doors & Cargo doors, detailed textures, accurate paint, dynamic shine & effects, dynamic flexing wings that respond to turbulence, fully independent suspension, trim animation, gear steering, accurate flight dynamics, spoiler animation, crash effects, reflective cockpit windows, crash effects, transparent nav light lenses and many more. Thanks for downloading & Happy flying. Use it at your own risk. Regards Abdullah Rahman
Posted Jun 20, 2016 08:52 by ChrisE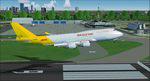 11.55Mb (536 downloads)
Boeing 747-400BCFF Kalitta Air/DHL package. Michigan based cargo airline operate 6 Boeing 747-400BCF aircraft, 2 of which are a joint enterprise between DHL and painted in hybrid Kalitta/DHL colors. Model by Project Opensky. Livery by Mathieu Vos.
Posted Jun 19, 2016 12:45 by ChrisE

3.07Mb (470 downloads)
FS2004 Swiss CSeries 300 V4. This version 4, features more improved and detailed aircraft model and textures , including CamSim's own static displays and Animated Ground Servicing (AGS). Model design and paint by Camil Valiquette.
Posted Jun 17, 2016 06:18 by camil valliquette