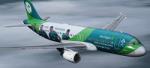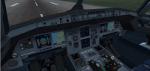 99.51Mb (2624 downloads)
Aer Lingus, EI-DEO, in the Irish rugby livery known as 'Green Spirit'. Model by Project airbus with a few edits made to displays. Virtual Cockpit with new day and night textures by CokiBH, displays edited by Air Crew. Contains custom CFM engine sounds and ground effects. Livery was created by Mathieu Vos. Aircraft compiled together by Air Crew.
Posted Oct 16, 2016 08:14 by Air Crew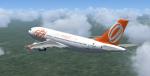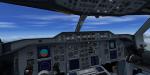 43.07Mb (1224 downloads)
Thomas Ruth A310-300 Gol Transportes Aereos (old livery) package for FSX, PR-GWH. Includes VC and PW sound. Repaint by Moacir Junior
Posted Oct 16, 2016 00:09 by Moacir Junior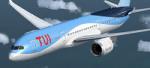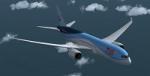 75.88Mb (4237 downloads)
FSX/P3D Thomson TUI Boeing 787-9 wearing the new TUI livery and under the registration G-TUIJ. The model was created by TDS, with VC featuring working wipers and FMC. Virtual cockpit by Alejandro Rojas based on an advanced 737 cockpit. Model by TDS originally assembled by Chris Evans. TUI texture by Stephen Grrom and sounds added by 'Air Crew'.
Posted Oct 15, 2016 14:21 by Air Crew


31.74Mb (815 downloads)
These textures came about, because of a brain-wave that struck me. They came out pretty-well to say the least. Please refer to all other 'Read Me' files (excluding 'My Read Me', which is my own) for appropriate credits given.
Posted Oct 14, 2016 00:06 by Andre Ludick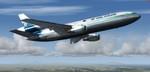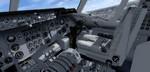 64.92Mb (1774 downloads)
FSX/P3D McDonnell Douglas DC-10-30 Air New Zealand package. Air New Zealand operated 8 DC-10-30 between 1973 until 1982. The last passenger flight being from Hong Kong to Auckland Model and VC by Thomas Ruth. Includes comprehensive VC with working wipers. I included the great textures by Mike Pearson. Added FMC by Garret Smith. Custom packaged and tested in FSX and P3d v 3.4 by Chris Evans
Posted Oct 12, 2016 06:32 by chris evans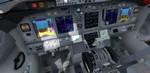 98.74Mb (2498 downloads)
FSX/P3D Boeing 787-8 Ethiopian Airlines package with new enhanced VC. Ethiopian Airlines is Ethiopia's flag carrier and currently (2016) has 16 Boeing 787-800 and a further 3 on order. Model by TDS/ Tenkuu Developers Studio with advanced 737-800 VC added. The wonderful Boeing 787-8 from TDS will be enjoyed by many more people who do not know how to install a VC into a FSX native model. So now the 787-8 has the nearest VC I can find -- the 737-800. The layout of the 787 cockpit is not a million miles away from the advanced 737-800. The VC is the Alejandro Rojas Lucena/FSND fantastic revised Boeing 737-800 VC model blended with Ken Wiggington's work on the default 737 VC to make it more resemble a 787. This VC model includes Working wipers (right mouse click on switch) with rain effect. Switches for LCD Screens, EICAS, PFD, MFT. Autobrake switch. Opening pilots window. Cabin Lights switch. Realistic FMC. Ground Proximity Warning System (GPWS), More Realistic night VC textures. There are custom Boeing sounds included for that extra realism. I added the great textures by Mathieu Vos. Aircraft.cfg edited to allow correct VC views. Assembled and prepared for FSX by Chris Evans.
Posted Oct 11, 2016 07:56 by chris evans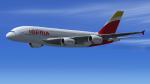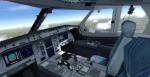 58.25Mb (3511 downloads)
Iberia Airbus A380 for FSX. (Fictional). Includes full working VC, working wipers, with groundhandling gauge and FMC. Added exits for Jetways and Thomas Ruth VC with updates by Phillip Waleart, Chris Evans and Louis Quintero.. Use FMC under Views/Instrument panel in FSX menu. Model/VC by Project Airbus/ Thomas Ruth. Visit fsliveriesdesigns.wixsite.com/fsliveries for more repaints
Posted Oct 9, 2016 12:38 by Jose T. Campomanes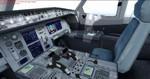 81.47Mb (2353 downloads)
FSX/P3D Airbus A350-900XWB Azul Brazilian Airlines package. Azul Brazilian Airlines (Azul Linhas Aereas Brasileiras) is a low cost Brazilian airline and the 3rd largest operator in Brazil. Currently (2016), Azul has a fleet of 122 aircraft and has 5 A350-900 on order with deliveries expected to start in 2017. The Airbus A350 XWB is a family of long-range, twin-engine wide-body jet airliners from the European aircraft maker Airbus. The A350 is the first Airbus aircraft with both fuselage and wings made mainly from carbon fibre structure. The A350 is intended to replace the A340 and compete with Boeing's 787 and 777. Added the great textures by Emiliano Rujano. Assembled using the pack base by FSPainter with enhanced Thomas Ruth VC with updates by Phillip Wallaert, Louis Quintero and some further edits by Chris Evans.
Posted Oct 9, 2016 04:49 by chris evans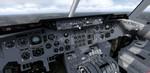 55.71Mb (1942 downloads)
FSX/P3D McDonnell-Douglas Boeing MD-11F Western Global Airlines package with virtual cockpit and working Honeywell FMC. Western Global Airlines are based in Florida and currently (2016) operate a fleet of 11 MD11 aircraft on flights throughout the world. This is the new native FSX AI MD-11 model from FS Painter MD-11 model made flyable in FSX with the Thomas Ruth DC-10 VC added. Also used the characteristics of Thomas Ruth A330 for better flight dynamics. Edited views for cockpit viewpoint, contact points to fix wheels sinking into ground and air file so that this aircraft will now take off. Added textures by Lee Marrow. Added Honeywell FMC by Garret Smith. Prepared, tested and assembled for Prepar3D and FSX by Chris Evans.
Posted Oct 8, 2016 04:42 by chris evans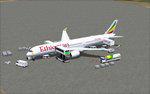 5.53Mb (422 downloads)
FSX Ethiopian Airbus A350-900 V5. This version 5, features more improved and detailed aircraft model, ( image comparison between v5 and v4 inside ), also modifications have been done on both, taxi lights and wing lights. Taxi lights will add new night lighting on main landing gears and wheels and add bleu LED ground lighting effect for each gears. Landing light will add logo lights on winglets, ( more info regarding proper functioning of the night effects in the Read Me FSX ). Version 5, included CamSim's own static displays and Animated Ground Servicing (AGS). 2d panel but no VC. Model design and paint by Camil Valiquette.
Posted Oct 8, 2016 02:53 by chris evans