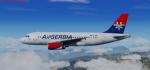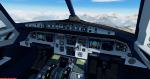 74.10Mb (398 downloads)
FSX/P3D Airbus A319-100 Air Serbia package. Serbia's flag carrier airline is based at Belgrade Nikola Tesla Airport and currently have 9 A319-100 in their fleet. The A319 is a shorter version of the A320 family. Custom Airbus sounds. Also added jetway configs (Ctrl J). Revised original VC by Microsoft updated by Collin MacKenzie to include built in FMC and more. Textured and assembled for P3D5 (Should also work in other P3D and FSX) by Chris Evans
Posted Sep 18, 2020 04:57 by chris evans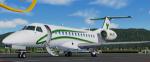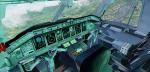 38.62Mb (823 downloads)
FSX/P3D Embraer ERJ-135 FSX Native AirX Charter package. AirX Charter is a Maltese private charter airline and currently have 2 ERJ-135 in their fleet of 14 aircraft. Project Opensky Embraer ERJ-135 2020 updated FSX native model and VC. Models: Exteriors by Project Opensky. VC Models by Jacob Kubique and Corey Ford of Project Opensky. XML Coded Animations by Hiroshi Igami of Project Opensky. FSX and Prepar3D (tested up to v5) 2020 conversions by Speedbird77. Textured by Chris Evans
Posted Sep 17, 2020 02:23 by chris evans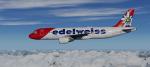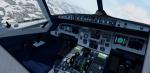 82.11Mb (606 downloads)
FSX/P3D Airbus A320-200 Edelweiss package. Swiss airline Edelweiss is part of Swiss International Air Lines and based at Zurich Airport. Currently Edelweiss have 10 A320-200. Views/Instrument panel in FSX menu. (FSX : Go to Views -Instrument Panel. P3D: Go to Vehicle - Instrument panel). Added better views. Model by Project Airbus. 2020 updated VC by Speedbird77 with built in FMC by Garret Smith. Includes A320 operation manual and checklist. Airbus sounds included. Textured and assembled for P3D v5 by Chris Evans. Should work in FSX and other P3D
Posted Sep 16, 2020 03:12 by chris evans
58.57Mb (658 downloads)
FSX/P3D Boeing 747-400F Silk Way West Airlines package. Silk Way West is an Azerbaijan cargo airline and based at Heydar Aliyev International Airport. Silway West currently operate 9 Boeing 747 cargo aircraft of which 4 are 747-400F, and fly worldwide. Project Opensky Boeing 747-400f FSX native model with the much improved Boeing 747 internal model (VC) from Alejandro Rojas Lucenda (Manual included). Model includes ground cargo servicing, stairs (FSX - Go to Views - Instrument Panel -Posky Utility. P3D go to Vehicle - Instrument Panel -). Added 747 sounds, edited views, panel. Thank you to Project Opensky/Skyspirit/TDS for their valuable contribution to the worldwide flight simulation community. Also includes the Boeing 747 VC textures upgrade. Added wing views. Textured and assembled for P3D v5 by Chris Evans. Should also work in FSX and previous P3D versions. Zip preview for images.
Posted Sep 15, 2020 02:09 by chris evans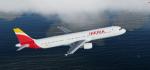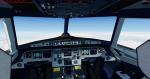 80.58Mb (801 downloads)
FSX/P3D Airbus A321-200 Iberia package. Spain's flag carrier airline Iberia is based at Madrid Barajas Airport and currently have 11 Airbus A321-200. Includes 2020 revised model and VC. Model by Project Airbus updated to FSX native and updated VC by Speedbird77. Includes A321 checklist. Airbus sounds included. Tested in P3D v5 and should work in FSX and previous P3D versions. Zip preview for images. Textured and packaged by Chris Evans
Posted Sep 14, 2020 02:52 by chris evans
85.51Mb (704 downloads)
FSX/P3D Boeing 737-700 Southwest Airlines 'Herb D. Kelleher' Retro livery package. Southwest Airlines is the world's largest low cost airline and based in Dallas, Texas. Currently Southwest operate 495 Boeing 737-700 out of a fleet of over 700 aircraft. Ths one is in retro theme dedicated to the founder Herb Kelleher. The VC is the Alejandro Rojas Lucena/FSND revised Boeing 737-800 VC model. This VC includes working wipers (right mouse click on switch) with rain effect. Switches for LCD Screens, EICAS, PFD, MFT. Autobrake switch. Opening pilots window. Cabin Lights switch. Realistic FMC. Ground Proximity Warning System (GPWS), More Realistic night VC textures. Custom Boeing sounds included for that extra realism. Correct VC views, jetways, wheel levels and wing views. I added PDF B737 checklist, additional G1000 MFD and PFD screens and HGS (HUD). The high quality Boeing 737-700 and paintkit from TDS. Textured and assembled for P3D v5 by Chris Evans. Should also work in earlier P3D versions as well as FSX.
Posted Sep 13, 2020 01:12 by chris evans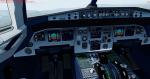 71.46Mb (996 downloads)
FSX/P3D Airbus A350-900 Fiji Airways package. Fiji comprises of a group of islands in the South Pacific and the flag carrier airline is Fiji Airways. Currently Fiji Airways have 2 Airbus A350-900, this one named 'Island of Vanua Levu'. Fiji's destination include Asia, Australia and New Zealand, South Pacific, the USA and Canada. FSX native AI model by FS Painter. 2020 updated interior model by Speedbird77. Textures, assembled and tested in P3D v5 and should be ok in FSX and earlier P3D versions. By Chris Evans.
Posted Sep 12, 2020 04:40 by chris evans
97.87Mb (1256 downloads)
FSX/P3D Boeing 777-300ER Air France package. France's flag carrier airline currently operate 43 Boeing 777-300ER flying globally. Project Opensky model features opening doors & cargo doors, detailed textures, accurate paint, dynamic shine & effects, dynamic flexing wings that respond to turbulence, fully independent suspension, trim animation, gear steering, accurate flight dynamics, spoiler animation, reflective cockpit windows, crash effects, animated tilting bogies, full night lighting, stairs, ground service vehicles when cargo doors open, (FSX - Go to Views - Instrument Panel -Posky Util), detailed virtual cockpit and more. Added custom B777 sounds. VC night lights fixed thanks to Hagar. To use FMC - Go to Views - Intrument panel - FMC. See FMC docs. Thanks for the fantastic native FSX model and paintkit by Skyspirit/Project Opensky. Jetway exits added. Thank you to Zachary777 for the native conversion of the brilliant Jacob Kubique VC. P3D/FSX compatible gauges added by Chris Evans. Textured and assembled for P3d v5 by Chris Evans. Should also work in FSX and earlier P3D versions
Posted Sep 11, 2020 05:49 by chris evans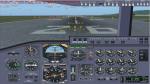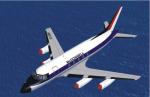 0.88Mb (315 downloads)
This is an update for FSX of the MD-220 by Mike Stone. I have added or changed gauges on the panel; I added the 4th wheel; corrected any contact points that needed to be changed; added smoke; and I updated the flight dynamics. This is the whole aircraft. No VC.
Posted Sep 10, 2020 08:05 by Bob Chicilo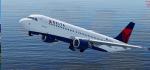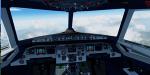 83.77Mb (797 downloads)
FSX/P3D Airbus A320-200 Delta Air Lines package. The world's 2nd largest airline, Delta, currently have 57 Airbus A320-200. Views/Instrument panel in FSX menu. (FSX : Go to Views -Instrument Panel. P3D: Go to Vehicle - Instrument panel). Added better views. Model by Project Airbus. 2020 updated VC by Speedbird77 with built in FMC by Garret Smith. Includes A320 operation manual and checklist. Airbus sounds included. Textured and assembled for P3D v5 by Chris Evans. Should work in FSX and other P3D
Posted Sep 10, 2020 01:20 by chris evans