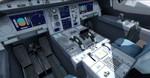 36.39Mb (1247 downloads)
P3D/FSX Airbus A330-200F Hong Kong Airlines Cargo package. Hong Kong Airlines Cargo is the cargo division of Hong Kong Airlines and is based at Chek Lap Kok International Airport, Hong Kong. Currently (2017) Hong Kong Airlines Cargo operate 1 Airbus A330-200F. Includes VC. Model and VC by Thomas Ruth. I included the quality textures by Paul Craig. Requires either FSX Acceleration or SP1 and SP2 to be installed. Panel modified by Chris Evans to include built in FMC. FMC by Garret Smith. A330 sounds and manual included. Custom packaged by Chris Evans
Posted Mar 13, 2017 13:23 by chris evans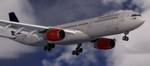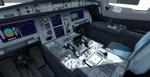 37.22Mb (2536 downloads)
FSX/P3D Airbus A330-300 Scandanavian Air Services (SAS) package for FSX. SAS is the combined flag airline of Sweden, Norway and Denmark and is the largest airline in Scandanavia. SAS currently (2017) operate 8 A330-300 - all equiped with wifi . Includes VC. Model by Thomas Ruth. Added the better Thomas Ruth VC with latest updates by Chris Evans and Louis Quintero. I added the great textures by John Hancock. Includes built in FMC by Garret Smith. Fixed contact points so wheels do not sit too high. FMC will display in VC. Includes A330 manual. Custom A330 sounds included. Assembled and tested in P3D and FSX by Chris Evans
Posted Mar 12, 2017 14:07 by chris evans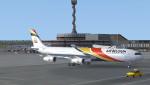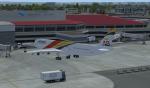 37.19Mb (1744 downloads)
Airbus A340-300 Air Belgium. Air Belgium is a Belgian scheduled and charter airline headquartered in Mont-Saint-Guibert and based at Brussels South Charleroi Airport. Includes default A321 VC. Model by Thomas Ruth. Textures by Fougasses Design
Posted Mar 12, 2017 12:34 by Fougasses Design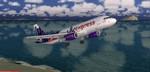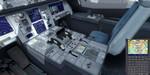 67.42Mb (1822 downloads)
P3D/FSX Airbus A320-200 Hong Kong Express. Hong Kong Express was established in 2006 and is based at Chek Lap Kok International Airport in Hong Kong. Currently HKX operate 11 Airbus A320-200. Full working VC, working wipers, with groundhandling gauge and built in FMC. Added exits for Jetways (press Ctrl J) and better Thomas Ruth VC with updates by Chris Evans and Louis Quintero. Use FMC under Views/Instrument panel in FSX menu. (FSX : Go to Views -Instrument Panel. P3D: Go to Vehicle - Instrument panel), Custom CFM sounds. Also added jetway configs (Ctrl J). Model by Project Airbus. Textures by Lingyuan He. Assembled for FSX/P3D by Chris Evans
Posted Mar 10, 2017 11:11 by chris evans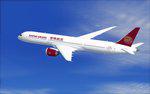 5.05Mb (421 downloads)
FSX Juneyao Airlines Boeing 787-9 V5L. Night lighting effects have been upgraded. This CamSim model design and paint by Camil Valiquette. 2d panel but no VC.
Posted Mar 9, 2017 01:07 by Camil Valiquette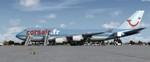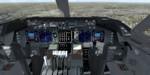 34.50Mb (2524 downloads)
FSX/P3D Boeing 747-400 Corsair International package with enhanced VC. Corsair is a French leisure airline owned by TUI and based at Paris Orly airport. Corsair has destinations around Europe, North Africa and North America. Currently Corsair operate 3 Boeing 747-400. Project Opensky Boeing 747-400 assembled and upgraded for FSX with the developed B747 VC (virtual 3d cockpit) from Alejandro Rojas Lucenda (Manual included). This is the Project Opensky FSX native Boeing 747-400 model, and includes ground cargo servicing, stairs, opening nose section and more. (FSX Go to Instrument Panel -Posky Util: P3D - Go to Vehicle - Instrument panel - Posky util ) Included CF engine sounds from BrandonG, with realistic jet whine to make your flight sound great. Thank you to Project Opensky for their contributions to the worldwide community of flight simulation. I have added the great weathered textures by Ryan C. Also includes the Boeing 747 VC textures upgrade. This give a much clearer 747 interior virtual cockpit look. Zip preview for larger pictures. Assembled and edited for FSX by Chris Evans.
Posted Mar 7, 2017 11:26 by chris evans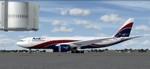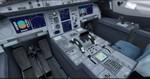 39.07Mb (1143 downloads)
P3D/FSX Airbus A330-200 Arik Air package. Arik Air is a Nigerian airline based mainly in Lagos and operates local flights as well as long haul services to London and New York. Currently (2017) Arik operate 2 Airbus A330-200. Includes VC. Model and VC by Thomas Ruth. I included the quality textures by Adam Amama. Requires either FSX Acceleration or SP1 and SP2 to be installed. Panel modified by Chris Evans to include built in FMC. FMC by Garret Smith. A330 sounds and manual included. Custom packaged by Chris Evans
Posted Mar 6, 2017 13:16 by chris evans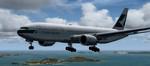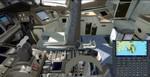 56.45Mb (3993 downloads)
FSX/P3D Boeing 777-200ER Cathay Pacific package with virtual cockpit and working FMC. Cathay Pacific is the flag carrier of Hong Kong and currently operate 5 Boeing 777-200 aircraft. Includes revised VC and FMC (via Views-Instrument panel). Model features are Opening doors & Cargo doors, detailed textures, accurate paint, dynamic shine & effects, dynamic flexing wings that respond to turbulence, fully independent suspension, trim animation, gear steering, accurate flight dynamics, spoiler animation, reflective cockpit windows, crash effects, animated tilting bogies, full night lighting, ground service vehicles when cargo door open, (FSX Go to Views - Instrument Panel -Posky Util. P3D go to Vehicle - Instrument panel), detailed virtual cockpit with updates by me (Chris Evans) and Hanzalah Ravat, and more. Added jetway (Ctrl J), fixed views and custom sounds. I have added the great textures by Ben Pang. FMC by Garret Smith - See FMC docs. Access FMC under Views - Instrument panel. FSX. Prepared and assembled for P3D/FSX by Chris Evans.
Posted Mar 5, 2017 12:59 by chris evans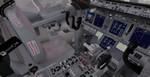 55.54Mb (1630 downloads)
P3D/FSX Boeing 767-300ER Titan Airways package with advanced VC. Titan Airways is a UK charter airline based at London Stansted airport and specialises in short notice charter hire for passenger, cargo and mail contracts. Native FSX B767-300ER model by Skyspirit with advanced 737-800 VC added. Includes utility for ground services, cargo, stairs, etc (FSX find it under - Views/P3D Vehicle - Instrument panel - - Posky Utility) The great native FSX Boeing 767-300ER from Skyspirit will be enjoyed by many more people who do not know how to install a VC, views, exits, Utilities etc into a FSX native model. The layout fof the 767 cockpit is not a million miles away from the advanced 737-800. The VC is the Alejandro Rojas Lucena/FSND fantastic revised Boeing 737-800 VC model. This VC model includes Working wipers (right mouse click on switch) with rain effect. Switches for LCD Screens, EICAS, PFD, MFT. Autobrake switch. Opening pilots window. Cabin Lights switch. Realistic FMC. Ground Proximity Warning System (GPWS), More Realistic night VC textures. There are custom Boeing sounds included for that extra realism. Jetways also edited (Ctrl j). Exits and views corrected for FSX/P3d. I have added the great textures by Paul Craig and added 767 sounds for more realism. Fixed viewpoints. Model is not modified in any way. See VC docs to get the best out of the VC and FMC. Packaged for P3D/FSX by Chris Evans.
Posted Mar 4, 2017 11:38 by chris evans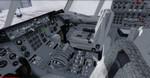 62.86Mb (2668 downloads)
FSX/P3D McDonnell Douglas DC-10-30 Lufthansa package. Lufthansa operated 12 DC-10-30 between 1974 and 1994. The DC-10-30 has range for medium- to long-haul flights, capable of carrying a maximum of 380 passengers on flights up to 6,600 miles. Includes custom VC. Model and VC by Thomas Ruth. Includes comprehensive VC with working wipers. I added the great textures by Michael Pearson. Added FMC by Garret Smith. Custom packaged by Chris Evans
Posted Mar 3, 2017 13:15 by chris evans