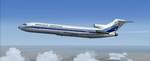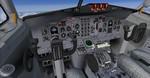 30.44Mb (1537 downloads)
Boeing 727-200 Aerolineas Argentinas package. Model by TDS. Boeing 727 interior model/VC by Thomas Ruth. Textures by Luis Castro
Posted Nov 2, 2015 06:17 by Luis Castro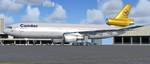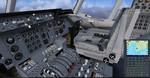 62.77Mb (2141 downloads)
McDonnell Douglas DC-10-30 Condor package for FSX. German airline, Condor, operated the DC-10-30 for nearly 20 years, between 1979 and 2000. Includes custom VC. Model and VC by Thomas Ruth. Includes comprehensive VC with working wipers. I included the great textures by Mike Pearson. Added FMC by Garret Smith. Custom packaged by Chris Evans
Posted Nov 1, 2015 11:44 by chris evans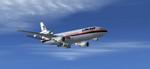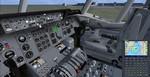 63.00Mb (943 downloads)
McDonnell Douglas DC-10-30 Laker Airways package for FSX. Air France operated the DC-10-30 between 1992 and 1995. Laker Airways was founded by Freddie Laker and became the second long-haul, low-cost, no frills airline in 1977, operating low-fare flights between London Gatwick Airport and New York John F. Kennedy Airport (after the pioneering Icelandic airline Loftleioir). Laker flew its last flight on 5 February 1982, going bankrupt thanks to the recession at that time. Includes custom VC. Model and VC by Thomas Ruth. I included the great textures by Mike Pearson. Added FMC by Garret Smith and includes working wipers, CFM sounds and more. Custom packaged by Chris Evans
Posted Oct 31, 2015 06:11 by chris evans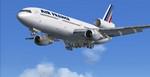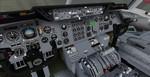 63.90Mb (3835 downloads)
McDonnell Douglas DC-10-30 Air France package for FSX. Air France operated the DC-10-30 between 1992 and 1995. Includes custom VC. Model and VC by Thomas Ruth. I included the textures by Mike Pearson. Added FMC by Garret Smith and includes working wipers, CFM sounds and more. Custom packaged by Chris Evans
Posted Oct 30, 2015 08:25 by chris evans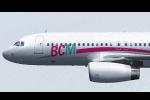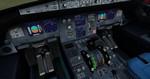 87.53Mb (1360 downloads)
BCM took its name from the initials of its owner, Bartholomew Cursach Tolo Mas. After the demise of the airline, its main client (the tour group Iberostar) created the Iberworld airline, which joined in creating two of the planes that had belonged to BCM Airlines. Full aircraft (read installation files and credits) Model by Project Airbus, texture by Juan Villamor.
Posted Oct 29, 2015 08:40 by Juan Villamor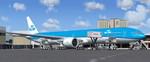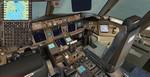 70.45Mb (5104 downloads)
Boeing 777-306ER KLM new colors with Virtual Cockpit and working Honeywell FMC for FSX. Boeing 777-300ER KLM nc package. Includes revised VC and FMC (via Views-Instrument panel). Model features are Opening doors & Cargo doors, detailed textures, accurate paint, dynamic shine & effects, dynamic flexing wings that respond to turbulence, fully independent suspension, trim animation, gear steering, accurate flight dynamics, spoiler animation, reflective cockpit windows, crash effects, animated tilting bogies, full night lighting, ground service vehicles when cargo door open, (FSX - Go to Views - Instrument Panel -Posky Util), detailed virtual cockpit with updates by Chris Evand and Hanzalah Ravat, and more. Added jetway (Ctrl J) and custom B777 sounds. I have used the great textures by Paul Craig. Panel by JB panels - See FMC docs. FMC needs to be set in Flight Planning in FSX. Prepared and assembled for FSX by Chris Evans.
Posted Oct 28, 2015 15:01 by chris evans

27.90Mb (2228 downloads)
This is a flyable update to the FS2004 JBSimulations AI Dassault Falcon 20C. I modified the Ludovic "Vonstroheim", Andre "esmdu", Philippe Wallaert, and Don Bodenstedt Falcon 50 panel and included all XML gauges, included the HJG GE CJ805-23 ingene sounds to approximate the GE CF700 normally installed, included five textures by Kevin McCarthy that include thumbnails (Ameristar, Kalitta Charters, Sierra West, Contract Air Cargo IFL, and USA Jet). 2D panel only, NO VC panel.
Posted Oct 27, 2015 20:56 by Michael E. Roberts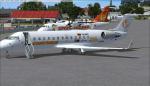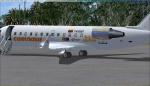 26.83Mb (1225 downloads)
Bombardier CRJ-200 Conviasa YV1026T, Venezuela. Model by Project Opensky. Texture by Yankyvictor.
Posted Oct 26, 2015 21:39 by YANKYVICTOR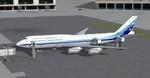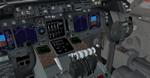 39.35Mb (1886 downloads)
FSX Aerolineas Argentinas Boeing 747-822. A new B747-800 painted with Aerolineas Argentinas retro livery. This is a repaint of a fictional aircraft registered as LV-AYD. SkySpirit Boeing 747-8 model and effects included.Assembled and upgraded for FSX with the developed B747 VC (virtual 3d cockpit) from Alejandro Rojas Lucenda. This is the Project Opensky FSX native Boeing 747-8i GenX model, and includes ground cargo servicing, stairs (FSX - Go to Views - Instrument Panel -Posky Utility), opening nose section and more. Included CF engine sounds from BrandonG, with realistic jet whine to make your flight sound great. Upgraded using the vastly improved Boeing 747 VC from Alejandro Rojas Lucena/FSND (See panel docs for details). VC includes FMC, EICAS, MFD with control panel, GPWS, working wipers, cabin lights, fire suppression, avionics switch, fuel crossfeed, landing lights switches, taxi light switch, engine generators, APU generator, battery switch, starter switches, de-ice switch, general lights switches. Louis Castro
Posted Oct 26, 2015 14:20 by Louis Castro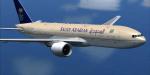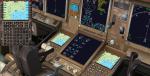 614.28Mb (9051 downloads)
Upgraded version of my Previous Upload Changelog: More Liveries (13) FMC by Jb777 (see FMC Docs) Working LNAV and GPWS. VC model available. Model by POSKY . Contains 3 authentic sound sets. Edited Aircraft.cfg with Passenger and cockpit views. Also contains a Working EFIS, V1 Vr V2 and Flap Speeds(On PFD) Working DSP with ECL and Detailed Traffic Radar.Model features are Opening doors & Cargo doors, detailed textures, accurate paint, dynamic shine & effects, dynamic flexing wings that respond to turbulence, fully independent suspension, trim animation, accurate flight dynamics, spoiler animation, reflective cockpit windows, crash effects, animated tilting bogies, full night lighting, ground service vehicles when cargo door open, (FSX - Go to Views - Instrument Panel -Posky Util), detailed virtual cockpit and more. Happy Flying
Posted Oct 26, 2015 06:20 by Hanzalah Ravat