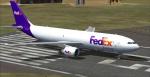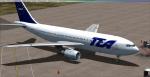 487.02Mb (29956 downloads)
Here it is! The Airbus A300 family Multi-Livery Mega-Package. It contains all the models of the A300 created by Thomas Ruth (and his collaborators), the different Virtual Cockpits (VC's)(together with their custom panels) for each of their variants which were also created by Mr. Ruth and his team, custom soundsets of the General Electric CF6-80C2 , the CF6-50C2 and the Pratt & Whitney JT9D-7R4G2 (which replaces the unavailable JT9D-59A) for this package created by Mike Maarse (who kindly authorized me on using them), 31 liveries between the 6 A300 variants which are organized like this: *Airbus A300-600F: (3) +FedEx +DHL Europe +UPS/United Parcel Services *Airbus A300-600R: (14) + American Airlines + Thai Airways International +Air France +Lufthansa + Royal Jordanian Airways + Qatar Airways - Old Colors + Saudi Arabian Airlines + Aegean Airlines + Olympic Air + China Eastern Airlines + China Southern Airlines + Iran Air + Mahan Air (2 liveries) *Airbus A300-600ST: (1) +House Colors *Airbus A300-B1: (2) + Rollout Colors +Trans European Airways - TEA *Airbus A300-B2: (4) + Lufthansa + Zero-G + Mahan Air (2 liveries) *Airbus A300-B4: (7) + Aerounion + Air Jamaica + DHL + Mahan Air (2 liveries) +Pan American World Airways + Scandinavian Airlines - Old Colors, custom-made views all throughout aircraft (that took a lot of time) and as always, a lot of time and dedication from me. For more information and pictures about this and other packages, check out my blog at: http://fsxluchoals.blogspot.com/
Posted May 8, 2012 23:57 by Luis Quintero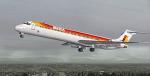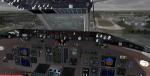 46.94Mb (80895 downloads)
McDonnell-Douglas MD-83 for FSX version 2. Features: 2D Cockpit. Virtual Cockpit. Working APU System. GPWS. Working Flight Management Computer*."FMC" Bendix King/Honeywell General Aviation FMC/GPS by Garrett Smith Full animations including exit doors. FSX terminal gate compatibility. Working windshield wipers. Wing flex. ...and many more realistic additions! Liveries: Christian Michael Silvers (Alitalia, TWA, China Southern Airlines, Iberia, SAS) Jordan Skok (Allegiant), Frequent Flyer (Finnair) Ricardo Torres (Lufthansa) Created and produced by: Alejandro Rojas Lucena Gauges by: Alejandro Rojas Lucena (Some MD-80 specific gauges) Microsoft (standard flight instruments) Garrett Smith (FMC). Liveries by: Christian Michael Silvers (Alitalia, TWA, China Southern Airlines, Iberia, SAS) Jordan Skok (Allegiant), Frequent Flyer (Finnair) Ricardo Torres (Lufthansa)
Posted May 8, 2012 10:27 by alrot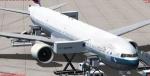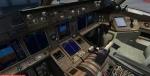 56.95Mb (11255 downloads)
Cathay Pacific Boeing 777-300 ER With Bridgeston Tyres And photoreal windows! Includes VC edited by Danny Garnier. Custom B777 sounds. Wonderful Boeing 777-300ER GE VC model by Project Opensky. Includes ground service (Views - Instrument Panel - Posky Utilities). By Shrikar Galgali Happy Flying! Updated for FSX by Chris Evans
Posted May 8, 2012 09:33 by Chris Evans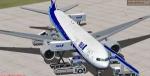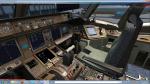 39.36Mb (7163 downloads)
FSX All Nippon Airways Boeing 777-281ER All Nippon Airways (ANA) founded in December 1952, as the growing company demanded more advanced aircrafts with the company's success. All Nippon Airways added the first Boeing 777 to it's fleet in late 1995 with the B777-281 registration JA8197. This repaint features the most accurate and up to date ANA B777-281 in it's new livery; with full 32bit highly detailed graphics. Includes ground service (Views - Instrument Panel - Posky Utilities) Giving the most realistic flight simulation experience. ANA Repaint: Aziz Palas. Model by Project Opensky. Modified for FSX by Chris Evans.
Posted May 8, 2012 08:53 by Chris Evans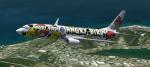 9.13Mb (1859 downloads)
Popular app game Angrybirds textures for the default FSX Boeing 737-800. Made by Ike
Posted May 7, 2012 10:57 by george el lobo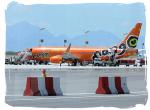 8.82Mb (2585 downloads)
Mango Airlines textures only for the default FSX Boeing 737-800. Mango is a South African low-cost airline and subsidiary of South African Airways. Made by Ike
Posted May 7, 2012 10:54 by george el lobo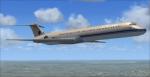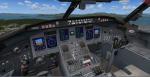 24.69Mb (7011 downloads)
This is the default AI MD-83 made flyable. It will make the AI MD-83 flyable. It has all three fictional airlines: Soar Airlines, Airwave Airlines, and Pacifica Airlines. Uses the default CRJ900 panel and VC and the CRJ-700 sounds. The aircraft has opening doors. There is moving flaps, rudder, ailerons, elevator, thrust reversers, and spoilers. I added views to it. There is gear view, tail view, and wing views. Aircraft is by Microsoft. Made flyable by Tyler Lawrence with the help of Michael Litz
Posted May 6, 2012 18:52 by Tyler Lawrence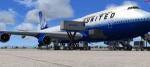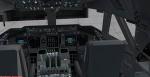 22.00Mb (5329 downloads)
Project Opensky B747-400 v4 FSX model in the United Airlines N178UA. Features recolored default 747 VC, Ground services. Posky utilities to enable ground service traffic and stairs. (Find it under Views-Instrument panel - Posky Utilities). Textures by Xudeva Irribarra. Upgraded to FSX model by Chris Evans.
Posted May 6, 2012 15:16 by Chris Evans


8.08Mb (513 downloads)
This package includes the default Boeing 737-800 textures of the JETHOPS group. Find their session in the FSX GameSpy lobby! Textures hand-made by kilocharlie1.
Posted May 6, 2012 15:14 by kilocharlie1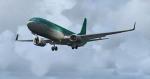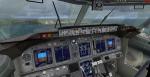 17.29Mb (4940 downloads)
Boeing 737-800WL Aer Lingus. Skyspirit/Project Opensky native FSX Boeing 737-800 winglet model. Upgraded to FSX using Alrot's revised Boeing 737-800 VC. This model includes Working wipers (right mouse click on switch) with rain effect. Switches for LCD Screens, EICAS, PFD, MFT. Autobrake switch. Opening pilots window. Cabin Lights switch. Realistic FMC. Ground Proximity Warning System (GPWS), More Realistic night textures. FSX native model winglet by Skyspirit/Project Opensky. VC by Alejandro Rojas Lucena (Alrot). Textures by Thomas Irlam. Modified for FSX by Chris Evans.
Posted May 6, 2012 07:33 by Chris Evans