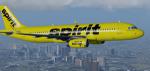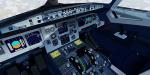 78.44Mb (938 downloads)
FSX/P3D Airbus A320-200SL Spirit Airlines IAE package. US low cost airline, Spirit, is based at Fort Lauderdale Hollywood Airport, Florida and currently have 96 Airbus A320 aircraft. Spirit fly to destinations around the USA, Latin and South America and the Caribbean. Views/Instrument panel in FSX menu. (FSX : Go to Views -Instrument Panel. P3D: Go to Vehicle - Instrument panel). Added better views. Model by Project Airbus. 2020 updated VC by Speedbird77 with updates: The autobrakes are now fully functional within the vc. (Check near the gear lever). ECAMS lower screen is more accurate. Credit to "FsWorX" Edits by Collin MacKenzie. Includes A320 operation manual and checklist. Airbus sounds included. Textured and assembled for P3D v5 by Chris Evans. Should work in FSX and other P3D
Posted Oct 18, 2020 05:57 by chris evans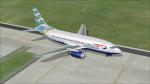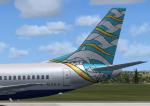 3.06Mb (132 downloads)
FSX/P3D British Airways Boeing 737-500 (Blue Poole) Textures for the Eagle Rotorcraft/Vistaliners Boeing 737-500 Registration: G-MSKA, she served the airline between 1996 and 2002. Blue Poole tailfin art. ----- My Facebook: https://www.facebook.com/AzureFire-107137807723412 ----- I will post videos about my repaints at my YouTube channel: https://www.youtube.com/channel/UC0Gidgoo7rWZlStYyTroMqw
Posted Oct 18, 2020 01:42 by Cs_Csanad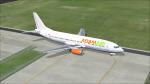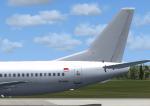 1.13Mb (94 downloads)
FSX/P3D Adam Air Boeing 737-400 Textures for the Eagle Rotorcraft/Vistaliners Boeing 737-400 Registration: PK-KKW. Adam Air received her in 2005. The aircraft crashed into the Makassar Strait on 1st January 2007. ----- My Facebook: https://www.facebook.com/AzureFire-107137807723412 ----- I will post videos about my repaints at my YouTube channel: https://www.youtube.com/channel/UC0Gidgoo7rWZlStYyTroMqw
Posted Oct 18, 2020 01:37 by Cs_Csanad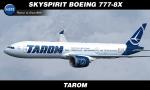 8.82Mb (76 downloads)
FS9/FSX SkySpirit Boeing 777-8X in Tarom livery. Repaint by Sergey Gleba aka serg09. Paint Kit by Sergey Gleba | SSP. Link to my products on SimMarket: http://secure.simmarket.com/paintsim.mhtml
Posted Oct 18, 2020 01:32 by Sergey Gleba aka serg09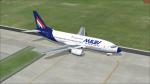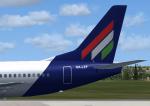 0.88Mb (77 downloads)
FSX/P3D Malev Boeing 737-300 Textures (Millenium sticker) repaint textures for the Eagle Rotorcraft/Vistaliners Boeing 737-300 Registration: HA-LEF, she served the airline between 1991 and 2004. She had (among other aircraft) a 1000 years old Hungary on the fuselage in 2000-2001. ----- My Facebook: https://www.facebook.com/AzureFire-107137807723412 ----- I will post videos about my repaints at my YouTube channel: https://www.youtube.com/channel/UC0Gidgoo7rWZlStYyTroMqw
Posted Oct 18, 2020 01:25 by Cs_Csanad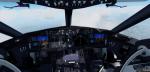 80.29Mb (436 downloads)
FSX/P3D Boeing 787-8 Royal Jordanian Airlines package with native B787 cockpit. Jordan's flag carrier airline is based at Amman–Queen Alia Airport and currently have 7 Boeing 787-8 flying to destinations almost worldwide. 8 The VC is the comprehensive Bender Erik great adaption of the Asobo MSFS 2020 Boeing 787 cockpit. TDS high spec. native FSX Boeing 787-8 model. See Document folder to get the best out of the VC. Textured, assembled and tested in P3Dv5 by Chris Evans. Should also work in earlier P3D & FSX.
Posted Oct 17, 2020 10:44 by chris evans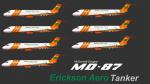 63.08Mb (522 downloads)
This aircraft modification as with the other "ScorchMod" airtanker conversions comes from a long line of development from the original aircraft. This modification is based around the freeware released SGA DC-9. Although not an MD-87, the models differ only slightly and I felt it was a great platform to do this modification to. The original was made FSX Native by Eagle Rotorcraft. The tank fairing was designed and attached in our group at Simulated Air Tanker Operations. The pack also includes sounds I've modified from Benoit Plamondon's original freeware JT8D soundset for the DC-9/MD-87 to mesh better with FSX and P3D. I have also updated external lighting on the model to reflect the MD-87s better. Model is still FSX native, but was constructed and tested in P3Dv4.5. This likely means it is also compatible in V5 of P3D as well. FSX users will have custom thumbnails. I have also included weight references for use in FireFigherX. This jet can be a challenge to fly fully loaded out of airfields with runways shorter than 5200 feet without the weight and payloads properly configured. This package includes all 7 of Erickson Aero's aircraft. FSX Native conversion by Eagle Rotorcraft. Internal VC model (DC10) by Thomas Ruth. External tank fairing designed by Jeremy Ulloa. Airtanker modification by Nicholas Mitchell.
Posted Oct 17, 2020 01:02 by Nicholas Mitchell
109.72Mb (719 downloads)
FSX/P3D Airbus A350-900 SAS Scandanavian Airlines. Uses the upgraded vc by Speedbird77. SAAD Airbus A350-900 FSX Native model. For both FSX and P3D all version to v5.
Posted Oct 17, 2020 00:17 by uploader
75.75Mb (764 downloads)
FSX/P3D Airbus A321-200 Sharklet Spirit Airlines package. Low cost carrier Spirit are based in Miami and currently have 30 Airbuis A321-200 and fly to destinations around the U.S. as well as Latin America dn the Caribbean. Model by Project Airbus updated to FSX native and 2020 updated VC by Speedbird77 and updates to include more accurate ECAMS lower screen. Credit to "FsWorX". Includes A321 checklist. Airbus sounds included. Tested in P3D v5 and should work in FSX and previous P3D versions. Zip preview for images. Textured and packaged by Chris Evans
Posted Oct 16, 2020 09:29 by chris evans
108.30Mb (687 downloads)
FSX/P3D Airbus A350-900 British Airways. SAAD Airbus A350-900 FSX Native model. Uses the upgraded vc by Speedbird77. For both FSX and P3D all version to v5.
Posted Oct 16, 2020 03:50 by uploader