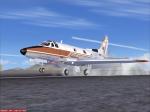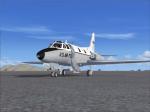 23.91Mb (2900 downloads)
I updated Kazunori Itos' FS2002/FS2004 North American/Rockwell T-39A Sabreliner for FSX, using Philippe Wallaerts' Dassault Mercure 2D panel and HJGs' GE CJ805-23B AFT-FAN FANJET sound for the Convair 990A. I also updated the aircraft config file and added texture thumbnails. NO VC.
Posted Dec 17, 2011 23:49 by Michael E. Roberts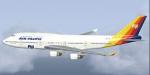 0.37Mb (687 downloads)
Melair Textures for the default Boeing 747. This texture is for a friend from FSX multiplayer
Posted Dec 17, 2011 21:28 by retbush1996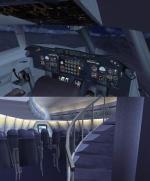 62.42Mb (11887 downloads)
Korean Air Cargo 747-200F Package. Superb model by Ready for Pushback (ex payware). This model contains detailed FSX compatible custom VC and crew cabin, passenger cabin, 1st class, stairs, all passenger area down the stair, high detail model, etc. Textures by Dennis Kim. Modified for FSX by Danny Garnier.
Posted Dec 16, 2011 09:32 by GARNIER Danny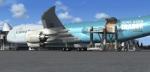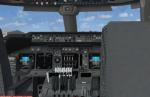 30.87Mb (7328 downloads)
Boeing 747-8F Cathay Pacific Cargo Hong Kong Trader Package. (Fixed to include missing air file which prevented it showing in FSX). Adapted for FSX and coupled to the default B747-400 VC with edits. Dynamic flexing wings based on airspeed, pitch, weight, and other factors. Independent Tire Rotation - wheels stop turning at different times depending on which wheel leaves the ground first. Body gear steering between 1 and 15 kts. Nose gear steering between 1 and 60 kts. Rudder lock under between 1 and 60 kts. Ground spoiler only works on ground. Low speed aileron locks at high speed. Fully animated control surfaces Fully independent suspension. Showing POSKY Utility Panel: Shift+8 Opening Passenger (L1) door: Shift + E ( Opening door ) Opening Cargo Doors: Shift + E then quickly 2 Opening Passenger (L2) door: Shift + E then quickly 3 Opening Bulk Cargo Door: Shift + E then quickly 4. Model by Skyspirit. Repaint by Mathieu Vos. Updated for FSX with default B7474 VC, by Chris Evans. Thank you to Skyspirit for their wonderful models.
Posted Dec 15, 2011 12:00 by admin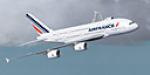 62.48Mb (18459 downloads)
Project Airbus A380 matched with Thomas Ruth A340 virtual cockpit. Including Lufthansa and Air France liveries.
Posted Dec 12, 2011 10:47 by ricardo_tv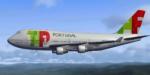 1.20Mb (2151 downloads)
Here comes a TAP (Transportes Aéreos Portugueses) texture for the default 747-400. TAP texture by FlightsimulatorPortugal.com
Posted Dec 10, 2011 16:11 by ricardo_tv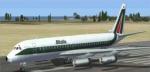 3.86Mb (5664 downloads)
The aicraft reproduced in this package is a real DC8-62 flown by the author (logging some 8000 hours, including 3 years as flight instructor on the type) in the good old times and it features reflective metallic skin plus full animations. The livery is that of ALITALIA, Italian Air Lines , used In the late 60's. The panel background was created entirely from scratch, based on photographic material found on the net and some material from the original Alitalia Flight Manual. The gauges layout of the panel is the one used by Alitalia, with some little changes due to sim restrictions. The Autopilot panel does not reproduce exactly the real one, but it is a modified B737 autopilot, to avoid boring pop-up windows. Most of the gauges are in .xml format while a few are in .gau format, expressely created by the author. Included in this model there is also a Virtual Cockpit, with working essential flight instruments and animated flight controls , plus camera views. Capt. I. D'Attomo
Posted Dec 10, 2011 13:05 by D'Attomo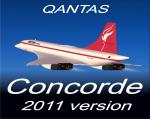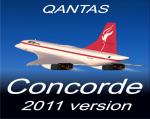 7.66Mb (2671 downloads)
Quantas textures only for the "1 concorde final 2011-A" package from Libardo Guzman
Posted Dec 7, 2011 21:01 by Hakan Saplakoglu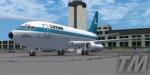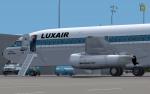 1.82Mb (1062 downloads)
This is the installation manual for textures of the TinMouse 737-200 in the colors of Luxair (LX-LGI).
Posted Dec 7, 2011 13:50 by archive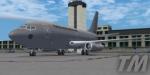 1.76Mb (861 downloads)
Textures only for the TinMouse 737-200 in the colours of the Fuerza Aerea Mexicana (FAM)(3520). By Marius Kramer
Posted Dec 7, 2011 13:50 by archive