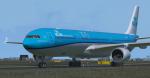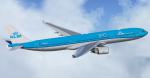 10.60Mb (953 downloads)
KLM Royal Dutch Airlines (PH-AKB) textures only; includes a version with the KLM100 decal and another without the KLM100 decal, for the Thomas Ruth A330-300 GE Engine model. This texture is a part of my project to attempt to re-texture the Thomas Ruth A330s with 4096*4096 HD Textures. Special thanks to Oniel Black for helping with the engine intake and slats textures. Feel free to join the JetRepaintsSG group on Facebook for more of my repaint works! Installation instructions have been included in the file. Made by Muhammad Akmal Farhan
Posted Jul 18, 2020 10:07 by Muhammad Akmal Farhan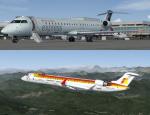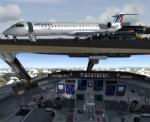 88.55Mb (1141 downloads)
FSX/P3D Bombardier CRJ-900 FSX Native Package 2. Liveries: Air France (Britair), Air Nostrum and Air Canada Express. Project Opensky CRJ-900 FSX native model and VC conversion by Speedbird77. Flight dynamics Warren C. Daniel. Textures: Paul Craig, GGuzman. FSX and Prepar3Dv4.4 compatible MdlX conversions by Speedbird77.
Posted Jul 18, 2020 08:49 by anon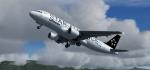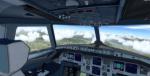 85.10Mb (777 downloads)
FSX/P3D Airbus A320-200 Lufthansa Star Alliance package. Germany's flag carrier airline currently operate 62 Airbus A320-200, a few which are painted in the Star Alliance livery. Views/Instrument panel in FSX menu. (FSX : Go to Views -Instrument Panel. P3D: Go to Vehicle - Instrument panel). Added better views. Model by Project Airbus. Updated VC by Speedbird77 with built in FMC by Garret Smith. Includes A320 operation manual and checklist. Airbus sounds included. Textured and assembled for P3D v4.5 by Chris Evans. Should work in FSX and other P3D
Posted Jul 18, 2020 04:46 by chris evans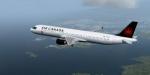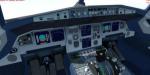 75.93Mb (884 downloads)
FSX/P3D Airbus A321-200 Air Canada package. Air Canada currently have 15 Airbus A321-200. This one C-FJNX is the newest in the fleet. Includes 2020 revised model and VC. Model by Project Airbus updated to FSX native and updated VC by Speedbird77. Includes A321 checklist. Airbus sounds included. Tested in P3D v4.5 and should be ok in FSX and previous P3D versions. Zip preview for images. Textured and packaged by Chris Evans
Posted Jul 17, 2020 07:19 by chris evans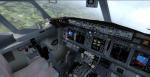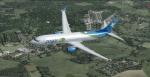 58.48Mb (785 downloads)
FSX/P3D Boeing 737-900ER Pegas Fly package. Pegas Fly is a Russian leisure airline based at Zhukovsky International Airport and currently have 2 Boeing 737-900ER with a further one on order, flying to destinations around Russia and China. The VC is the Alejandro Rojas Lucena/FSND fantastic revised Boeing 737-800 VC model. This VC model includes Working wipers (right mouse click on switch) with rain effect. Switches for LCD Screens, EICAS, PFD, MFT. Autobrake switch. Opening pilots window. Cabin Lights switch. Realistic FMC. Ground Proximity Warning System (GPWS), More Realistic night VC textures. Custom Boeing sounds added. Extra G1000 PFD and MFD with manual included as well as retouched VC textures. VC added and aircraft.cfg edited to allow correct VC views, jetways, wheel levels and wing views. See VC docs to get the best out of the VC and FMC. Main credit goes to the FSX native model and paintkit by TDS. VC and model textured and assembled for P3D 4.5 by Chris Evans. Should also work in earlier P3D versions as well as FSX.
Posted Jul 16, 2020 07:10 by chris evans
94.71Mb (2109 downloads)
FSX/P3D Boeing 777-300ER Etihad package. Abu Dhabi based Etihad is a flag carrier airline of the United Arab Emirates (UAE) and is the country's 2nd largest airline after Emirates. Currently Etihad have 19 Boeing 777-300ER in their fleet flying worldwide. Project Opensky model features opening doors & cargo doors, detailed textures, accurate paint, dynamic shine & effects, dynamic flexing wings that respond to turbulence, fully independent suspension, trim animation, gear steering, accurate flight dynamics, spoiler animation, reflective cockpit windows, crash effects, animated tilting bogies, full night lighting, stairs, ground service vehicles when cargo doors open, (FSX - Go to Views - Instrument Panel -Posky Util), detailed virtual cockpit and more. Added custom B777 sounds. VC night lights fixed thanks to Hagar. To use FMC - Go to Views - Intrument panel - FMC. See FMC docs. Thanks for the fantastic native FSX model and paintkit by Skyspirit/Project Opensky. Jetway exits added. Thank you to Zachary777 for the native conversion of the brilliant Jacob Kubique VC. P3D/FSX compatible gauges added by Chris Evans. Textured and assembled for P3d 4.5 by Chris Evans. Should also work in FSX
Posted Jul 15, 2020 07:40 by chris evans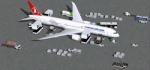 10.43Mb (485 downloads)
FSX Turkish Airlines Boeing 787-9 AGS V6.2. New Main landing gear bogie. New Animated Ground Servicing. New static displays. New landing / taxi soft light beams. New 2D panel. (No VC) Model design and paint by Camil Valiquette. ( CamSim )
Posted Jul 15, 2020 01:48 by Camil Valiquette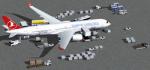 10.48Mb (491 downloads)
FSX Turkish Airlines Airbus A350-900 AGS V6.2. New Main landing gear bogie. New Night lights reflection. New Animated Ground Servicing. New static displays. New winglets. New wing root. New landing / taxi soft light beams. New 2D panel. (No VC) Model design and paint by Camil Valiquette. ( CamSim )
Posted Jul 15, 2020 01:46 by Camil Valiquette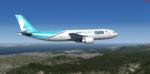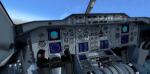 48.91Mb (1016 downloads)
FSX/P3D Airbus A300-600F MNG Airlines package. MNG Airlines is a Turkish cargo airline with main bases at Turkey's Ataturk International Airport and Cologne Bonn Airport in Germany. MNG flies to destinations around Europe, Africa and Asia. The Airbus A300 is a wide body two engine jet airliner manufactured by Airbus. As of April 2019, 237 A300 are still inoperation. The aircraft was built between 1972 and 2007. Textured and assembled for P3Dv4.5 by Chris Evans. Should also work in FSX and earlier P3D version
Posted Jul 13, 2020 06:47 by chris evans
93.88Mb (932 downloads)
FSX/P3D Boeing 777-300ER China Eastern package. China Eastern is based in Shanghai and currently operate 30 Boeing 777-300ER flying globally. Includes revised VC and Honeywell FMC (via Views-Instrument panel). Project Opensky model features opening doors & cargo doors, detailed textures, accurate paint, dynamic shine & effects, dynamic flexing wings that respond to turbulence, fully independent suspension, trim animation, gear steering, accurate flight dynamics, spoiler animation, reflective cockpit windows, crash effects, animated tilting bogies, full night lighting, stairs, ground service vehicles when cargo doors open, (FSX - Go to Views - Instrument Panel -Posky Util), detailed virtual cockpit and more. Added custom B777 sounds. VC night lights fixed thanks to Hagar. To use FMC - Go to Views - Intrument panel - FMC. See FMC docs. Thanks for the fantastic native FSX model and paintkit by Skyspirit/Project Opensky. Jetway exits added. Thank you to Zachary777 for the native conversion of the brilliant Jacob Kubique VC. P3D/FSX compatible gauges added by Chris Evans. Textured and assembled for P3d 4.5 by Chris Evans. Should also work in FSX
Posted Jul 11, 2020 06:56 by chris evans