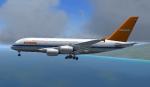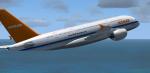 7.44Mb (8384 downloads)
Thatīs the fictional texture the Airbus A380-800 of Viasa from Venezuela. The model includes taxi and landings ligths, dynamics shine and all moving parts, flexing wings, wings view. Model by Robert Verluys, 2d panel by Hector Molina (No VC) and repainted by David Espinoza Michelena
Posted Apr 24, 2010 23:22 by David Espinoza Michelena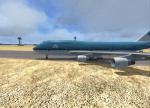 2.33Mb (5053 downloads)
Boeing 747-400 KLM Textures only for the default FSX Boeing 747. By Josh Walker
Posted Apr 24, 2010 18:03 by Josh walker
59.62Mb (5403 downloads)
This package features the complete collection of the default 737-800 repaints by FlightSim Repaint (FSR). This package includes the following repaints: -American Airlines (2018 concept livery) -Continental Airlines -B&H Airlines -Air France -Air Colorado (FSR Concept) -Air Scotland -Aerolineas Argentinas (new and old liveries) -Delta Airlines (new flag livery)! Also included are the following: -Complete flight model (virtual cockpit and exterior) -NEW! Custom sounds by Project OpenSky -NEW! Custom wing textures
Posted Apr 23, 2010 09:36 by Jason A. Lee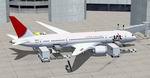 5.15Mb (4462 downloads)
FSX Japan Airlines JA852J Boeing 787-8 V2, This CamSim Version 2 feature an improve aircraft's design with new Animated Ground Servicing (AGS). No VC. Model design and paint by Camil Valiquette.
Posted Apr 23, 2010 06:40 by Camil Valiquette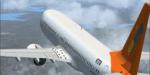 8.41Mb (1701 downloads)
Repaint for the default Boeing 737-800. Sunwing Airlines flies cold Canadians to warm destinations during the winter months...A tribute. Repaint: Ian Mundy
Posted Apr 21, 2010 22:06 by Ian Mundy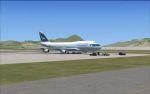 7.19Mb (7090 downloads)
FSX Boeing 747-400 Cathay Pacific Airways Updated Registed as B-HKE (ex-SQ 744 PW Engine) FSX Cathay Pacific Airways Boeing 747-400, registration B-HKE, An updated version that I uploaded perviously. I matched the aircraft from photos and make it as real as I can. Textures only for the default B747-400. Repaint by Johnny Chan.
Posted Apr 20, 2010 15:05 by Johnny Chan
1.85Mb (6377 downloads)
Boeing 747-400 Hawaiian Textures plus traffic routes.
Posted Apr 20, 2010 05:56 by admin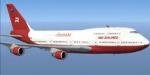 1.77Mb (1787 downloads)
Boeing 747-400 Red Airlines Textures only for the default FSX B747.
Posted Apr 16, 2010 21:23 by DONZ

3.29Mb (1764 downloads)
Repainting of the Bombardier CRJ 700 FSX default included in the colors of Andalus Lineas Aereas, This repaint is not completely true because it has the Andalus lineas aereas only have the Embraer ERJ 145.
Posted Apr 13, 2010 18:24 by Luis López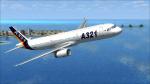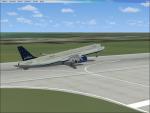 50.68Mb (6775 downloads)
This repaint pack is for the default A321. Comes with House colors, My 2 jetBlues(with a modification on my first one and the tail logo flipped),a TED airlines, an Air Berlin, an Alitia, and a Virgin America. Have fun flying!!!
Posted Apr 11, 2010 09:40 by Brody Carlson