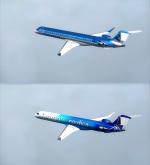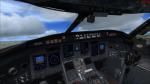 84.13Mb (409 downloads)
FSX/P3D Nordica and Estonian Bombardier CRJ-900 package -------------- Featuring 2 liveries (Estonian and Nordica) for the aircraft registered ES-ACB. Nordica is the successor of the Estonian national airline Estonian Air. Project Opensky CRJ-900 2020 FSX native model and VC conversion made by Speedbird77. Nordica textures by Chris Evans. --- My Facebook page: https://www.facebook.com/AzureFire-107137807723412 ----- I will post videos about my repaints at my YouTube channel: https://www.youtube.com/channel/UC0Gidgoo7rWZlStYyTroMqw
Posted Mar 19, 2021 10:41 by Cs_Csanad
74.10Mb (908 downloads)
FSX/P3D Airbus A321-271N Spirit Airlines 2021 livery package. US budget airline, Spirit, is based at Miramar, Florida, and currently have 30 A321Neo delivered or on order. Includes 2020 revised model and VC. Modified the Project Airbus A321-200 to resemble a NX model with window and door placements. 2020 updated A321 model by Project Airbus updated to FSX native and updated VC by Speedbird77. Autobrakes fully functional within the vc. Check near the gear lever. ECAMS lower screen is more accurate. Credit to "FsWorX". Includes A321 checklist. Airbus sounds included. Tested in P3D v5 and should work in FSX and previous P3D versions. Zip preview for images. Textured and packaged by Chris Evans
Posted Mar 19, 2021 09:38 by chris evans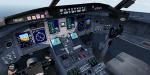 86.06Mb (723 downloads)
FSX/P3D Bombardier CRJ-900 FSX Native Air Nostrum package. Air Nostrum,also known as Iberia Regional, is a Spanish regional airline and a division of Iberia and has it's main hubs at Barcelona Airport and Madrid-Barajas Airport. Currently Air Nostrum have 4 CRJ900 in it's fleet. Project Opensky CRJ-900 2020 FSX native model and VC conversion by Speedbird77. Models by Nicholas Wilkinson/Hiroshi Igami Project Opensky. Flight dynamics Warren C. Daniel. FSX and Prepar3D v5 (and previous) compatible MdlX conversions by Speedbird77. Textured and tested in P3D v5 by Chris Evans. Should also work in FSX and other P3D versions.
Posted Mar 16, 2021 12:13 by chris evans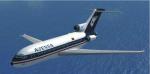 14.69Mb (354 downloads)
This is an update for FSX of the Avensa B727-100 Retro. I saw that I had partially updated it and decided to complete the update of this originally AI aircraft. I gave it a panel and different sound; and updated the flight dynamics. No VC.
Posted Mar 14, 2021 12:49 by Bob Chicilo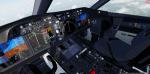 80.15Mb (1442 downloads)
FSX/P3D Boeing 787-10 United Airlines 2021 package with native B787 cockpit. United is based at Chicago O'Hare and is the world's 3rd largest airline. United currently have 13 Boeing 787-10 with a further 1 on order. Thanks to the high quality FSX native Boeing 787-10 model and paintkit by TDS. The VC is the Erik Bender adaption of the X-plane Mariano Gonzalez (MagKnight)'s 787 VC. See Document folder to get the best out of the VC. Textured, assembled and tested in P3Dv5 by Chris Evans. Should also work in earlier P3D & FSX.
Posted Mar 14, 2021 12:07 by chris evans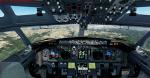 59.41Mb (878 downloads)
FSX/P3D Boeing 737-800 Ryanair Dreamliner livery package. Irish low cost airline Ryanair currently have 256 Boeing 737-800 flying to destinations around Europe. This one EI-DCL is finished in Boeing Dreamliner livery. TDS high spec. native FSX Boeing 738-800 model. The VC is the FSND modified version of the Microsoft Boeing 738 VC to include various upgrades. See Document folder to get the best out of the VC. Textured, packaged and prepared for FSX & P3D up to v5 by Chris Evans.
Posted Mar 13, 2021 10:34 by chris evans for simviation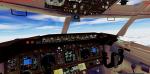 56.28Mb (1059 downloads)
FSX/P3D Boeing 757-24APF United Parcel Service package. US Global freight carrier UPS is based at Louisville (KY) and currently have 75 Boeing 757-200PF flying worlwide. The FSX Native Boeing 757-200 PW2000 WL model from TDS. The VC is the FSND upgraded Boeing 737-800 VC cockpit brown tinted to be more like the 75. This VC model includes Working wipers (right mouse click on switch) with rain effect. Switches for LCD Screens, EICAS, PFD, MFT. Autobrake switch. Opening pilots window. Cabin Lights switch. Realistic FMC. Ground Proximity Warning System (GPWS) and additional G1000 MFD and PFD screens. Added wing views. Checklist included. See VC docs to get the best out of the VC and FMC. Textured and assembled for P3D v5 & FSX by Chris Evans.
Posted Mar 12, 2021 12:17 by chris evans for simviation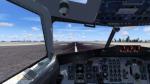 509.74Mb (1473 downloads)
Boeing 727-100 MegaPack with 10 models by TDS / Tenkuu Developers Studio with Thomas Ruth VC with new HD textures added. Includes utility for ground services, Passenger bus, cargo, stairs, refuelling truck etc. Added Reference and Checklists htm files. Added GPWS, TCAS, V-Speed, CockpitSound, and FlightDEck FX gauges. Added extra effects and lights. Comes with 3 custom sound sets and many liveries. See Docs folder for manual and more info. Aircraft.cfg edited to allow correct VC views and weight values. Multipack features: - Latest non-PBR native FSX models by TDS. - 8 pax models and 2 cargo models. - 32 liveries from all over the globe. - 3 custom Sound sets. - 3 different panel configurations for pax, cargo, and CA models. - Documentation. - Some extra gauges. - Tested and prepared for Prepar3D v4.5 See for more info and documentation in the 'Docs' folder in the aircraft folder. See CREDITS.txt for a full credits list. If in doubt installing this package see file INSTALL.txt Happy flights and stay safe.
Posted Mar 11, 2021 09:33 by Flanker256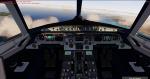 73.84Mb (784 downloads)
FSX/P3D Airbus A321-271NX Aegean Airlines package. Aegean is the flag carrier airline of Greece and based at Athens International Airport. Currently Aegean have 3 A321-271NX with another on order. Includes 2020 revised model and VC. This is the 2020 revised Project Airbus A321-200SL edited to resemble a NX model with window and door placements and 'eyemask'. 2020 updated A321 model by Project Airbus updated to FSX native and updated VC by Speedbird77. Autobrakes fully functional within the vc. Check near the gear lever. ECAMS lower screen is more accurate. Credit to "FsWorX". Includes A321 checklist. Airbus sounds included. Tested in P3D v5 and should work in FSX and previous P3D versions. Zip preview for images. Textured and packaged by Chris Evans
Posted Mar 11, 2021 08:22 by chris evans
72.16Mb (980 downloads)
FSX/P3D Airbus ACJ318 Global Jet Luxembourg package. This ACJ318 is operated by Global Jets Luxembourg who operate charter private jet rental. This is the Project Airbus A318-100 modified to resemble a ACJ318 (Airbus Corporate Jets). The A319 is a shorter version of the A320 family. Custom Airbus sounds. Also added jetway configs (Ctrl J). Updated the great Project Airbus A319 winglet model. Revised original VC by Microsoft updated by Collin MacKenzie to include built in FMC and more. Textured and assembled for P3D5 (Should also work in other P3D and FSX) by Chris Evans
Posted Mar 10, 2021 08:13 by chris evans