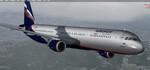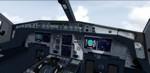 65.59Mb (1087 downloads)
P3D > v4.* /FSX Airbus A321-200 Aeroflot package. Russian flag carrier Aeroflot currently (May 2018) operate 38 A321-200 with a further 4 on order. Native FSX model by Project Airbus. Includes enhanced Thomas Ruth Airbus VC with updates by Phillip Wallaert, Louis Quintero and some further edits by Chris Evans. Added the textures by Sergey Gleba. Fixed wheel levels. Fixed jetway codes. Tested in P3D v4. Airbus sounds included. Custom packaged by Chris Evans
Posted May 29, 2018 11:27 by chris evans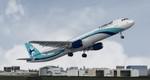 65.87Mb (970 downloads)
P3D > v4.* /FSX Airbus A321-200 Interjet package. Interjet is Mexico's 3rd largest airline and is based at Mexico City International Airport. As of May 2018, Interjet operates 6 Airbus A321 to destinations across Latin America and the US and Canada. Native FSX model by Project Airbus. Includes enhanced Thomas Ruth Airbus VC with updates by Phillip Wallaert, Louis Quintero and some further edits by Chris Evans. Textures by Isabel Rodriguez. Fixed wheel levels. Fixed jetway codes. Tested in P3D v4 and should be fine in FSX and earlier versions of p3D. Airbus sounds included. Custom packaged by Chris Evans
Posted May 28, 2018 08:37 by chris evans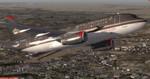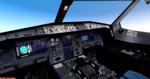 64.00Mb (1038 downloads)
FSX/P3D> v4 Airbus A319-100 Royal Jordanian package. Jordan's flag carrier Royal Jordanian currently operates 4 A319 aircraft. The Airbus A319-100 is part of the A320 family carrying up to 160 passengers and with a range of up to 6900km/4300miles. High quality FSX native model by Project Airbus. Added the better Thomas Ruth VC with updates by Chris Evans and Louis Quintero. Use FMC under Views/Instrument panel in FSX menu. (FSX : Go to Views -Instrument Panel. P3D: Go to Vehicle - Instrument panel) I included the great textures by Jim Fly. Added the HQ textures by Mohammed Al-Khalifa - with added upgraded VC, jetways, wheel levels and added views Includes FMC by Garret Smith. Airbus sounds and manual included. Custom packaged by Chris Evans
Posted May 27, 2018 12:32 by chris evans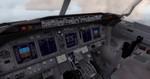 76.44Mb (1513 downloads)
FSX/P3D >v4 Boeing 767-300ER United Airlines Blue Tulip and Star Alliance liveries package. Based in Chicago, United is the world's 3rd largest airline and as of May 2018, operates 35 Boeing 767-300ER with a further 3 on order. Package includes advanced 737-800 VC added. Includes utility for ground services, cargo, stairs, etc (FSX find it under - Views/P3D Vehicle - Instrument panel - - Posky Utility) The great native FSX Boeing 767-300ER from Project Opensky/Skyspirit will be enjoyed by many more people who do not know how to install a VC, views, exits, Utilities etc into a FSX native model. The layout fof the 767 cockpit is not a million miles away from the advanced 737-800. The VC is the Alejandro Rojas Lucena/FSND fantastic revised Boeing 737-800 VC model. This VC model includes Working wipers (right mouse click on switch) with rain effect. Switches for LCD Screens, EICAS, PFD, MFT. Autobrake switch. Opening pilots window. Cabin Lights switch. Realistic FMC. Ground Proximity Warning System (GPWS), More Realistic night VC textures. There are custom Boeing sounds included for that extra realism. Jetways also edited (Ctrl j). Exits and views corrected for FSX/P3d. I have added the high quality textures by Joe Shimmel and added 767 sounds for more realism. Fixed viewpoints and jetways. See VC docs to get the best out of the VC and FMC. Packaged for P3D/FSX by Chris Evans.
Posted May 25, 2018 12:54 by chris evans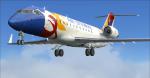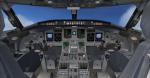 176.66Mb (1764 downloads)
New version 1.1: 3D model - Correction of ailerons and rudder animations that were incorrect. P3Dv4 - Correction of flight numbers in Aircraft.cfg. Added missing installation procedure. Rikoooo is proud to present the Bombardier CRJ-200 converted from FS2004 model to native FSX and native P3Dv4 with permission from Mitsushi Yutaka owner of the model (Project OpenSky) Include Reworked Virtual Cockpit for the FSX Bombardier CRJ 700 + 32 enhanced repaints. Previous version had 2909 d/ls. See zip preview for what textures are included.
Posted May 24, 2018 19:59 by Rikoooo
67.91Mb (1814 downloads)
P3D > v4.* /FSX Airbus A321-200 American Airlines package. AA is thwe world's largest airline flying globally with a currect fleet of 952 aircraft and over 200 more on order. As of May 2018, American Airlines operate 219 Airbus A321. Native FSX model by Project Airbus. Includes enhanced Thomas Ruth Airbus VC with updates by Phillip Wallaert, Louis Quintero and some further edits by Chris Evans. Fixed wheel levels. Fixed jetway codes. Tested in P3D v4. Airbus sounds included. Custom packaged by Chris Evans
Posted May 24, 2018 05:37 by chris evans
66.68Mb (1935 downloads)
FSX/P3D>v4 Airbus 320-200 Austrian Airlines package. Based in Vienna, Austrian is the flag carrier airline of Austria and is also owned by Lufthansa. As of May 2018, Austrian operate 22 A320-200 aircraft. Model by Project Airbus. Added the better Thomas Ruth VC with updates by Chris Evans and Louis Quintero. Use FMC under Views/Instrument panel in FSX menu. (FSX : Go to Views -Instrument Panel. P3D: Go to Vehicle - Instrument panel) I included the photo-realistic textures by Stefan Bree, the A320 checklist by Werner Schott. A320 sounds by Abid Mounir. Added wing views and fixed wheel levels. Includes FMC by Garret Smith. A320 sounds and manual included. Custom revised package by Chris Evans
Posted May 23, 2018 08:38 by chris evans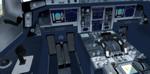 71.68Mb (2499 downloads)
FSX/P3D Airbus A350-900XWB KLM package. As of May 2018, Dutch flag carrier KLM have 7 A350-900 on order. Added the better Thomas Ruth VC with updates by Chris Evans and Louis Quintero. Use FMC under Views/Instrument panel in FSX menu. (FSX : Go to Views -Instrument Panel. P3D: Go to Vehicle - Instrument panel). Added better views. The Airbus A350 XWB is a family of long-range, twin-engine wide-body jet airliners from the European aircraft maker Airbus. The A350 is the first Airbus aircraft with both fuselage and wings made mainly from carbon fibre structure. The A350 is intended to replace the A340 and compete with Boeing's 787 and 777. Added the textures by Dion Methorst. Previous version had 4640 d/ls. Tested on P3Dv4 and should be ok in FSX and earlier P3D versions by Chris Evans.
Posted May 21, 2018 12:19 by chris evans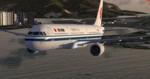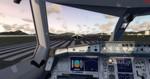 68.91Mb (849 downloads)
P3D > v4.* /FSX Airbus A321-200 Air China package. Air China is Chia's flag carrier and is based at Beijing. As of May 2018, Air China operate 61 Airbus A321 to worldwide. Native FSX model by Project Airbus. Added the great textures by He Lingyuan. Includes enhanced Thomas Ruth Airbus VC with updates by Phillip Wallaert, Louis Quintero and some further edits by Chris Evans. Fixed wheel levels. Fixed jetway codes. Tested in P3D v4. Airbus sounds included. Custom packaged by Chris Evans
Posted May 20, 2018 08:28 by chris evans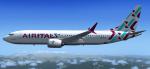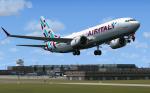 16.12Mb (834 downloads)
FSX/P3D Air Italy new livery textures EI-GFY for the TDS Boeing 737-Max-8
Posted May 19, 2018 09:28 by Mauro Carini