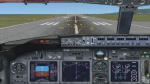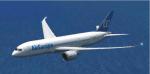 18.36Mb (1003 downloads)
This is an update for FSX of the TDS Air Europa Boeing 787-8 as updated by Chris Evans. I have added a hud, a pitch trim gauge, and a nav/GPS switch, because I changed the autopilot on the 2D panel, VC has no changes. I changed the touchdown effect, the sound, the size of the GPS, corrected the positions of some of the wheels and most of the scrape points; and I adjusted the flight dynamics.
Posted Apr 15, 2017 12:02 by Bob Chicilo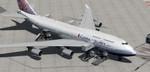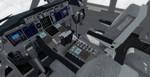 46.05Mb (1711 downloads)
FSX/P3D Boeing 747-400 China Airlines Package. China Airlines is the Republic of China's largest airline and currently (2017) operates 6 Boeing 747-400 on flights worldwide. Project Opensky Boeing 747-400 assembled and upgraded for FSX with the developed BOeing 747 VC (virtual 3d cockpit) from Alejandro Rojas Lucenda (Manual included). This is the Project Opensky FSX native Boeing 747-400 model, and includes ground cargo servicing, stairs (FSX - Go to Views - Instrument Panel -Posky Utility), fixed jetways and more. Included CF engine sounds from BrandonG, with realistic jet whine to make your flight sound great. Thank you to Project Opensky for their contributions to the worldwide community of flight simulation. I have added the realistic textures by RyanC. Also includes the Boeing 747 VC textures upgrade. This give a much clearer 747 interior virtual cockpit look. Zip preview for larger pictures. Assembled and edited for FSX by Chris Evans.
Posted Apr 14, 2017 12:14 by chris evans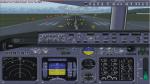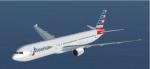 3.54Mb (480 downloads)
This is an update for FSX of the AFS B767-X by Andreas Meyer. I have changed the 2d panel for one from Mike Stone's B737-800 2d panel and added a HUD and a speed brake. The hud makes it easier to line up with the runway for landing, at least for me. I have added all the wheels, changed the touchdown effect and corrected the scrape points. I have updated the flight dynamics. No virtual cockpit. (No VC)
Posted Apr 14, 2017 08:12 by Bob Chicilo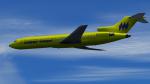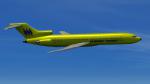 9.71Mb (238 downloads)
Textures only for the TDS Boeing 727-200 for FSX in Hughes Airwest livery. Hughes Airwest was owned by Howard Hughes and was based in San Fransisco. It operated from 1970 to 1980, when it was acquired by Republic Airlines. You need the Boeing 727-200 by TDS. This aircraft was tested on FSX-SE & P3D v3.
Posted Apr 14, 2017 00:15 by Ted Giana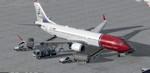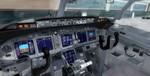 70.00Mb (4238 downloads)
FSX/P3D Boeing 737-Max 8 Norwegian Air Shuttle Package with enhanced VC. Norwegian is a low cost carrier based in Norway and currently (April 2017) have 108 Boeing 737 Max8 on order. Deliveries are expected to start in mid 2017. FSX 737-Max8 native model by TDS with advanced 737-800 VC added. The wonderful Boeing 737-Max8 from TDS will be enjoyed by many more people who do not know how to install a VC into a FSX native model. Added the fantastic internal model/VC from Alejandro Rojas Lucena/FSND. This VC model includes Working wipers (right mouse click on switch) with rain effect. Switches for LCD Screens, EICAS, PFD, MFT. Autobrake switch. Opening pilots window. Cabin Lights switch. Realistic FMC. Ground Proximity Warning System (GPWS), More Realistic night VC textures. There are custom Boeing sounds included for that extra realism. Use - Instrument panel - Util for ground vehicles, doors stairs, fuel truck, buses. New Utility allows Bus, fuel, doors and more. (Go to Views - Instrument panel - Utility) Model is not modified in any way. VC added and aircraft.cfg edited to allow correct VC views. Also fixed nose gear height so it no longer sinks into the ground. Edited and assembled for the many who cannot do this themselves. Credits go to TDS wonderful native FSX Boeing Max8 model. Added the photoreal textures by Stian Svensen. See VC docs to get the best out of the VC and FMC. Assembled and prepared for FSX/P3D by Chris Evans.
Posted Apr 13, 2017 11:37 by chris evans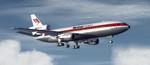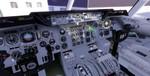 64.69Mb (1529 downloads)
FSX/P3D McDonnell Douglas DC-10-30 Martinair package. Dutch carrier, Martinair, operated 5 DC-10-30 aircraft between 1987 and 1995. Most of these were cargo versions. Model and VC by Thomas Ruth. Includes comprehensive VC with working wipers. I included the great textures by Mike Pearson. Added FMC by Garret Smith. Custom packaged and tested in FSX and P3d v 3.4 by Chris Evans
Posted Apr 12, 2017 13:08 by chris evans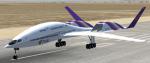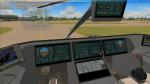 9.46Mb (1201 downloads)
This fictional supersonic airliner was designed by Christian Drawz and improved by Michael Pook. VC, new panels for wide and standard screen, new gauges including GPWS callout by Philippe Wallaert. See instructions in the readme.txt file.
Posted Apr 12, 2017 02:19 by Philippe Wallaert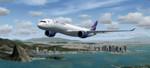 73.42Mb (2766 downloads)
FSX/P3D Airbus A350-941XWB LATAM package. LATAM is the merged airline from LAN and TAM of Chile and Brazil and currently (April 2017) have 7 Airbus A350-900 in operation with a further 6 on order. The Airbus A350 XWB is a family of long-range, twin-engine wide-body jet airliners from the European aircraft maker Airbus. The A350 is the first Airbus aircraft with both fuselage and wings made mainly from carbon fibre structure. The A350 is intended to replace the A340 and compete with Boeing's 787 and 777. Added the great textures by Emiliano Rujano. Assembled using the pack base by FSPainter with enhanced Thomas Ruth VC with updates by Phillip Wallaert, Louis Quintero and some further edits by Chris Evans.
Posted Apr 11, 2017 05:08 by chris evans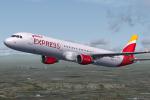 22.14Mb (2823 downloads)
The A321 is the largest model of the A320 family, which in addition to a larger number of seats, has the capacity to fly longer routes. Model by Project Airbus. With VC. Addons - FMC (you have to download), Callout, GPWS, Ground-Handling. Textures by Juan Villamor.
Posted Apr 9, 2017 10:31 by Juan Villamor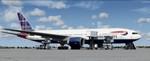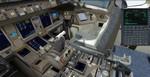 55.18Mb (5204 downloads)
FSX/P3D Boeing 777-200ER British Airways 'Mountain of the Birds' Package. Includes Virtual Cockpit and working FMC. British Airways currently (April 2017) operate 43 Boeing 777-200ER aircraft. Many are themed - this one 'Mountain of the Birds'. Includes revised VC and Honeywell FMC (via Views-Instrument panel). Project Opensky model features opening doors & cargo doors, detailed textures, accurate paint, dynamic shine & effects, dynamic flexing wings that respond to turbulence, fully independent suspension, trim animation, gear steering, accurate flight dynamics, spoiler animation, reflective cockpit windows, crash effects, animated tilting bogies, full night lighting, stairs, ground service vehicles when cargo doors open, (FSX - Go to Views - Instrument Panel -Posky Util. In P3D go to Vehicle-Instrument panel - ), detailed virtual cockpit and more. Added custom B777 sounds. To use FMC - Go to Views - Intrument panel - FMC thanks to Garret Smith. See FMC docs. Fantastic native FSX model by Skyspirit/Project Opensky. . Jetway exits. I have included the great textures by Ben Jones. Zip preview for images. Prepared, tested and assembled for FSX by Chris Evans.
Posted Apr 9, 2017 05:27 by chris evans