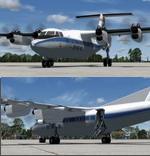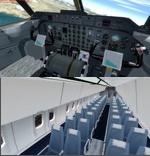 75.12Mb (2145 downloads)
FSX/P3D 3/4 DeHavilland DHC-7 Spantax package. Spantax was a Spanish airline based in Madrid and operated between 1959 and 1988. FSX native model includes specular maps, bloom effects, FSX native animations throughout and external self shadowing. Tested in DX9 only, can't gaurantee it will work in DX10 preview mode. Note that there are no bump maps applied to the models. By Milton Shupe, Mike Kelly, George Arana and Sim-Outhouse. FSX native conversion by Eagle Rotorcraft Simulations. Textures by Enrique Medal. Includes wheel sink fix and cfg fixes to make the Spantax textures work in P3D v4. Assembled for FSX/P3D v3 & 4 by Chris Evans.
Posted Aug 8, 2017 14:43 by chris evans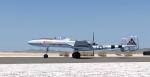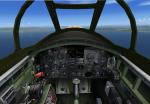 289.15Mb (1410 downloads)
The Vultee XP-54 for FSX Native v1.1 Flight Simulator aircraft package by Milton Shupe, military panel and VC textures by Nigel Richards, gauges by Scott Thomas, exterior paint map and textures by Mike Kelley and prototype flight models by Shupe/Falley; racing FM and textures versions by James Banks. Includes three models, 12 liveries, custom panels and flight models. Be sure to read the XP-54_Aircraft_Index that explains differences in the models and their performance, Model Designer : Milton Shupe Flight Dynamics : Military original by Milton Shupe, Tom Falley, racing FMs by James Banks Panel and Gauges : Nigel Richards, Scott Thomas, Milton Shupe, James Banks XML Gauges : Scott Thomas with mods by Nigel, Milton, and James Textures : Mike Kelley and James Banks Sounds : Nigel Richards and James Banks Special Effects : Copyright by Microsoft Documentation : Mike Kelley Research Assistance : Members of Sim-outhouse Testing : Team Alpha testing, SOH membership - Beta Tests. Works in FSX and P3d >v3 and v4. Milton Shupe August 2017
Posted Aug 8, 2017 08:43 by Milton Shupe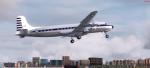 33.42Mb (52 downloads)
Republic Of China Air Force ROCAF NO.43682 textures for the payware PMDG DC-6A (C-118A)
Posted Aug 8, 2017 02:34 by Liao Yitong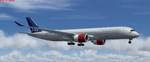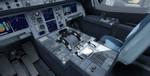 83.58Mb (1844 downloads)
FSX/P3D 3/4 Airbus A350-900XWB SAS Airlines (Scandinavian Airlines) package. Scandinavian Airlines currently (2017) has orders for 8 A350-900XWB with deliveries expected to start in 2019. The Airbus A350 XWB is a family of long-range, twin-engine wide-body jet airliners from the European aircraft maker Airbus. The A350 is the first Airbus aircraft with both fuselage and wings made mainly from carbon fibre structure. The A350 is intended to replace the A340 and compete with Boeing's 787 and 777. Added the great textures by Emiliano Rujano. Assembled using the pack base by FSPainter with enhanced Thomas Ruth A330 VC with updates by Phillip Wallaert, Louis Quintero and some further edits by Chris Evans. Tested in both FSX Acceleration and P3D 3 & 4.
Posted Aug 7, 2017 03:01 by chris evans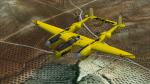 29.91Mb (54 downloads)
Fictional texture for the payware FlightSim Developers P38J.
Posted Aug 6, 2017 19:01 by JALopezR
19.71Mb (142 downloads)
This is a repaint of the FSLabs Concorde showing F-BTSD as she was in 1996 when she was "loaned" to Pepsi. Although only flying for sixteen flights it has to be one of the most attention getting liveries Concorde ever flew with in commercial service. These are HD Textures. Repaint by Cameron Slater.
Posted Aug 6, 2017 17:40 by Cameron Slater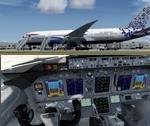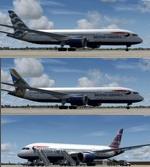 103.35Mb (2575 downloads)
FSX/P3D 3 & 4 Boeing 787-8 British Airways 4 Special Livery package with new enhanced VC. British Airways currently (Aug 2017) operate 8 Boeing 787-8. Liveries: Benyhone Tartan, Blue Pool, Colum Dove & Deltblue. Fantastic model by TDS/ Tenkuu Developers Studio with advanced 737-800 VC added. The VC is the Alejandro Rojas Lucena/FSND fantastic revised Boeing 737-800 VC model blended with Ken Wiggington's work on the default 737 VC to make it more resemble a 787. This VC model includes Working wipers (right mouse click on switch) with rain effect. Switches for LCD Screens, EICAS, PFD, MFT. Autobrake switch. Opening pilots window. Cabin Lights switch. Realistic FMC. Ground Proximity Warning System (GPWS), More Realistic night VC textures. There are custom Boeing sounds included for that extra realism. I added the high quality textures by Brian Minstry . Model is not modified in any way. The VC added and aircraft.cfg edited to allow correct VC views. TDS wonderful native FSX Boeing 787-8 model. See VC docs to get the best out of the VC and FMC. Assembled and prepared for P3D 3/4 & FSX by Chris Evans.
Posted Aug 6, 2017 17:30 by chris evans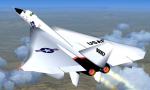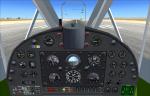 7.93Mb (641 downloads)
The XF-108 was designed to be a Mach 3 long range fighter primarily to escort the XB-70 Valkyrie. It originally had a simple delta wing and a delta shaped canard above and behind the cockpit. A mockup was built based on this final design but the project was canceled just after the mockup was approved in mid 1959. This is an FSX update of the FS9 model by the late Paul Clawson and features an entirely remodeled and improved VC and a 2D panel matching it. It was quite a project to get the VC to look somewhat like a real panel with pretty much authentic gauges. However, the interior still looks kind of basic with its green color and plain texture, which, unfortunately, could not be altered in any way. But as the aircraft looks really awesome, I considered it worth giving it new panels. Thanks to the late Paul Clawson for the original model. Also thanks to Philippe Wallaert for his excellent and authentic XB-70 gauges I've used in the panels for the most part. Credits also go to Erwin Welker for the extra camera views. The model may work in FS2004 and in P3D, but I'm not sure. New panels and FSX update by Michael Pook.
Posted Aug 5, 2017 13:08 by Michael Pook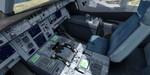 52.89Mb (1220 downloads)
FSX/P3D 3 & 4 Airbus A320-200 Pegasus Airlines package. Pegasus is a Turkish low cost carrier and currently (August 2017) operate 30 A320. Model by Project Airbus. High quality textures by Stephan Bree. Enhanced VC & panel included by Thomas Ruth with updates by Louis Quintero, FMC by Garret Smith and some further edits by Chris Evans
Posted Aug 5, 2017 04:53 by chris evans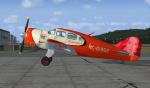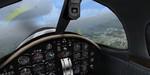 31.96Mb (820 downloads)
FSX Spartan Executive. Fictional texture. Package includes full model with VC. Package by Milton Shupe, Scott Thomas and Urs Burkhardt
Posted Aug 4, 2017 05:13 by JALopezR