375.28Mb (365 downloads)
In 1977 the NASA acquired a beautiful Boeing 747-100 and turned it into a SCA: Shuttle Carrier Aircraft. In 1990 they did that again with another 747-100. And that's it. That's all. That's how rare this aircraft is. And if you wonder, in 2012 they said: "Let's stop the Space Shuttle program and keep these Boeing on the ground from now on". Compiled by LordFrites
Posted Oct 7, 2022 10:10 by gamr101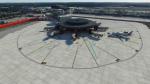 1401.47Mb (97 downloads)
MSFS2020 - EGKK Gatwick Airport Scenery, England V.10.8.11 [4K]. Magvar changed to 0.5 degrees East for ILS localiser line up. Continuation of taxiway lines. Parking Centre lines. Custom IRL Taxiway signage.
Posted Sep 22, 2022 05:40 by Quasimodem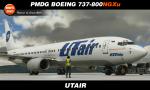 73.36Mb (205 downloads)
MSFS2020 PMDG Boeing 737-800NGXu in UTair Aviation livery. Textures only for payware PMDG model. Repaint by Sergey Gleba aka serg09. Description and instruction in the archive. Link to my products on SimMarket: http://secure.simmarket.com/paintsim.mhtml
Posted Sep 5, 2022 10:04 by Sergey Gleba aka serg09
0.31Mb (66 downloads)
The purpose of this mod is to simplify the seating options in the SWS Kodiak 100 to just 'Passengers', 'Baggage', and 'Cargo'. This mod requires the Payware version of the aircraft. I personally use this mod for my own aircraft. It makes it much easier to load my aircraft with the correct weight in accordance with FSAirlines when flying for my virtual airline without exceeding CG and MTOW. The default pilot and copilot weight is also change from '170' to '200'. Don't forget to visit my Facebook @TruNorthSim to leave a comment or request support!
Posted Aug 7, 2022 20:34 by TruNorthSim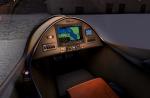 226.67Mb (213 downloads)
This is a fictional aircraft based on a toy sold under Hot Wheels and MatchBox brands. I am not a pro developer, this was done entirely by myself, 3d modeling, coding and texturing, all for the sake of fun and learning. The interior/cockpit is all fruit of my imagination. The flight model is more accurate than real-life (in real life it doesn't fly haha). Make sure you spawn on the snow for a better sense of realism. By giba720
Posted Jul 30, 2022 04:48 by gamr101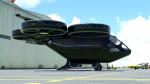 92.41Mb (463 downloads)
The Bell Nexus is a autonomous electric air taxi concept (known as an eVTOL). It is designed to take off and land vertically - six tilting electric ducts provide lifting power for quick takeoff, and nimble flight. TIny mod of Pelican hovering aircraft, an attempt to bring something more suitable for MSFS concept of realistic simulator. Only exterior model replaced, it still has Pelican's cockpit - Nexus cockpit contains of two screens and extremely boring. TouchingCloud
Posted Jul 15, 2022 02:41 by uploader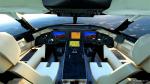 252.18Mb (1125 downloads)
The Bombardier Global 6000 is a third-generation Bombardier Global Express business jet, designed and manufactured by Bombardier Aviation. The E-11A, a heavily modified Bombardier Global 6000 business jet, acts as "Wi-Fi in the sky." It is used heavily in Afghanistan, connecting troops on the ground, communications systems, and radios. This is a freeware FSX model converted to native MSFS. I did not model this, only converted, made the animations and coded. The cockpit is not an actual Global 6000, but it's what was shipped with the FSX model. I added G3000 screens, animated, coded and made some textures. It's not accurate but functional and unique. Model by IRIS Simulations (2013 easter egg), textures by S. Petersen, Chris Evans, Antony Oakland, Quincio van Henningen and Dylan Agbagni. Converted and assembled by giba720
Posted Jul 10, 2022 07:05 by uploader
242.22Mb (1203 downloads)
The McDonnell Douglas/Boeing C-17 Globemaster III is a large military transport aircraft that was developed for the United States Air Force (USAF) from the 1980s to the early 1990s by McDonnell Douglas. The C-17 carries forward the name of two previous piston-engined military cargo aircraft, the Douglas C-74 Globemaster and the Douglas C-124 Globemaster II. The C-17 commonly performs tactical and strategic airlift missions, transporting troops and cargo throughout the world; additional roles include medical evacuation and airdrop duties. It was designed to replace the Lockheed C-141 Starlifter, and also fulfill some of the duties of the Lockheed C-5 Galaxy, freeing the C-5 fleet for outsize cargo. See docs for credits.
Posted Jun 7, 2022 06:24 by gamr101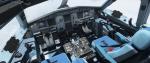 708.93Mb (904 downloads)
MSFS2020 - Sukhoi Superjet SSJ 100 Freeware Aircraft [Working Cockpit] - V.2.4. SUKHOI SSJ-100 house color for MSFS working cockpit compatible with A32NX. The Sukhoi Superjet 100 (now:Superjet 100 (Russian: Сухой Суперджет 100, tr. Sukhoy Superdzhet 100) or SSJ100 is a regional jet designed by Russian aircraft company Sukhoi, a division of the United Aircraft Corporation. With development starting in 2000, it made its maiden flight on 19 May 2008 and its first commercial flight on 21 April 2011 with Armavia. Convertor Douglas Cardoso
Posted May 10, 2022 12:05 by uploader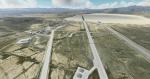 0.06Mb (250 downloads)
Area 51 - also known as Homey Airport KXTA - is a pretty mysterious place. Whether you're a skeptic, "want to believe", or are a fervent believer in the extraterrestrial related activities of Area 5, it is no doubt a pretty cool place to go visit in Microsoft Flight Simulator. I definitely think it's preferable to Naruto running full force at the place in real life… but that's just a personal preference I guess. The main addition here relates to the lighting of the buildings at night, and the addition of a variety of buildings which add a more authentic and militaristic feel to the place. Created by Richard-DHI
Posted Apr 22, 2022 06:26 by mrflyer