5.69Mb (6714 downloads)
Texture for Viper F-16 this texture is F-16 of unit 156AW Bucaneros active in 1991 /1997
Posted Jul 20, 2008 12:57 by archive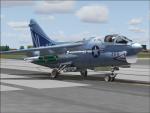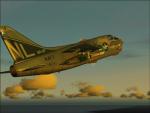 1.72Mb (14344 downloads)
This is a US Navy A-7E Corsair II for FS9. It should also work in FSX. Repainted Photoreal of the Vought A7E, incluide Panel and effects of smoke and Hotblur, original aircraft Kazunori Ito's, painted by Cristiano Magnani. Please read the readme for installation instructions.
Posted Jul 16, 2008 19:02 by archive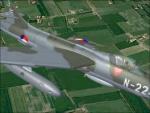 7.63Mb (1927 downloads)
This is an texture of an RNLAF Hawker Hunter, "Fs2004 Hawker Hunter export versions" needed. (huntpak6.zip)
Posted Jul 14, 2008 04:31 by archive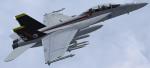 2.18Mb (7461 downloads)
The Team KBT F/A-18F in the livery of Ace Combat 6's protagonist. Fully retextured with new panel lines, weathering, and simulated bump mapping. Model by Team KBT (see link) Repainted by Mike Durao.
Posted Jul 14, 2008 03:31 by archive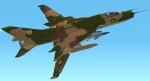 2.80Mb (7256 downloads)
This is a Su-17M4 Fitter K for FS9 and FS 2002, but it may work in FSX (I don't know). The Sukhoi Su-17 (NATO reporting name: Fitter) was a Soviet attack aircraft developed from the Sukhoi Su-7 fighter-bomber. It enjoyed a long career in Soviet/Russian service and was widely exported to Eastern Bloc and Middle Eastern air forces. This is one fun plane to fly! Original model by by Kazunori Ito
Posted Jul 13, 2008 12:08 by archive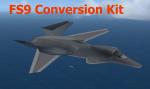 0.01Mb (14718 downloads)
++the Original FSX Stealth F/A-37 Talon installed into FS9 is required for this conversion kit++ . FEATURES: - Stol Capable - 1600+ kts top speed - Stable and Strong under Extreme G loads - Ultra efficient , High Thrust , Variable Geometry - full function Glass 2D and Dynamic VC - gauge controlled afterburners converts the FSX Version to FS9 *by Bruce Fitzgerald
Posted Jul 11, 2008 22:12 by archive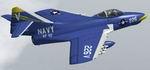 1.76Mb (9483 downloads)
FS2002/FS2004 Grumman F9F-8 Cougar. The Grumman F9F/F-9 Cougar was an aircraft carrier-based fighter aircraft for the United States Navy. Based on the earlier Grumman F9F Panther, the Cougar replaced the Panther's straight wing with a more modern swept wing. The Navy considered the Cougar an updated version of the Panther, despite having a different official name, and thus Cougars started off from F9F-6 upwards. Three kinds of models (Clean / with Pylon / with pylon and weapons) are included. This package is model and texture only and not included VC and this package is not included the flight dynamics file(aircraft.cfg and air file), panel,sound file. by Kazunori Ito.
Posted Jul 10, 2008 11:38 by archive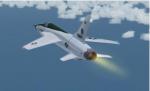 0.24Mb (4800 downloads)
This is an update for FS 9 of the Alphasim F-105D for FS 9. I have fixed all the usual things, so it flies better. This aircraft may work in FS X, but the panel is incompatible. I have re-written the F-14 afterburner flame so it has the approximate angle that the tail pipe has, and fixed the smoke so it lines up with the tail pipe. Required the original F105 - see link below. I have also included two other smoke effects fx_bob_smoke_f6_1.fx and _f6_2. They are to be used in FS 9 only, to compensate for engines that are about one foot or about two feet lower than the 0 point. I include them because Microsoft never got around to fixing the broken smoke effect placement.
Posted Jul 8, 2008 12:32 by archive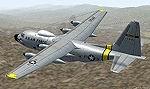 21.42Mb (38653 downloads)
FS2004 Lockheed C-130 Hercules Set 2, v1.1. Expansion set for the AlphaSim C130. Includes US Navy LC-130F, RAF C-130 Mk3, USAF HC-130H, USAF AC-130A Gunship. Panel and gauges includes; uses default sounds. Freeware from Alphasim.
Posted Jul 4, 2008 06:17 by John Paul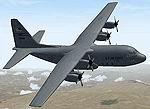 17.14Mb (52102 downloads)
FS2004 Lockheed C-130 Hercules Set 1, v1.1. Includes standard USAF C-130, RAF C-130K and Blue Angels TC-130G. Panel and gauges includes; uses default sounds. Freeware from Alphasim.
Posted Jul 4, 2008 06:14 by John Paul