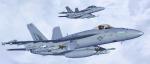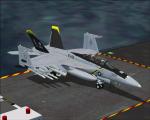 8.64Mb (28005 downloads)
CAG (high-viz) and line bird (low-viz) schemes of the VFA-103 Jolly Rogers and VFA-143 Pukin' Dogs for the KBT F/A-18E/F: AG100, AG110, AG200, and AG211. Fully retextured with new panel lines, weathering, and simulated bump mapping. By Mike Durao of UKMIL.
Posted Aug 4, 2008 17:40 by archive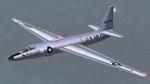 1.09Mb (8610 downloads)
FS2002/FS2004 Lockheed U-2A Dragon Lady. The Lockheed U-2, nicknamed Dragon Lady, is a single-engine, high-altitude aircraft flown by the United States Air Force and previously flown by the Central Intelligence Agency. It provides day and night, high-altitude (70,000 ft, 21,000 m plus), all-weather surveillance. The aircraft is also used for electronic sensor research and development, satellite calibration, and satellite data validation. This package is model and texture only and not included the flight dynamics file(aircraft.cfg and air file), panel, VC. by Kazunori Ito.
Posted Aug 4, 2008 12:59 by archive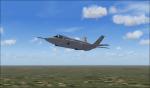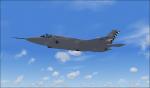 2.77Mb (4371 downloads)
A depiction of the JSF in 801 NAS markings, by Spencer Allen-Scholey. "004" carries the tail marking "Q", meaning that this aircraft is from HMS Queen Elizabeth, the first of 2 new CVF aircraft carriers due to enter service with the RN in 2014. Texture only, requires the X-35B model by Colin Thwaites and Claudio Mussner.
Posted Aug 3, 2008 15:26 by archive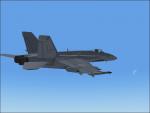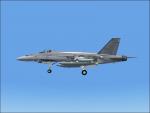 11.60Mb (12742 downloads)
TEXTURES ONLY!!!!Textures for Team FS KBT F/A-18E Super Hornet of Canadian Air Force CF-18 Squadrons. Comes with four textures, 409 Tactical Fighter Squadron, 410 Operational Fighter Training Squadron, Aerospace Engineering and Test Establishment(AETE) at CFB Cold Lake and 425 Tactical Fighter Squadronat CFB Bagotville.
Posted Jul 27, 2008 17:29 by archive
5.69Mb (6750 downloads)
Texture for Viper F-16 this texture is F-16 of unit 156AW Bucaneros active in 1991 /1997
Posted Jul 20, 2008 12:57 by archive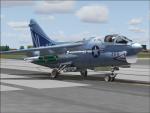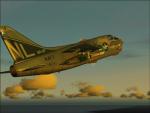 1.72Mb (14412 downloads)
This is a US Navy A-7E Corsair II for FS9. It should also work in FSX. Repainted Photoreal of the Vought A7E, incluide Panel and effects of smoke and Hotblur, original aircraft Kazunori Ito's, painted by Cristiano Magnani. Please read the readme for installation instructions.
Posted Jul 16, 2008 19:02 by archive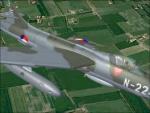 7.63Mb (1976 downloads)
This is an texture of an RNLAF Hawker Hunter, "Fs2004 Hawker Hunter export versions" needed. (huntpak6.zip)
Posted Jul 14, 2008 04:31 by archive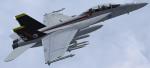 2.18Mb (7504 downloads)
The Team KBT F/A-18F in the livery of Ace Combat 6's protagonist. Fully retextured with new panel lines, weathering, and simulated bump mapping. Model by Team KBT (see link) Repainted by Mike Durao.
Posted Jul 14, 2008 03:31 by archive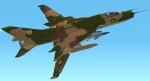 2.80Mb (7287 downloads)
This is a Su-17M4 Fitter K for FS9 and FS 2002, but it may work in FSX (I don't know). The Sukhoi Su-17 (NATO reporting name: Fitter) was a Soviet attack aircraft developed from the Sukhoi Su-7 fighter-bomber. It enjoyed a long career in Soviet/Russian service and was widely exported to Eastern Bloc and Middle Eastern air forces. This is one fun plane to fly! Original model by by Kazunori Ito
Posted Jul 13, 2008 12:08 by archive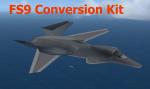 0.01Mb (14792 downloads)
++the Original FSX Stealth F/A-37 Talon installed into FS9 is required for this conversion kit++ . FEATURES: - Stol Capable - 1600+ kts top speed - Stable and Strong under Extreme G loads - Ultra efficient , High Thrust , Variable Geometry - full function Glass 2D and Dynamic VC - gauge controlled afterburners converts the FSX Version to FS9 *by Bruce Fitzgerald
Posted Jul 11, 2008 22:12 by archive