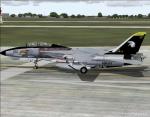 6.03Mb (4231 downloads)
This is a texture only for Steve Hinson's F-14D Tomcat. It might seem a little tacky putting an eagle on an F-14 but being a big fan of both I though why not. I plan on experimenting with other animal schemes as well so if anyone has any ideas please let me know.
Posted Aug 28, 2008 16:13 by Tim Meinhardt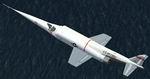 2.86Mb (10566 downloads)
FS2002/FS2004 Douglas X-3 Stiletto. This was a 1950s United States experimental jet aircraft with a slender fuselage and a long tapered nose, manufactured by the Douglas Aircraft Company. Its primary mission was to investigate the design features of an aircraft suitable for sustained supersonic speeds, which included the first use of titanium in major airframe components. It was, however, seriously underpowered for its purpose and could not even exceed Mach 1 in level flight. by Kazunori Ito.
Posted Aug 26, 2008 08:55 by Kazunori Ito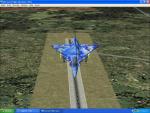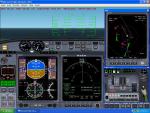 8.30Mb (14562 downloads)
FS2002-FS2004 JA37 Viggen First Sweden JA37 Viggen Technology with classic and modern panel virtual joystick with autopilot includes a fighter HUD Atomic Nuclear Bomb. Canard Wing Configuration (As Wright Flyer) Originally developed by SAAB manufactured single engine re instrumented flight dynamics tuned by Alex Hassey
Posted Aug 24, 2008 17:42 by Alex Hassey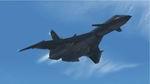 0.08Mb (8672 downloads)
This is an update of the FS 9 Firefox 2 by Owen Smoot, painted by Kurt Beswick. I have added the other wheel, fixed the scrape points, changed the afterburner and smoke effects, added two gauges to the panel, changed and or resized a few gauges, changed the view angle, and updated the flight dynamics. This update may work in FS X, but most of the gauges in the panel won't. If I can, I will update the aircraft for FS X, soon. Bob Chicilo.
Posted Aug 23, 2008 05:05 by Bob Chicilo.
0.16Mb (7014 downloads)
FS2004/FS2002 HC-130H Lockheed Hercules US Coast Guard Textures for Mike Stone's C-130 Hercules (here) in the color scheme of a US Coast Guard HC-130H based at Barbers Point, Hawaii Requires Mike's original file sc130h.zip Textures by Geoff Chambers.
Posted Aug 21, 2008 17:39 by Mathew smith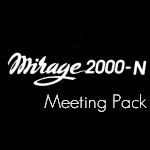 76.59Mb (18133 downloads)
This is the Mirage 2000 N Meeting Pack, it features the several "special" liveries used by the different squadrons using the Mirage 2000 N such as the squadron's anniversaries, the commemoratives one, and also the famous Red Flag exercise scheme. included : The original aircraft, photo real textures a brand new 2D panel, new sounds, a new flight model and new effects. Original by GMax Academy. Textures Jonathan Hilaire
Posted Aug 18, 2008 14:58 by Jonathan Hilaire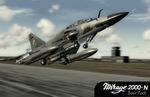 61.30Mb (33977 downloads)
FS2004 Mirage 2000 N Basic Pack. The Mirage 2000 N (N as "Nuclear") is the French vector for the nuclear weapon. It's a delta fighter modified for nuclear attack. Includes aircraft, new 3D models, brand new panels and custom sound package. By Jonathan Hilaire and Roland Laborie.
Posted Aug 13, 2008 07:01 by Roland Laborie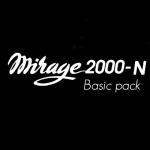 61.30Mb (15944 downloads)
This is the long awaited Mirage 2000 N Basic Pack.this package include the Dassault Mirage 2000-N (N as nuclear) and features photorealistical textures, improved 2D panel, new sound package, differents payload models (by Roland Laborie)and exe install file.Full Package by Jonathan "Rooster" Hilaire.
Posted Aug 7, 2008 17:36 by archive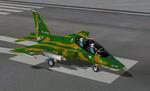 2.71Mb (7989 downloads)
This is a full package (aircraft and panel) for FS 2004. It should work also in FS2002, except the GPS. Yakovlev is developing an Advanced Fighter Trainer , the "YAK-130", maiden flight 1996. The program is now in a joint effort with the Aermacchi firm, resulting in the construction of the M-346 Advanced Fighter Trainer demonstrator. The latest, started test flights in 2005. Capt. I. D'Attomo, Capt. G.Quai
Posted Aug 6, 2008 05:20 by archive
1.00Mb (6857 downloads)
FS2002/FS2004 Lockheed U-2C Dragon Lady. The Lockheed U-2, nicknamed Dragon Lady, is a single-engine, high-altitude aircraft flown by the United States Air Force and previously flown by the Central Intelligence Agency. U-2C is enhanced single-seat model with improved engine and modified engine intakes This package is model and texture only and not included the flight dynamics file(aircraft.cfg and air file), panel, VC. by Kazunori Ito.
Posted Aug 6, 2008 04:52 by archive