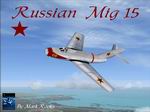 15.62Mb (3867 downloads)
FSX Mig 15 Russian. This is a modified Version of the Mig 15 Model By Jean-Pierre, Jean-Pierre Bourgeois and Benoit M. Dubé Langer For Flight Simulator X .This Aircraft has been modified for FSX . Textures are Typical Russian Air Force Paint Scheme with New flight dynamics and a New CFG , Air file and Panel Puts this proud MIG 15 Back in the sky where it belongs Modified by Mark Rooks of RDG. 16MB
Posted Jun 23, 2008 14:17 by archive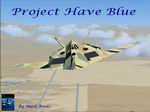 6.83Mb (15560 downloads)
FSX F117 Nighthawk 'Have Blue Camo'. The 'Have Blue' program was built in the legendary 'Building 82' where the A-12 and U-2 were built earlier. Early on November 16th 1976 'Have Blue' 1001 was loaded into a C-5A Galaxy and flown out of Burbank to the highly secret Test Facility near Groom Lake, called Area 51. On December 1st 1977, Skunkworks test pilot Bill Park climbed into the Have Blue prototype with the designation 'HB1001' and took it on its maiden flight out of Area 51..This is a modified version of Craig Richardson's F117 Nighthawk for Flight Simulator X Painted in the first Have Blue Camo Paint Scheme . This is a complete Aircraft and new panel modified by Mark Rooks RDG Aircraft includes Pictures and History. 7MB
Posted Jun 23, 2008 14:17 by archive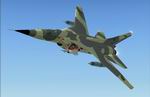 10.37Mb (6417 downloads)
FSX/FS2004 Mirage G8 Package Version 4. 13 different aircraft. This is the ultimate version of my Mirage G8, with all the last improvements (shape sticking to the real plane, realistic markings, flaps, to be used with "h" key, various textures, new position for afterburners, another new panel background, full FSX compatibility of the gauges, ...), including 13 versions (single pilot or two seats, different weapon sets and various textures, real or fictional), full moving parts (including flip wings and separated flaps), a new custom 2D panel. Fully compatible with FS2004 and FSX. No VC. Pat Grange. 10.6MB
Posted Jun 23, 2008 14:17 by archive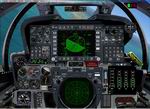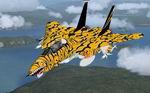 74.37Mb (28147 downloads)
FSX Grumman F14D Tomcat Rev 3 Package. ORIGINAL Flight Dynamics, (V 08-07), ORIGINAL FDE & ORIGINAL AIRCRAFT.CFG, & HUD rework by Ivan Kostic. Aircraft perfectly controllable & maneuverable within the whole original F14D's FE. F14D sound set from AVSIM, with permission by Christoffer Peterson for bundled use. FSX - F14D aircraft.cfg, panel.cfg, FX-addons, new FSX gauging, & ALL rework, FS9 > FSX migratation by S. Hinson. BMP fix for RADAR Range & Mode buttons by Chris Potts(C)2007 FS9 & original files by Ivan Kostic & Steve. GMAX model by J. Dobbings & D. Cattaneo. VC mold by Dino Cattaneo. NEW 3ds Model due out before Christmas. 99% complete by Darek Gurtowski. OUR NEW model will replace Dino's model. FSX camera views by Bob familton and myself. Textures by Ardie Tingler. No other download is needed. See inside for all credits. All DOCS have everything, SO READ THEM ALL! By Steve Hinson. "Tomcatdriver" 76.1MB
Posted Jun 23, 2008 14:17 by archive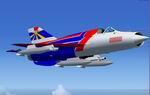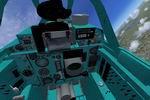 8.93Mb (30383 downloads)
FSX/FS2004 Mig-21 A MiG-21 made with gmax, includes VC, Hud gauge, panel gauges, very detailed cockpit and outside model. Has 3 models: Clean, pylons, tanks and missiles.Has a fictional Russian Knights paint scheme.Includes a blue engine flame and wingtip vortices effects activated by the smoke system.Made By Ricardo Batalha.
Posted Jun 21, 2008 10:47 by Premium User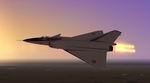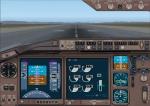 5.63Mb (40256 downloads)
FSX/FS2004 Dassault Mirage 4000 Package. Head-Up Display and gauge update for FSX compatibility Eric Marciano: gauges programming and panel configuration Romain Lucas: exterior visual model, virtual cockpit.
Posted Jun 20, 2008 08:06 by archive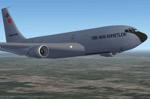 1.40Mb (20748 downloads)
Focus AI Group's Turkish Air Force KC135 Stratotanker fleet. This is a freeware AI package that contains flightplans for 100Filo's KC135 aircraft based at Incirlik AB in Turkey. It also contains a custom AFCAD for Incirlik, with correct parking for the KC-135's and any visiting USAF aircraft.
Posted Jun 16, 2008 16:49 by archive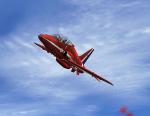 10.85Mb (22603 downloads)
FSX UKMIL Hawk T1a Red Arrows package. Welcome to the BAE HAWK T1a RED ARROWS package for FSX. this is a full new gmax model. UKMil.
Posted Jun 16, 2008 02:44 by UKMil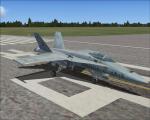 1.53Mb (4483 downloads)
FSX/FS2004 Military Carswell Joint Reserve Base (JRB) Single Seat Viper Tail flashes. This package contains "tail textures only" to represent two of the 301st Fighter Wing (FW), 457th Fighter Squadron F-16C vipers. This squadron is located in Fort Worth Texas. The excellent "C" model viper by Kirk Olsson usviper.zip may be obtained here File size is 1.52 MB.
Posted Jun 14, 2008 20:40 by archive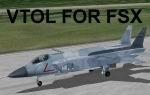 0.06Mb (6501 downloads)
FSX VTOL/Hover Gauge For Hadi Tahir's Yak-141 (see link). This gauge adds new VTOL and hover features to Hadi Tahir's Yakovlev Yak-141. Besides true vertical takeoff and landing, it allows you to fly forward, backward, sideways and turn, while in a hover. This solution is based on overriding the normal FS flight dynamics while in a hover; in short, it's a VTOL and hover FDE coded in a gauge. Requires FSUIPC4 (registered or unregistered, not included). The readme includes extensive installation and flying instructions. By Rob Barendregt.
Posted Jun 14, 2008 03:46 by archive