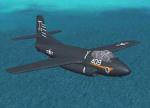 1.88Mb (253 downloads)
For those of you who just 'need' to fly this airplane without the fixed wingtanks, here is set of alternate textures that 'remove' those tanks from the wings using the Alpha channel. Otherwise they are the same as the originals.
Posted Feb 20, 2011 19:22 by Tom Sanford, Tango_Romeo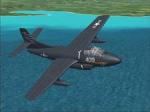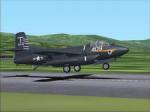 5.69Mb (653 downloads)
This is a conversion of the FS2004 Alphasim model. I have converted the 2D and DVC as well. This is the F3D-2 skinned as she flew during the Korean War. The textures are Alphasim originals. The MDL conversion, CFG, AIR and DPs are mine,
Posted Feb 19, 2011 02:17 by Tom Sanford, Tango_Romeo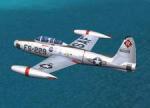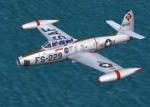 1.82Mb (280 downloads)
These are Bub's (Bob McGee's) new textures for the F-84G. They represent an aircraft of the 229th Fighter Squadron, Korea, 1951.
Posted Feb 17, 2011 18:36 by Tom Sanford, Tango_Romeo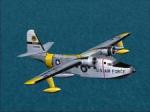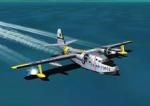 16.96Mb (874 downloads)
This is a conversion of Greg Pepper's beautiful FS2004 HU-16 Ver. 2 to CFS2. I have also converted the original FS2004 panel. The textures are the originals as well. The AIR, CFG and DP are mine. She is equipped with a waterwake effect that is toggled by the L key. THIS AIRCRAFT HAS AN EXTREMELY DETAILED PANEL SET. PLEASE READ THE ReadMeFirst AND THE PANEL INSTRUCTIONS.
Posted Feb 16, 2011 23:17 by Tom Sanford, Tango_Romeo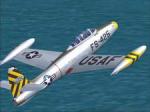 1.06Mb (256 downloads)
The gauges and revised panel.cfg file included in the download will correct two missins elements on this aircraft's Nav/GPS panel.
Posted Feb 15, 2011 18:12 by Tom Sanford, Tango_Romeo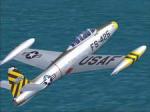 6.83Mb (1440 downloads)
This my conversion of Jens Kristensen's fine F-84G from FS2004 to CFS2. The textures (425th FS, Korea) are by BUB, Bob McGee. The AIR, CFG and DP are mine , and the 2D panel is an AlphaSim adaptation, and the DVC is original. The droptanks are my originals and are fully functional. Weapons are stock CFS2, except the bombs, which are FDG.
Posted Feb 13, 2011 14:53 by Tom Sanford, Tango_Romeo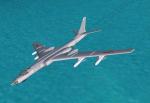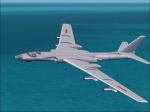 10.57Mb (746 downloads)
The H and M versions of the Xian H-6 bombers have no turret and this new package corrects it. This package includes complete aircraft for those that didn't upload the H-6H and H-6M original planes. This is a colective work that evolved a dream team: Original Gmax Source File by Virtavia/AlphaSim: Source File Mods & FS2004 MDL by Milton Shupe Textures by Bob McGee (Bub) Missiles by Nole (Rey Sanford) Pylons, Radome & DP by Tango_Romeo (Tom Sanford) The CFS2 model conversion, air and aircraft.cfg are mine
Posted Feb 9, 2011 08:03 by Pepe Rezende
4.72Mb (197 downloads)
The H-6H is the air-to-surface missile launch platform developed in the late 1990s to meet the PLAAF requirements for a long-range strike capability in the early 21st century. Development of the H-6H began in January 1995 and the first prototype rolled out in April 1998, followed by a second prototype in July the same year. The first flight of the aircraft took place on 2 December 1998. Model by ALPHASIM, textures by Bob McGee (Bub), CFS2 Air and Aircraft.cfg by Peperez (Pepe Rezende). DP and special Chinese cruise missile by Nole. YOU NEED ALPHA XIAN H-6 PACKAGE FOR CFS2 avaible here:
Posted Feb 3, 2011 08:32 by Pepe Rezende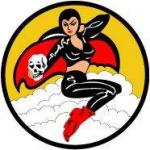 0.66Mb (293 downloads)
This is an original set of textures by Bub, AKA Bob McGee, representing an aircraft of the 1st TFS, 413th TFW, 1957.
Posted Jan 26, 2011 15:08 by Tom Sanford, Tango_Romeo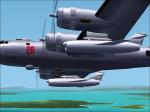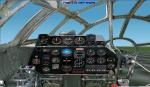 24.61Mb (1476 downloads)
The Tupolev Tu-4 (NATO reporting name: Bull) was a piston-engined Soviet strategic bomber that served the Soviet Air Force from the late 1940s to mid 1960s. It was a reverse-engineered copy of the U.S.-made Boeing B-29 Superfortress. Stalin tasked Tupolev with cloning the Superfortress and Soviet industry was to produce 20 copies of the aircraft in just two years. The three B-29s were flown to Moscow and delivered into Tupolev OKB. Original package hugly modified, with new airfile, panel.cfg and DP with Soviet bombs, including an atomic device and AS-1 missiles made by Nole.
Posted Jan 23, 2011 14:28 by Pepe Rezende and Nole