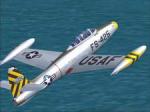 1.06Mb (242 downloads)
The gauges and revised panel.cfg file included in the download will correct two missins elements on this aircraft's Nav/GPS panel.
Posted Feb 15, 2011 18:12 by Tom Sanford, Tango_Romeo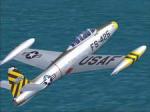 6.83Mb (1317 downloads)
This my conversion of Jens Kristensen's fine F-84G from FS2004 to CFS2. The textures (425th FS, Korea) are by BUB, Bob McGee. The AIR, CFG and DP are mine , and the 2D panel is an AlphaSim adaptation, and the DVC is original. The droptanks are my originals and are fully functional. Weapons are stock CFS2, except the bombs, which are FDG.
Posted Feb 13, 2011 14:53 by Tom Sanford, Tango_Romeo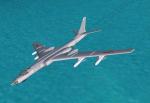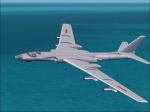 10.57Mb (727 downloads)
The H and M versions of the Xian H-6 bombers have no turret and this new package corrects it. This package includes complete aircraft for those that didn't upload the H-6H and H-6M original planes. This is a colective work that evolved a dream team: Original Gmax Source File by Virtavia/AlphaSim: Source File Mods & FS2004 MDL by Milton Shupe Textures by Bob McGee (Bub) Missiles by Nole (Rey Sanford) Pylons, Radome & DP by Tango_Romeo (Tom Sanford) The CFS2 model conversion, air and aircraft.cfg are mine
Posted Feb 9, 2011 08:03 by Pepe Rezende
4.72Mb (192 downloads)
The H-6H is the air-to-surface missile launch platform developed in the late 1990s to meet the PLAAF requirements for a long-range strike capability in the early 21st century. Development of the H-6H began in January 1995 and the first prototype rolled out in April 1998, followed by a second prototype in July the same year. The first flight of the aircraft took place on 2 December 1998. Model by ALPHASIM, textures by Bob McGee (Bub), CFS2 Air and Aircraft.cfg by Peperez (Pepe Rezende). DP and special Chinese cruise missile by Nole. YOU NEED ALPHA XIAN H-6 PACKAGE FOR CFS2 avaible here:
Posted Feb 3, 2011 08:32 by Pepe Rezende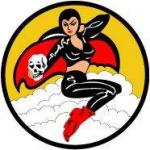 0.66Mb (290 downloads)
This is an original set of textures by Bub, AKA Bob McGee, representing an aircraft of the 1st TFS, 413th TFW, 1957.
Posted Jan 26, 2011 15:08 by Tom Sanford, Tango_Romeo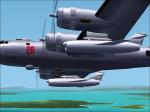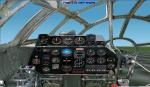 24.61Mb (1399 downloads)
The Tupolev Tu-4 (NATO reporting name: Bull) was a piston-engined Soviet strategic bomber that served the Soviet Air Force from the late 1940s to mid 1960s. It was a reverse-engineered copy of the U.S.-made Boeing B-29 Superfortress. Stalin tasked Tupolev with cloning the Superfortress and Soviet industry was to produce 20 copies of the aircraft in just two years. The three B-29s were flown to Moscow and delivered into Tupolev OKB. Original package hugly modified, with new airfile, panel.cfg and DP with Soviet bombs, including an atomic device and AS-1 missiles made by Nole.
Posted Jan 23, 2011 14:28 by Pepe Rezende and Nole
13.50Mb (118 downloads)
Artificial intelligence version of Tu-16 package
Posted Jan 22, 2011 11:35 by Pepe Rezende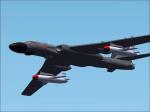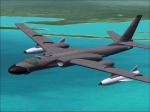 23.12Mb (568 downloads)
The first production Tu-16 was rolled out at the Kazan factory on 29 October 1953. NATO assigned the type the codename "Badger". The Kazan plant built the majority of Tu-16s. Acquisition of the Tu-16 was a high priority for the USSR, and so Kazan production was soon supplemented by manufacture of aircraft at State Factory 1 in Kuibyshev (now Samara). A number were also built at State Factory 64 in Voronezh from 1955. The last new-build Tu-16s were rolled out in 1963.Nole did the Soviet Missiles.
Posted Jan 22, 2011 11:20 by Pepe Rezende and Nole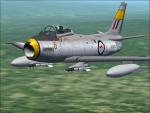 0.39Mb (362 downloads)
These textures represent a CA-27 Sabre of the 2 OCU. Also included are recolored AIM-9 pylons and rockets. The wing tanks are for all Fox Four Sabre models. Thanks to Tango_Romeo and Ravenna for their help in getting this done. Please make sure you read the Readme. Thanks and have fun, Bub
Posted Jun 28, 2010 12:47 by Bob McGee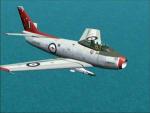 0.08Mb (514 downloads)
Requires the Avon Sabre from page 11, CFS2 New Files, Simviation.com (http://www.simviation.com/simviation/?type=item&ID=301&page .. This download contains the pylon. AIM-9L missile and associated files needed to realistically equip the CA_27. The AIM-9L DP provided makes the missile an 8-Second-Timed-Rocket, so that with practice it can be used against aerial targets.
Posted Jun 5, 2010 01:02 by Tom Sanford, Tango_Romeo