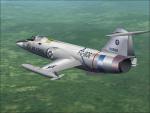 0.31Mb (403 downloads)
These represent the F-104, FG-808, 60808, while assigned to the 83rd FIS. The aircraft was later sold overseas. Thanks to Tango_Romeo, Tom Sanford, for this fine aircraft. Please look at the ReadMe. This aircraft can be found in the CFS2 New Files. Have Fun, Bub
Posted May 24, 2010 13:58 by Bob McGee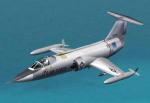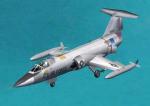 0.34Mb (420 downloads)
Requires TR's F-104G LOD here: http://www.simviation.com/simviation/index.php?type=item&ID=301&page=6 These are improved bare metal textures for the F-104G LOD. Simply paste the files in the download into the texture folder allowing them to overwrite the originals.
Posted May 18, 2010 18:45 by Tom Sanford, Tango_Romeo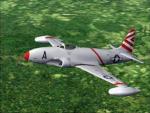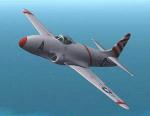 0.44Mb (426 downloads)
The download contains two sets of skins by Bob McGee for the TR_F-80C (CFS2 - New Files, page 21). These are the textures worn by the two YP-80A Shooting Stars (Tail Nos 028 & 029) sent to Italy for ops testing in Dec of 1944. The two aircraft were flown by both test pilots and military pilots on test and operational sorties, and maintained by civilian techicians from Lockeed. They were jokingly referred to as the 33rd Air Force, a two-plane unit. Officially they never made contact with the enemy. Folders A and B contain the unique fuselage texture for each aircraft and the common wing textures. All other original textures for the TR_F-80C remain unchanged.
Posted May 10, 2010 22:06 by Tom Sanford, Tango_Romeo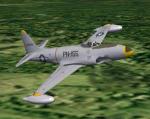 0.23Mb (378 downloads)
This is a new skin by Bob McGee (Bub) for the updated TR_F-80C (page 21, CFS2 New Files, SimViation. This aircraft was one of four F-80s sent to Europe in late 1944 for operational testing. Two went to England and two to Italy. PN155 was stationed in Italy. The aircraft was not bare metal, but a light or pearl gray. If you want to do some fantasy missions in 1945 over Europe, this is the skin to use, Enjoy.
Posted May 10, 2010 02:19 by Tom Sanford, Tango_Romeo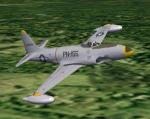 0.03Mb (415 downloads)
This download assumes that you have installed TR's orginal tiptanks (above) and CaptMercy's upgraded DVC (also above). The download contains a new DP and CDP that tweak the tiptank position, a new panel.cfg file that zeros the guns with the sight, and a new tip tank BMP by Bub.
Posted May 8, 2010 14:42 by Tom Sanford, Tango_Romeo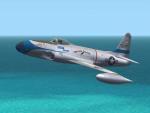 1.90Mb (468 downloads)
Cleaned up the VC and added some navaids. for the TR_F80C captmercy
Posted May 2, 2010 11:13 by captmercy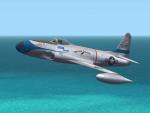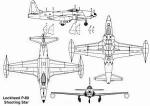 0.05Mb (538 downloads)
This is the original wingtip tank for the P-80/F-80 Shooting Star, as opposed to the 'Misawa' tank first packaged with the Massimo Taccoli model. Texture by BUB, Bob McGee. Included in the package along with the tank, textures and DP is a new DP/CDP for the aircraft. To install simply place all files from the download into the corresponding folders/subfolders of your CFS2 directory. The download is specifically for the TR_F-80C package available here: http://www.simviation.com/simviation/download.php?ID=9022 Page 22, CFS2 New Downloads
Posted May 1, 2010 00:10 by Tom Sanford, Tango_Romeo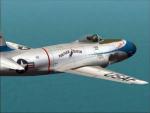 0.45Mb (502 downloads)
This is an upgraded MDL file for the TR_F-80C (available on page 20) by Larry Brown, AKA Oldwheat, which corrects the 'milky' texture of the canopy glass. I'm just doing the posting. Nice job Larry!
Posted Apr 30, 2010 00:30 by Tom Sanford, Tango_Romeo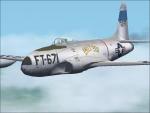 0.85Mb (435 downloads)
Hi All, These textures are for the F-80C by Massimo Taccoli. They include, Evil Eye Fleagle, Saggin' Dragon, Salty Dog, 44th Vampires and a blank so you can do your own. Also a set of wings. Plese read all the readme's. A comlete aircraft done by Tango_Romeo, exceptionally well done, should be used as a basis for these textures. Thanks to all who helped make this possible. Have fun, Bub
Posted Apr 27, 2010 18:36 by Bob McGee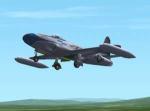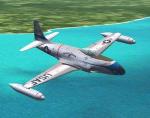 2.98Mb (1816 downloads)
This is a completely updated version of Massimo Taccoli's F-80C in an all-inclusive package...an extensive panel and DVC, new DP and weps by FDG. The texture is by Bub, Bob McGee. Flight model is by Dan Nole. The sound is aliased to Lear45, which is also included.
Posted Apr 27, 2010 04:30 by Tom Sanford, Tango_Romeo