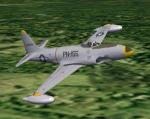 0.03Mb (550 downloads)
This download assumes that you have installed TR's orginal tiptanks (above) and CaptMercy's upgraded DVC (also above). The download contains a new DP and CDP that tweak the tiptank position, a new panel.cfg file that zeros the guns with the sight, and a new tip tank BMP by Bub.
Posted May 8, 2010 14:42 by Tom Sanford, Tango_Romeo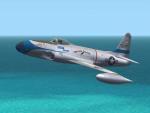 1.90Mb (599 downloads)
Cleaned up the VC and added some navaids. for the TR_F80C captmercy
Posted May 2, 2010 11:13 by captmercy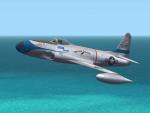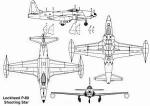 0.05Mb (670 downloads)
This is the original wingtip tank for the P-80/F-80 Shooting Star, as opposed to the 'Misawa' tank first packaged with the Massimo Taccoli model. Texture by BUB, Bob McGee. Included in the package along with the tank, textures and DP is a new DP/CDP for the aircraft. To install simply place all files from the download into the corresponding folders/subfolders of your CFS2 directory. The download is specifically for the TR_F-80C package available here: http://www.simviation.com/simviation/download.php?ID=9022 Page 22, CFS2 New Downloads
Posted May 1, 2010 00:10 by Tom Sanford, Tango_Romeo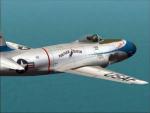 0.45Mb (645 downloads)
This is an upgraded MDL file for the TR_F-80C (available on page 20) by Larry Brown, AKA Oldwheat, which corrects the 'milky' texture of the canopy glass. I'm just doing the posting. Nice job Larry!
Posted Apr 30, 2010 00:30 by Tom Sanford, Tango_Romeo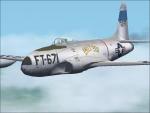 0.85Mb (534 downloads)
Hi All, These textures are for the F-80C by Massimo Taccoli. They include, Evil Eye Fleagle, Saggin' Dragon, Salty Dog, 44th Vampires and a blank so you can do your own. Also a set of wings. Plese read all the readme's. A comlete aircraft done by Tango_Romeo, exceptionally well done, should be used as a basis for these textures. Thanks to all who helped make this possible. Have fun, Bub
Posted Apr 27, 2010 18:36 by Bob McGee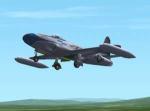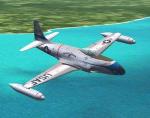 2.98Mb (2179 downloads)
This is a completely updated version of Massimo Taccoli's F-80C in an all-inclusive package...an extensive panel and DVC, new DP and weps by FDG. The texture is by Bub, Bob McGee. Flight model is by Dan Nole. The sound is aliased to Lear45, which is also included.
Posted Apr 27, 2010 04:30 by Tom Sanford, Tango_Romeo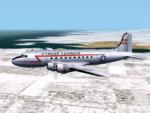 3.48Mb (573 downloads)
Berlin airlift textures for the JBK DC-4 conversion for CFS2 by Dvslats. Also includes are some unmarked textures for creating your own schemes. Have fun, Oldwheat
Posted Apr 23, 2010 15:22 by Oldwheat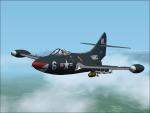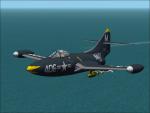 14.89Mb (2316 downloads)
These textures depict the F9F-5 Panther, Bureau Number 125287, #6, flown by Baseball great Ted Williams while with VMF-311 and the F9F-2 Panther, Bureau Number 123030, #S409, of VF-24 off the USS Boxer, CVA-21, ca. 1952. Also included is a complete aircraft with air and dp done by Tango_Romeo. Many, many thanks to him. Make sure you read all the readme's. Also, Thanks to AlphaSim for this Panther. Any questions or problems, you know where to find me. Thanks and Have fun, Bub
Posted Apr 18, 2010 23:33 by Bob McGee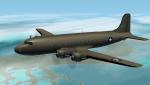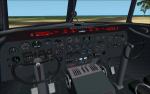 20.38Mb (992 downloads)
This file contains a conversion of Jens B. Kristensen's DC-4 for use in Combat Flight Simulator 2. Mr. Kristensen has graciously allowed me to convert and upload this package. Thanks Jens! Captmercy has done all of the work needed for a fine cockpit layout. Plus some other goodies. Please see the Readme. The current textures are Jens of a C-54 USAAF. Included in the package is an Ai Aircraft which flies more realistically for use in Mission Builder and Quick Combat. I highly recommend lawdog2360's B-24 sound package to be used for this Aircraft. If you are down loading this, might as well pick up his file also. Enjoy, Dave
Posted Apr 18, 2010 19:37 by Dave Slaski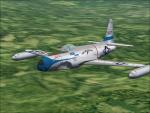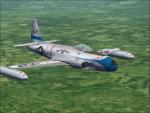 13.52Mb (663 downloads)
These textures represent the F-80C Shooting Star Dorothy L/Panther Queen, 49-653, of the 16th FIS, 51st FIW, Suwon AB, Korea in the Spring of 1951. They are for the aircraft by Massimo Taccoli. The exhaust effects are by Kelticheart and sounds are also included. Thanks to all who helped create this package.
Posted Mar 30, 2010 16:47 by Bob McGee