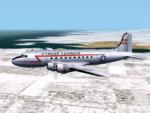 3.48Mb (456 downloads)
Berlin airlift textures for the JBK DC-4 conversion for CFS2 by Dvslats. Also includes are some unmarked textures for creating your own schemes. Have fun, Oldwheat
Posted Apr 23, 2010 15:22 by Oldwheat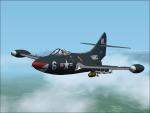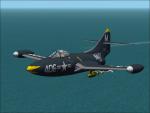 14.89Mb (2009 downloads)
These textures depict the F9F-5 Panther, Bureau Number 125287, #6, flown by Baseball great Ted Williams while with VMF-311 and the F9F-2 Panther, Bureau Number 123030, #S409, of VF-24 off the USS Boxer, CVA-21, ca. 1952. Also included is a complete aircraft with air and dp done by Tango_Romeo. Many, many thanks to him. Make sure you read all the readme's. Also, Thanks to AlphaSim for this Panther. Any questions or problems, you know where to find me. Thanks and Have fun, Bub
Posted Apr 18, 2010 23:33 by Bob McGee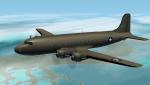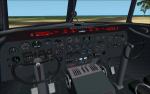 20.38Mb (856 downloads)
This file contains a conversion of Jens B. Kristensen's DC-4 for use in Combat Flight Simulator 2. Mr. Kristensen has graciously allowed me to convert and upload this package. Thanks Jens! Captmercy has done all of the work needed for a fine cockpit layout. Plus some other goodies. Please see the Readme. The current textures are Jens of a C-54 USAAF. Included in the package is an Ai Aircraft which flies more realistically for use in Mission Builder and Quick Combat. I highly recommend lawdog2360's B-24 sound package to be used for this Aircraft. If you are down loading this, might as well pick up his file also. Enjoy, Dave
Posted Apr 18, 2010 19:37 by Dave Slaski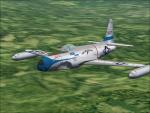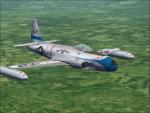 13.52Mb (570 downloads)
These textures represent the F-80C Shooting Star Dorothy L/Panther Queen, 49-653, of the 16th FIS, 51st FIW, Suwon AB, Korea in the Spring of 1951. They are for the aircraft by Massimo Taccoli. The exhaust effects are by Kelticheart and sounds are also included. Thanks to all who helped create this package.
Posted Mar 30, 2010 16:47 by Bob McGee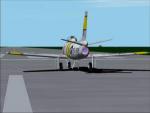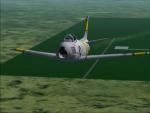 0.08Mb (742 downloads)
Tailpipe Flame and Exhaust Effects for the Fox Four/TR's F-86s (DP entry included), but of course they can be used on any jet. by Bob McGee (Bub)
Posted Mar 23, 2010 06:46 by Bob Magee (Bub)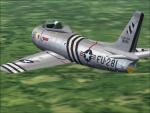 0.46Mb (525 downloads)
This repaint represents the F-86A Sabre, 49-1281, 4th FIG, 334th FIS flown by LtCol. Glenn T. Eagleston, 22 Dec. 1950. He had two air to air victories in Korea to add to the 18.5 scored in WWII. Many thanks to FoxFour and to Tom Sanford, Tango_Romeo, for his help and assistance. Have Fun, Bub
Posted Mar 22, 2010 00:14 by Bob McGee
0.58Mb (406 downloads)
The attached contains three gauges that were missing from the TR_BF110Cv3 and v4 downloads. You might not have noticed, but they will come in handy to have installed. Just paste the .gau files into your CFS2/GAUGES folder.
Posted Mar 21, 2010 16:51 by Tom Sanford, Tango_Romeo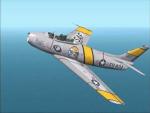 5.00Mb (906 downloads)
Complete Skins/Sound Package for TR's F-86, Models E/F, H And CA-27 Bob McGee Bub rmbub@optonline.net The package contains the final tweaked versions of 9 texture packages for all of the Fox Four/TR series of F-86 Sabres, except those for the A model, which were posted separately: F-86E, 51-2821, 334th FIS, Maj. Frederick "Boots" Blesse F-86E, 51-2740, "Gabby", Commander 51st FIW, Col. Francis Gabreski F-86E, 51-2824, "Ohio Mike" 336th FIS, Capt. Robinson Risner F-86F, 51-2910, "Beautious Butch", 39th FIS, Capt. Joseph McConnell F-86F, 51-2959, "Barb/Vent de la Morte", 335th FIS, Capt. Ralph Parr F-86H, 53-1298, USAF F-86H, 52-5737, NJANG CA-27, A94-974, RAAF, 5 OTU CA-27, A94-982, RAAF, 77th Sq.
Posted Mar 16, 2010 18:36 by Bob McGee, Bub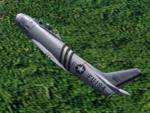 1.77Mb (374 downloads)
A repaint for the TR F-86A depicting 'Miss Behaving' flown by Capt. Don Torres - Korea, 1951
Posted Mar 15, 2010 13:22 by Oldwheat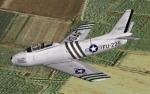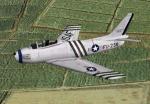 2.01Mb (315 downloads)
These textures are the excellent work of Oldwheat, AKA Larry Brown, and were done sometime ago. I have updated them to 1024 format for posting, and they are very, very nice additions to the skin library for this aircraft. FU-225 is an generic skin for an A model of the 336th FIS at the begining of the Korean War. FU-238 is Hinton's personal aircraft (Blue Ring), also of the 336th during the same time frame. To install simply replace the current files in your TR_F-86A/texture folder with the ones from either the texture.336 or the texture.hinton folder of the download. Enjoy!
Posted Mar 14, 2010 19:19 by Tom Sanford, Tango_Romeo