0.78Mb (3329 downloads)
FS2004 Aerotec T-23 Uirapurú Primary Trainer. Modelled in FSDS2 by J R Lucariny. 798K
Posted Sep 8, 2009 23:29 by archive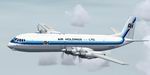 0.49Mb (477 downloads)
FS2004 Vanguard 952F Air Holdings Textures only. With quite a few unplaced Vanguards on their books, Air Holdings decided to operate some the aircraft in their own right. This aircraft had been conveted to "Merchantman" standard by the company so was pressed into service wearing the livery of British Air Ferries who at that time was owned by the group. Carrying Air Holdings titles, its career as such was brief lasting from August 1971 until January 1972 when it was sent off to join Air Trader of Sweden as SE-FTH. Later it served with Europe Aero Service as F-BUFT, then Air Gabon as TR-LBA, before ending it's days in a crash at Marseilles in Feb 1989 as F-GEJE of Inter Cargo Service. Requires the FSDS Vanguard model by Rick Piper here. Repaint by Garry Russell. 499K
File available at
Brit Sim.
Please report if broken
Posted Sep 8, 2009 23:29 by archive
0.67Mb (581 downloads)
FS2004 Vanguard 952 Air Viking Textures only. The ex Air Canada Vanguards acquired by Air Holdings were flown by many airlines in the early days. Many of them were only for a short time as startup airlines took them on with high hopes only to fail or change direction. Air Viking was one of two Icelandic airlines leasing Vanguards in 1970-71. Operating this single Vanguard from a base in Keflavik it flew to many destinations even flying as far as the Canary Islands. Delivered in June 1970 it was repossessed by Air Holding when the airline failed in December of that year. This particular machine came of note when, as CF-TKD it flew the first TCA Westbound flight on 01 February 1961 and again when flying for Invicta as G-AXOY it made the last ever UK passenger Vanguard flight flying a Luton-Luton charter on 26 October 1975. Sold to EAS as F-BXOH it did not enter service but was stored as a spares source at Perpignan. Requires the FSDS Vanguard model by Rick Piper here. Repaint by Garry Russell. 685K
File available at
Brit Sim.
Please report if broken
Posted Sep 8, 2009 23:29 by archive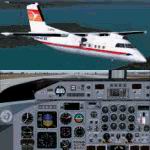 21.40Mb (5598 downloads)
FS2004 Dehavilland Dash 8-Q102 Provincial Airlines Package, Reg_ID: C-GPAL. A twin turboprop regional airliner. . An all new FSDS2.24 design with 2D panel, Dynamic VC, and Custom Sound. In addition, a custom TCAS (Traffic Collision Avoidance System), a complete Ground Handling module with push back and taxi speed control and the latest version GPWS (Ground Proximity Warning System) is included. The visual model features an opening airstair with detailed cabin interior, operating Cargo Door, lift dump and roll control spoilers, passenger wing and cabin views, and high definition reflective textures. A comprehensive set of html documents (Check List & Ref List) are included for in-flight information. A separate Panel_Docs folder with panel and systems help files, pilot's notes and more. By Jean-Pierre Brisard, Barry Blaisdell, Bob May - Premier Aircraft Design. 22MB
Posted Sep 8, 2009 23:29 by archive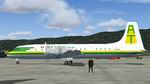 0.19Mb (662 downloads)
FS2004 Bristol 175 Britannia 307F Aer Turas Textures only. Real Irish livery to the "City of Dublin" aircraft. Registration II-BAA. Serial number 12921.Aircraft Used in the 60-70.Designed to meet a BOAC requirement for a medium range airliner, the Britannia was initially beset with problems. The problems were solved the the Britannia, with its four thundering Proteus turbprops, became a common sight. Includes custom panel. Textures only, requires original aircraft by Mike Stone here. Repainted by Jean-Jacques Parel. 195K
Posted Sep 8, 2009 23:29 by archive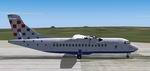 3.75Mb (3698 downloads)
FS2004 ATR-42 Croatia Airlines . This is a repaint of the Croatia Airlines smallest aircraft. Croatia Airlines use it just for small rutes like from Zagreb to Prag. It is easy to fly with this aircraft so it is good for the beginners. It includes the ATR42 virtual cockpit. Project by Cristiano Magnani Repainted by Leon Schneller. 3.8MB
Posted Sep 8, 2009 23:29 by archive
0.17Mb (926 downloads)
FS2004 Robin HR200 G-BYNK Textures only. Real english livery.A small, light weight, two seater that has proven very popular. Textures only, requires original aircraft by Mike Stone here. Repainted by Jean-Jacques Parel. 176K
Posted Sep 8, 2009 23:29 by archive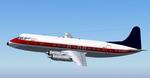 0.44Mb (468 downloads)
FS2004 Viscount 806 BEA (Leased from Cambrian) Textures only. Cambrian Viscount 806 during a short term lease to BEA. Requires the FSDS Viscount 800 model by Rick Piper (here). Repaint Garry Russel. 451K
Posted Sep 8, 2009 23:29 by archive

23.11Mb (6050 downloads)
FS2004 De havilland Dash8-102 Jazz Collection Package. A twin turboprop regional airliner. The Air Canada Jazz Collection includes C-FABW, C-GANF, C-GJMO, C-GJSX. An all new FSDS2.24 design with 2D panel, Dynamic VC, and Custom Sound. In addition, a custom TCAS (Traffic Collision Avoidance System), a complete Ground Handling module with push back and taxi speed control and the latest version GPWS (Ground Proximity Warning System) is included. The visual model features an opening airstair with detailed cabin interior, operating Cargo Door, lift dump and roll control spoilers, passenger wing and cabin views, and high definition reflective textures. A comprehensive set of html documents (Check List & Ref List) are included for in-flight information. A separate Panel_Docs folder with panel and systems help files, pilot's notes and more. By Jean-Pierre Brisard, Barry Blaisdell, Bob May - Premier Aircraft Design. 23.6MB
Posted Sep 8, 2009 23:29 by archive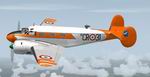 1.68Mb (1396 downloads)
FS2004 ItAF Beechcraft C-45 Textures only. Repaint of a C-45 in service in the seventies as Italian Air Force nav aids checker based at Pratica di Mare - Rome. Original model by Cliff Presley's redesigned simTECH Beech 18 Pack, requires cp-c45g.zip (here), Repaint by Antonio Cossu. 1.7MB
Posted Sep 8, 2009 23:29 by archive