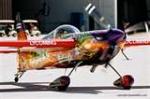 0.14Mb (9050 downloads)
The most popular aircraft in the red bull air races, the Zivko Edge. I took Mikko Maliniemi's FS2000 Edge and updated flight dynamics and effects. This FS2000 model is very basic by today's standards. I would like to request that someone makes a completely new, high quality Zivko Edge with more features and textures to post on simviation.com. Original FS2000 model by Mikko Maliniemi.
Posted Oct 21, 2008 18:00 by Bill Samson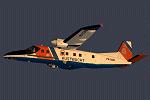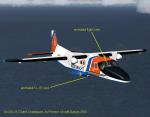 4.66Mb (6641 downloads)
FS2004 Dornier Do228-212 19 seat utility STOL aircraft. PH-CGN of the Dutch Coastguard (Nederlandse Kustwacht) New model with full animation, dynamic shine & reflective textures. Includes a 2D Panel and VC, opening passenger door with airstair, cargo doors and sound. Animated F.L.I.R. pod and flight crew. By Jean-Pierre Brisard, Bob May, Joe Zerilli ¦ Premier Aircraft Design
Posted Oct 15, 2008 14:45 by bob.may@premaircraft.com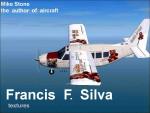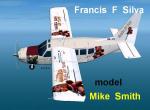 0.88Mb (3535 downloads)
Namibia Bush Airtours Ficticious Gippsland GA-8 Airvan air tours in Namibia, (south west Africa). This Gippsland GA-8 Airvan has been fitted with a very powerful turbo engine, so be careful how you handle it!
Posted Oct 13, 2008 11:15 by Francis F Silva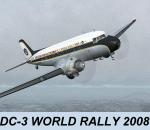 1.43Mb (2337 downloads)
This is a repaint of the default DC-3 in a specially commissioned livery for the 2008 DC-3 World Rally, organised by the team at DC-3 Airways VA. Visit www.dc3airways.com for information about this exciting event in October 2008. Thereafter, you can keep this lovely lady as a souvenir of how well you flew! This livery is also available for the MAAM-SIM FS2004/FS2002 Passenger DC-3 as wr8_maam.zip. By Mark Beaumont, VP Fleet, DC-3 Airways.
Posted Oct 13, 2008 10:37 by Mark Beaumont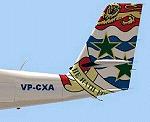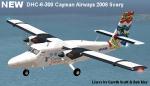 17.78Mb (6334 downloads)
FS2004 De Havilland DHC6-300 Twin Otter. Cayman Airways Express Reg# VP-CXA. This Twin Otter operates regular services in the Cayman Islands of the Caribbean. Full package for FS2004. Updated 2008 Cayman Airways livery plus improved flight dynamics. By Jean-Pierre Brisard, Barry Blaisdell, Bob May and Kevin Pardy - Premier Aircraft Design
Posted Oct 12, 2008 15:40 by bob.may@premaircraft.com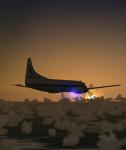 0.05Mb (2173 downloads)
Convair 640 CFG weight and balance update.
Posted Oct 7, 2008 18:50 by Carlos Marrero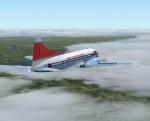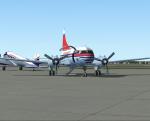 2.96Mb (1112 downloads)
FS9/FSX Mid Continent textures for Tom Gibson/ Greg Pepper Convair 240. Mid Continent textures by Gary Harper. These textures depict N90663 about 1952.
Posted Oct 6, 2008 22:49 by Gary Harper

0.47Mb (2442 downloads)
Convair 640 Model CFG and Aircraft File update
Posted Oct 6, 2008 14:10 by Carlos marrero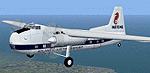 0.47Mb (3454 downloads)
FS2004 Bristol 170 Freighter. Ugly, but functional, the 170 was designed to be simple, rugged and reliable. It wasn't a speed demon, but it could lift heavy loads from short, unprepared strips. By Mike Stone.
Posted Oct 3, 2008 18:45 by archive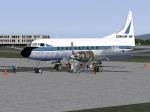 45.20Mb (9137 downloads)
Convair CV-640 Caribair 1965 Updated & fixed. The Convair 640 was a turboprop conversion of the Convair-Liner 340 and was powered by two Rolls-Royce Datrt Rda.10 Mk 542-4 turboprops providing a top speed of 482 kmh and a range of 4835 km. Caribair CV-640
Posted Oct 3, 2008 00:40 by Carlos Marrero