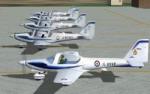 1.83Mb (5252 downloads)
AI version of the Grob Tutor. This trainer is used by the University Air Sqns in the UK. By UKMil
Posted Dec 26, 2008 04:49 by UKMIL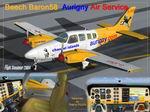 1.40Mb (3482 downloads)
Aurigny Air Service textures only for default FS2004 Beech Baron 58 repainted by Thierry PUJOL
Posted Dec 25, 2008 06:47 by Thierry PUJOL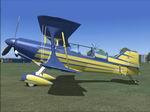 4.93Mb (4892 downloads)
Pitts S1-11B 1.0 The presented/displayed model with standard mobile parts, 2d panel and virtual cockpit, was designed with FSDS 3.0 by Abacus and repainting with Corel PHOTO-PAINT 12. F&L Designer: Federico L. Morcillo Azofra and Laura M. Celis Santiago. Especially Dedicated to Jon Melby
Posted Dec 24, 2008 04:04 by Federico L. Morcillo Azofra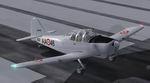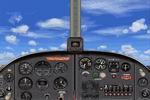 3.45Mb (3130 downloads)
This model reproduces the aircraft on display in Vigna di Valle Aeronautical Museum (near Rome) and features reflective metallic skin plus full animations. The panel background has been created entirely from scratch, based on photographic material found on the net and some photos from official documents. Most of the gauges are default gauges and some have been created by the authors. Included in this model there is also a simple Virtual Cockpit, with working essential flight instruments and animated flight controls. Capt. I. D'Attomo Capt. G.Quai
Posted Dec 19, 2008 04:09 by Capt. I. D'Attomo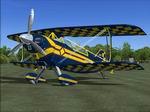 17.28Mb (14007 downloads)
New model Pitts S2C 1.0 The presented/displayed model with standard mobile parts, 2d panel and virtual cockpit, was designed with FSDS 3.0 by Abacus and repainting with Corel PHOTO-PAINT 12. F&L Designer: Federico L. Morcillo Azofra and Laura M. Celis Santiago
Posted Dec 17, 2008 18:38 by Federico L. Morcillo Azofr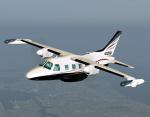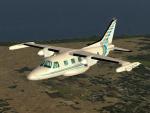 8.19Mb (10895 downloads)
FS2004 Mitsubishi MU-2 Marquise 7-9 seat twin turbo-prop corporate & executive transport. The Marquise is one of the "stretched" versions of the MU-2 and was the final production version. New model with full animation, dynamic shine & reflective textures. Includes a 2D Panel and VC with Garmin GPS/Radios and complete passenger cabin. Full package for FS2004 with two real life liveries. By Jean-Pierre Brisard, Bob May, Joe Zerilli ¶ Premier Aircraft Design
Posted Dec 15, 2008 18:47 by bob.may@premaircraft.com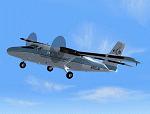 2.52Mb (1381 downloads)
Mackey International Textures for the Premier Aircraft Design DHC-6 Twin Otter for FS2004 and FSX. In the 70's Mackey International mainly flew between points in Florida, USA to many places in The Bahamas like Bimini, Freeport, Nassau as well as the Turks & Caicos Islands. Besides the larger DC-6ís and CV-440ís they also operated a fleet of smaller aircraft like the Twin Otter, Shorts Skyvan and Piper PA-31. These were used on routes to the smaller islands with less passenger traffic as well as islands that did not physically accomodate the larger aircraft. This repaint shows DHC-6 Twin Otter N955JM in the Mackey livery of that period.
Posted Dec 15, 2008 17:57 by Jaap de Baare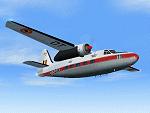 2.31Mb (3387 downloads)
Pembroke C/n P66-0032 Line-nr: K66B-4011 Callsign: OT-ZAK of the Belgian Air Force. Repaint of Manfred Jahn's excellent Percival Hunting Pembroke Mk51. OT-ZAK is painted in the external livery as it flew in the 1960's. Slightly different from the other aircraft in it's squadron which were all white with a red cheatline, OT-ZAK was half white and half aluminium with a red cheatline.
Posted Dec 15, 2008 17:07 by Jaap de Baare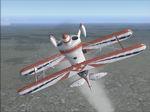 17.53Mb (6055 downloads)
New model Pitts S2B 1.0 The presented/displayed model with standard mobile parts, 2d panel and virtual cockpit, was designed with FSDS 3.0 by Abacus and repainting with Corel PHOTO-PAINT 12.F&L Designer: Federico L. Morcillo Azofra and Laura M. Celis Santiago.
Posted Dec 12, 2008 05:19 by Federico L. Morcillo Azofra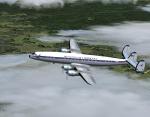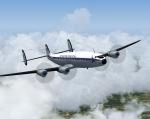 3.72Mb (1376 downloads)
FS9 Intercontinental Airlines textures for ALPHASIM Super C Constellation. Intercontinental leased N1005C from Seaboard and Western Airlines. It later served with TAP, Capitol, and Irish Airlines. It is now painted as USAF Military Transport Service and can be seen the AMC museum at Dover AFB. Textures by Gary Harper. These textures depict N1005C about 1963.
Posted Dec 11, 2008 13:03 by Gary Harper