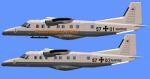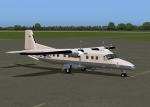 5.92Mb (5485 downloads)
FS2004 Dornier Do228-212 19 seat military utility STOL aircraft. German Navy. Two versions (1) general purpose transport (2) environmental patrol with SLAR radar antenna. New models with full animation, dynamic shine & reflective textures. Includes a 2D Panel and VC with a complete passenger cabin, opening passenger door with airstair, cargo doors and sound. By Jean-Pierre Brisard, Bob May, Joe Zerilli ¦ Premier Aircraft Design
Posted Sep 11, 2008 12:02 by bob.may@premaircraft.com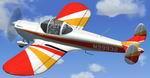 5.22Mb (7886 downloads)
FS2002/FS2004 ERCO 415 Ercoupe. This was designed by several engineers at the National Advisory Committee for Aeronautics (NACA) in response to a Bureau of Air Commerce design competition during the mid 1930s for an easy-to-fly, safe airplane. The Engineering and Reseach Company (ERCO) was founded to develop the design. The 415 utilized a two-control system with a control wheel linking the rudder, ailerons and nose wheel. The wheel also controlled the elevator. This arrangement eliminated the need for rudder pedals. Four kind of models and five kind of paint examples are included. by Kazunori Ito.
Posted Sep 6, 2008 03:18 by K Ito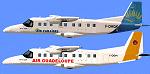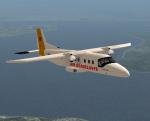 5.25Mb (9218 downloads)
FS2004 Dornier Do228-212 19 seat passenger and utility STOL aircraft Caribbean Island Hoppers, Air Guadeloupe & Air Caraibes New model with full animation, dynamic shine & reflective textures. Includes a 2D Panel and VC with a complete passenger cabin, opening passenger door with airstair, cargo doors and sound. Delightful to fly, great fun ! By Jean-Pierre Brisard, Bob May, Joe Zerilli ¦ Premier Aircraft Design
Posted Sep 3, 2008 09:35 by bob.may@premaircraft.com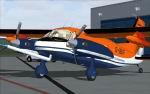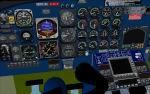 12.37Mb (7849 downloads)
FS2004 Dornier 128-6 "D-IBUF" -"the unfinished" - in it's current TU Braunschweig layout. Detailed Gmax rebuild with completely instrumented flyable VC though with FS2002-style levers and unfinished interior. Just about all that moves on the real thing moves accordingly here. Further improved flight characteristics using the FS9 turboprop model now featuring properly flat-rated PT6A-110 engines. Treat this bird nicely and it will treat you well also. Disregard it's few limitations - then look out :-) This project can only be finished if my currently disappeard excellent gmax design partner Antonis "Anthony" Konstantinidis reappears again (the detailed outside texturing is also by him). Please contact me if you know what has happened to him. Probable FS-first: VHF Homing Indicator by Roman Stoviak. Panel, most gauge programming, soundset and flight dynamics by Mathias Elsaesser.
Posted Aug 27, 2008 06:09 by Mathias Elsaesser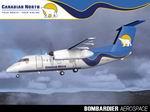 3.20Mb (9415 downloads)
I looked around for quite some time for the Dash-8-100 in the Canadian North livery (non-AI) but could not find one. So, I decided to repaint it in the excellent Dreamwings model. The Canadian North livery is very striking and colorful. It looks absolutely magic on the Dreamwings "baby Dash." I could only find a few photos of this airframe, so I did my best to create a realistic and detailed end product. I hope this repaint does not fail in either of those aspects. I hope you enjoy flying this wonderful aircraft as much as I did creating it. Textures are detailed, 32-bit. This is a "textures only" package; you must have the Dreamwings Design Dash8 Q100 model. Repaint by Jeffrey S. Bryner, Model by Dreamwings Design.DASH8
Posted Aug 25, 2008 13:25 by Jeffrey S. Bryner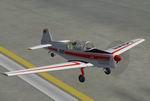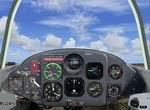 1.62Mb (8553 downloads)
The Zlin Trener 726 is an improved version of a family of aircraft that was based on a basic training aircraft, the Z-26, manufactured by the Czechoslovakian Company Moravan Otrokovice. This is a full package (aircraft and panel) and it is mainly for FS 2004, but it should work also in FS2002 and in FSX (See Note at the bottom).Capt. I. D'Attomo Capt. G.Quai
Posted Aug 24, 2008 04:11 by Capt. I. D'Attomo
0.44Mb (2544 downloads)
FS2004 Scottish Twin Pioneer Royal Malaysian Air Force.The military version could carry external stores such as bombs under stub wings. One aircraft became the first aircraft for the newly formed Royal Malaysian Air Force. The Royal Air Force ordered 39 aircraft, which were built between 1958 and 1959, for use in Aden and the Far East. It was used extensively by British forces in the Malayan Emergency and the later confrontation in Borneo.Very good STOL aircraft. Original by Mike Stone.
Posted Aug 20, 2008 06:22 by Rauna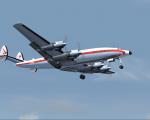 1.09Mb (2575 downloads)
World leased all for former Lufthansa Super Star Constellations in 1962 to supplement their L-1049Hs for charter flights. Model by Manfred Jahn. Engine textures by Frank and Bill Tyne. Balance of textures by Gary Harper. These textures depict N45512 about 1962. Corrected textures for proper N number.
Posted Aug 14, 2008 21:20 by Gary Harper

2.05Mb (14508 downloads)
FS2004 ATR 42-300 base model, v1.0. Features dynamic shine, opening doors, parking mode, maintenance mode, wing views, full moving animations. By ISDT. (will also work in FSX but uses the King Air 2d panel and has no VC)
Posted Aug 10, 2008 14:29 by archive

1.29Mb (1065 downloads)
FS2002/2004 Cessna 172(Illini)Textures only. Repaint textures for use with the default Cessna Skyhawk. Colors inspired by the Fighting Illini of the University of Illinois. Repaint by Don Brynelsen using Mark Rooks paint kit.
Posted Aug 3, 2008 05:40 by archive