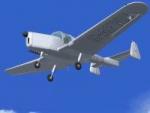 14.50Mb (2291 downloads)
FS2004 General Aircraft GAL 42 'Cygnet' II The first all-metal stressed-skin Light aircraft tourer. First flight in 1939. Ver.0.1, By Edward Cook
Posted Jun 12, 2008 07:46 by archive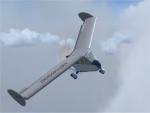 11.16Mb (6536 downloads)
FS9 1938 Waterman Arrowbile by Rarewings.com: Designed with FSDS3.5.1 and FSTweak. Has full working virtual cockpit with back-lite gauges. 2-D panels, custom sounds. Reflective metal and glass textures. Waterman, Figuring that most people couldn't afford both an airplane and a car, and believing that the car was a necessity of modern life, Waterman set out to build a car that could be turned into an airplane. The result was the "Arrowbile," a small plane with wings that could be detached in a few minutes. Much of the vehicle was made with standard car parts, and in fact a normal Studebaker engine powered the wheels (when in car mode) and the propeller (when in airplane mode). Free download from www.rarewings.com, this version is for FS9/2004
Posted Jun 9, 2008 15:24 by archive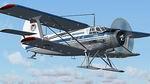 20.24Mb (5310 downloads)
FS2004 AN-2T Upgrade Package. Upgrade versions An-2 2007 year. Change are made basically for VC (are taken into account all remarks of users for VC), is collected together all additions for the winter variant of plane, add textures(2 winter text. and 8 summer text. (including textures by Roman E. Krauss). This version is designed for FS2004 only. Detailed description models is enclosed in An2_manual.doc. Autors: V.Zhyhulskiy (model, VC, panel, gauges, textures), Roman E. Krauss (textures). 20.7M
Posted Jun 6, 2008 14:24 by archive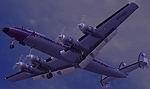 6.57Mb (7577 downloads)
FS2004 Lockheed L-1649A Starliner Prototype, v1.1. The Starliner was the last of the long-range piston-engine airliners. Designed to fly Los Angeles-London or Paris-Tokyo in around 20 hours non-stop, it established numerous long-distance records, many of them still current today. Providing accommodation for twenty-six first-class and forty-five tourist-class passengers, the Starliner entered service with TWA in May 1957. Other operators were Air France and Lufthansa. C/n 1001, registration N1649 (later N60968) first flew on 10 October 1956 and continued to serve with Lockheed Aircraft Corporation until 1970. The core Starliner team consists of Manfred Jahn (model), Hansjoerg Naegele (panel), Roland Berger (flight tests, dynamics, exhaust effects), and C.J. Kaeser (research). Effects by Milton Shupe (engine), Hansjoerg Naegele (fueldump), Wayne Tudor (exhaust flames). Original panel by Jan Visser. 6.7MB
Posted Jun 6, 2008 14:11 by archive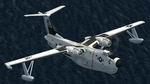 2.35Mb (5812 downloads)
FS2004/2002 Martin SP-5B Marlin. This was a twin engined piston powered flying boat entering service in 1951 and serving into late 1960s in service with the United States Navy for naval patrol. It also served in the U.S. Coast Guard and with the French Navy. 285 were produced overall. The Marlin was designed as a gull-winged aircraft to lift the engines and propellers high above the spray. By Kazunori Ito. 2.4MB
Posted Jun 4, 2008 11:39 by archive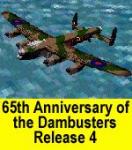 5.86Mb (9954 downloads)
DAMBUSTER 65th ANNIVERSARY 2008: To celebrate the 65th Anniversary (17 May 2008) of the Dambuster raid on the Rhur dams in 1943 and my visit to the Eder Dam in September 2007 together with actually sitting in the cockpit of the "Just Jane" Mk VII Lancaster at East Kirkby (UK) in October 2007 I have consolidated the previous Release 3 update from FS2002 to FS2004 into Release 4 for FS2004 with revised panels and new flights. The aircraft are again based on the original FS98/CFS1 aircraft of January 2000 by Keith Clifford (Lanc15.zip) but with simulated Merlin 28 engines. Aircraft AJG & AJN are not completely compatible with FS2004, but you can safely instal them with their non compliant components NOT switched off. The panel update uses Roger Lowery's RAF662 B1 Lancaster panel bitmap with center post and adopts horizontal RPM gauges rather than the CFS1 "cluster" and widescreen view of previous issues. The original Lancaster files are included for designer acknowlegement. Gauges are as previously uploaded with Release 3. Flights from Scampton EGXP use John Young's Scampton scenery and end at Paderborn EDLP just north of the Eder Dam. Consolidated version packaged by Ross McLennan. FILE NAME: 65A_Damb_R4.zip SIZE: 5.9 Megs Name: Ross McLennan, Adelaide, South Australia
Posted May 27, 2008 08:57 by archive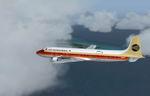 2.51Mb (1589 downloads)
FS2004/FSX DC-6B Continental/Air Micronesia Airlines textures for Greg Pepper/Tom Gipson DC-6B (required here). These textures depict N90961 about 1970. Textures by Gary Harper. 2.6MB
Posted May 26, 2008 16:28 by archive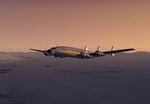 1.04Mb (3788 downloads)
FS2004/FSX L-1649 Starliner Alaska Airlines "Golden Nugget" textures for Manfred Jahn's L-1649 Starliner Constellation (above). These textures depict N7316C about 1968. Textures by Gary Harper. 1MB Needed files:
Posted May 26, 2008 16:15 by archive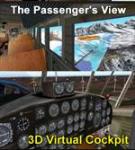 9.82Mb (5086 downloads)
FS2004 JU52 Pilot and Passenger Project: Fly the FS2004 v6 Junkers JU52 JU-Air aircraft HB-HOT from the Junkers JU52 Factory, Managing Director Pierino Primavesi, as either the 2D, 3D Pilot or as a passenger in the rear seat of the cabin. Thank you Mr Primavesi for your very liberal approach allowing others to change and modify the factory product provided the outcome remains freeware. To save upload space only one aircraft is provided with the necessary facilities to achieve the same outcomes in FS2004 as in the Retro-Restore Project for FS2002. For FS2004 the passenger seating option is only applicable to the JU-Air Aircraft originally issued in Version 6.1B. Two panel designs are provided plus the option to fly with the passenger version using the original panel by Mr Primavesi. The original panel has been modified to incorporate the functions required for passenger flying. Fly to a FS2004 flight plan for time and fuel consumtion, day or night. Instructions, documentation, and concept flights provided. Freeware Package by Ross McLennan.
Posted May 21, 2008 06:01 by archive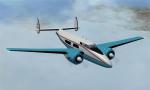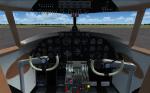 80.37Mb (305 downloads)
FS2004 Howard 250 Trigear - Release v1.0 by Milton Shupe and William Ellis, with previous contributions by Tom Falley, Scott Thomas, Ken Mitchell, and Sounds by Nigel Richards. Pilot figures by Jan Visser. Pkg incl one model, custom panel and gauge setup, custom sounds, custom Flight Model by Tom Falley and Milton Shupe, and two liveries. Milton Shupe August 2019
Posted by Milton Shupe