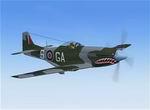 12.49Mb (18374 downloads)
FS2004 North American P-51D Mustang. To celebrate AlphaSim's 9th birthday they are releasing some of their classic titles for free. Panel and gauges included. Merlin sounds included. Four texture sets. By Alphasim.
Posted Jun 19, 2008 11:59 by archive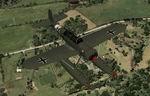 1.82Mb (5152 downloads)
The Ar 196 was a shipboard reconnaissance aircraft built by the German firm Arado starting in 1936. The next year it was selected as the winner of a design contest, and became the standard aircraft of the Kriegsmarine throughout World War II. Includes virtual cockpit. By Alpha Simulation Freeware releases.
Posted Jun 18, 2008 06:54 by archive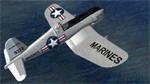 6.69Mb (5119 downloads)
FS2004 Alpha Bleu Ciel French Chance Vought F4U-7 Corsair. This patch corrects the problems of takeoff of Corsair F4U-7 and a new flight dynamic. Also adds a new 3D model Corsair AU-1 with two new textures and supplementary possibilities for repainters.3D Model, virtual cockpit and textures Guy Hulin. Panel and gauges Jean-Pierre Langer, Arne Bartels. Flight dynamic Jean-Pierre Bourgeois, Benoit Dube.
Posted Jun 17, 2008 05:22 by archive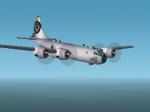 15.10Mb (19925 downloads)
FS2002-FS2004 Boeing B-29 Enola Gay (Update to Enola Gayahasseye). Boeing's first atomic aircraft bomber with classic and modern panel includes a fighter HUD and Atomic nuclear Bomb . Originally developed Mr. Graham reinstrumented by ING Alex Hassey. DXF model available at request
Posted Jun 16, 2008 07:14 by archive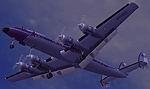 2.82Mb (4702 downloads)
Lockheed L-1649A Starliner Update (Version 1.1a) This update package presumes the presence of version 1.1 of the Starliner. What does this update do? - New aircraft.cfg and L1649A.air for improved flight dynamics, especially takeoff and landing. - New panel files for modified gauges and basic VC layout. - Three VC texture files - New model file Manfred Jahn
Posted Jun 16, 2008 07:06 by archive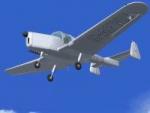 14.50Mb (2222 downloads)
FS2004 General Aircraft GAL 42 'Cygnet' II The first all-metal stressed-skin Light aircraft tourer. First flight in 1939. Ver.0.1, By Edward Cook
Posted Jun 12, 2008 07:46 by archive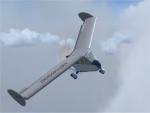 11.16Mb (6475 downloads)
FS9 1938 Waterman Arrowbile by Rarewings.com: Designed with FSDS3.5.1 and FSTweak. Has full working virtual cockpit with back-lite gauges. 2-D panels, custom sounds. Reflective metal and glass textures. Waterman, Figuring that most people couldn't afford both an airplane and a car, and believing that the car was a necessity of modern life, Waterman set out to build a car that could be turned into an airplane. The result was the "Arrowbile," a small plane with wings that could be detached in a few minutes. Much of the vehicle was made with standard car parts, and in fact a normal Studebaker engine powered the wheels (when in car mode) and the propeller (when in airplane mode). Free download from www.rarewings.com, this version is for FS9/2004
Posted Jun 9, 2008 15:24 by archive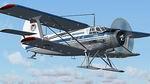 20.24Mb (5284 downloads)
FS2004 AN-2T Upgrade Package. Upgrade versions An-2 2007 year. Change are made basically for VC (are taken into account all remarks of users for VC), is collected together all additions for the winter variant of plane, add textures(2 winter text. and 8 summer text. (including textures by Roman E. Krauss). This version is designed for FS2004 only. Detailed description models is enclosed in An2_manual.doc. Autors: V.Zhyhulskiy (model, VC, panel, gauges, textures), Roman E. Krauss (textures). 20.7M
Posted Jun 6, 2008 14:24 by archive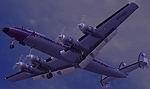 6.57Mb (7519 downloads)
FS2004 Lockheed L-1649A Starliner Prototype, v1.1. The Starliner was the last of the long-range piston-engine airliners. Designed to fly Los Angeles-London or Paris-Tokyo in around 20 hours non-stop, it established numerous long-distance records, many of them still current today. Providing accommodation for twenty-six first-class and forty-five tourist-class passengers, the Starliner entered service with TWA in May 1957. Other operators were Air France and Lufthansa. C/n 1001, registration N1649 (later N60968) first flew on 10 October 1956 and continued to serve with Lockheed Aircraft Corporation until 1970. The core Starliner team consists of Manfred Jahn (model), Hansjoerg Naegele (panel), Roland Berger (flight tests, dynamics, exhaust effects), and C.J. Kaeser (research). Effects by Milton Shupe (engine), Hansjoerg Naegele (fueldump), Wayne Tudor (exhaust flames). Original panel by Jan Visser. 6.7MB
Posted Jun 6, 2008 14:11 by archive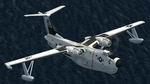 2.35Mb (5783 downloads)
FS2004/2002 Martin SP-5B Marlin. This was a twin engined piston powered flying boat entering service in 1951 and serving into late 1960s in service with the United States Navy for naval patrol. It also served in the U.S. Coast Guard and with the French Navy. 285 were produced overall. The Marlin was designed as a gull-winged aircraft to lift the engines and propellers high above the spray. By Kazunori Ito. 2.4MB
Posted Jun 4, 2008 11:39 by archive