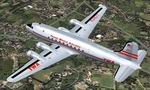 2.47Mb (1888 downloads)
FSX/FS2004 Douglas DC-4 TWA Textures only. This aircraft, N34577, was built as a C-54B, and converted post-war to a DC-4 airliner for Trans World Airlines, TWA. In its later years it was used as a freighter. You must download and install the DC-4 model for FSX / FS2004. Requires DC4_V21.zip to use these files. By Jens B. Kristensen. 2.5MB
Posted Jun 23, 2008 14:16 by archive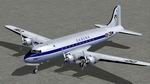 2.30Mb (2142 downloads)
FSX/FS2004 Douglas DC-4 Sabena Textures only. This aircraft, OO-CBI, was built post-war as a Douglas DC-4-1009 airliner, delivered to Sabena in 1947.It had a long carreer with Sabena and later the United Nations and Air Congo. Sabena commenced a Bruxelles - New York service via Shannon and Gander with DC-4s on 4. june 1947. By Jens B. Kristensen. 2.3MB
Posted Jun 23, 2008 14:16 by archive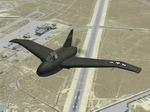 4.04Mb (11958 downloads)
FSX NORTHROP XP-56 "BLACK BULLET" FSX SP2 Northrop XP-56, experimental tailess fighter developed to explore flying wing fighter designs. While it flew well enough, the XP-56 never acheived its design performance, and eventually was made obsolete by the new generation of jet aircraft designs. One of the two built still exists in storage at the Smithonian Air Museum. This release has full ani's, and VC with custom gauges. NOT tested in Vista/DX10! By Tim Conrad
Posted Jun 19, 2008 06:49 by archive
0.24Mb (2981 downloads)
FSX F4U Corsair Prop Fix for the Alpha Bleu Ciel updated for FSX by Norcal Prop Club. tested with sp2/xp By Ted.T Nor-Cal Prop Club
Posted Jun 17, 2008 05:08 by archive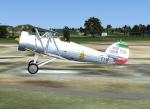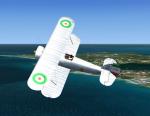 3.02Mb (4074 downloads)
FS2004/FSX Hawker Fury with Radial engine Persian Furies had Pratt & Whitney Hornet radials, but these were later replaced by Bristol Mercury engines for added performance. So favored were the Persian Mercuries by their pilots,that they were flown as late as 1943. However the engine installation moved the c.g. forward resulting in a tendency of the airplane to nose over during taxiing. GMAX by A.F.Scrub
Posted Jun 16, 2008 15:56 by archive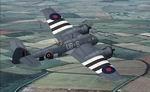 55.53Mb (20405 downloads)
Bristol Beaufighter Package. This model is for FSX ONLY, and will not work in earlier versions of Flight Simulator. Features:Full native FSX sp2 model with bump and specular mapping. 9 paint schemes included. Fully modelled smooth 3D gauges. Adjustable payload. (Mk.VI and X models only) Use the FSX payload editor to add weight for Torpedo and / or rocket projectiles. Using the FSX payload editor, you will see 2 figures after the station name. The first weight will just display the rocket rails or torpedo crutches. The second weight will show the weapon itself. Droppable weapons. The rockets or topedo can be made to drop in mission mode by editing a save flight file. Model and textures by: Dave Garwood Beaufighter Sounds by Lawdog.
Posted Jun 14, 2008 11:24 by archive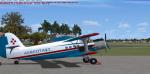 6.52Mb (4824 downloads)
The Ju52 was widely used in the thirties. It made many experimental flights all over the world and routes into the Far East were made possible by this aircraft. The "Junkers-Flugzeugwerke" in Dessau developed it originally as a single engine cargo aircraft in 1930, under chief constructor Ernst Zindel (Dipl. Ing). A few months later construction began on the well known three-engined JU 52/3m, the change was triggered by several interested airlines looking for a reliable design. This version saw commercial service first in 1932. Safety and reliability were equal to todays jet planes. Requires original model by by Oliver Fischer at http://www.simviation.com/simviation/static.php?ID=88&page=94
Posted Jun 13, 2008 14:36 by archive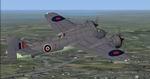 2.95Mb (2422 downloads)
FSX Bristol Beaufighter SAAF Textures only. This is a repaint of Dave Garwood's fantastic Bristol Beaufighter (available below) utilizing his paint kit. Many thanks to Dave Garwood for the fantastic model, sounds and VC, and also the members of CBFsim.org for their help. Textures only. Repainted by Sean Kneppers. 3MB
Posted Jun 6, 2008 04:37 by archive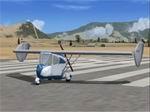 11.26Mb (10769 downloads)
FSX 1938 Waterman Arrowbile by Rarewings.com: Designed with FSDS3.5.1 and FSTweak. Has full working virtual cockpit with back-lite gauges. 2-D panels, custom sounds. Reflective metal and glass textures. Waterman, Figuring that most people couldn't afford both an airplane and a car, and believing that the car was a necessity of modern life, Waterman set out to build a car that could be turned into an airplane. The result was the "Arrowbile," a small plane with wings that could be detached in a few minutes. Much of the vehicle was made with standard car parts, and in fact a normal Studebaker engine powered the wheels (when in car mode) and the propeller (when in airplane mode). Free download from www.rarewings.com. 11.5MB
Posted Jun 3, 2008 13:14 by archive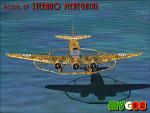 13.81Mb (3521 downloads)
FS2004/FSX Savoia Marchetti S.81 Expansion package 2 This is the second expansion package for the S81_v10.zip (above), regarding the FS9/FSX model of the SIAI SM81 Pipistrello, Italian bomber/transport aircraft. The archive contains three new model variants and four new liveries: "Saturno" (Saturn) the anti-magnetic mines aircraft, "Tartaruga" (Tortoise) the personal aircraft of Benito Mussolini and two "Scuola di Volo Senza Visibilità" (Instrumental Flying School) planes with more advanced IFR cockpit. This is only an upgrade package, so you must have already installed the main package 'S81_V10.zip' and also the 'S81_ep1.zip' (see link). Follow installation instructions for each FS2004/FSX case. Models by Stefano Meneghini and Manuele Villa, flight dynamics by FSAviator. See 'ReadMe.txt' for more details.
Posted Jun 2, 2008 04:25 by John Paul