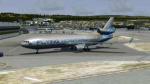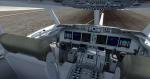 69.24Mb (223 downloads)
McDonnell Douglas MD-11 Native Prepar3D v4 model. This package contains the passenger version of the MD-11 in a real paint in Air Namibia livery. This Freeware model once was created for FS2004 by SMS Overland. You can now pilot this aircraft on Prepar3D v4.5+ with a virtual cockpit, Panel 2D, custom sounds from a real MD-11. All textures have been converted to 32-bit. Panel.cfg and Aircraft.cfg have also been upgraded for P3D. More SMS-Overland MD-11 repaints for P3D and also a Paintkit, you will find on http://www.adrastea.de/md11.html
Posted May 14, 2020 02:42 by overlandfan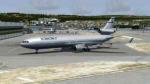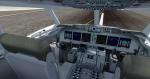 65.41Mb (161 downloads)
McDonnell Douglas MD-11 Native Prepar3D v4 model. This package contains the passenger version of the MD-11 in a real paint in Air Namibia livery. This Freeware model once was created for FS2004 by SMS Overland. You can now pilot this aircraft on Prepar3D v4.5+ with a virtual cockpit, Panel 2D, custom sounds from a real MD-11. All textures have been converted to 32-bit. Panel.cfg and Aircraft.cfg have also been upgraded for P3D. More SMS-Overland MD-11 repaints for P3D and also a Paintkit, you will find on http://www.adrastea.de/md11.html
Posted May 14, 2020 02:29 by overlandfan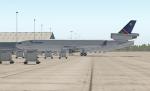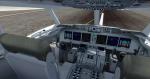 66.12Mb (124 downloads)
McDonnell Douglas MD-11 Native Prepar3D v4 model. This package contains the passenger version of the MD-11 in a real paint in Air Namibia livery. This Freeware model once was created for FS2004 by SMS Overland. You can now pilot this aircraft on Prepar3D v4.5+ with a virtual cockpit, Panel 2D, custom sounds from a real MD-11. All textures have been converted to 32-bit. Panel.cfg and Aircraft.cfg have also been upgraded for P3D. More SMS-Overland MD-11 repaints for P3D and also a Paintkit, you will find on http://www.adrastea.de/md11.html
Posted May 14, 2020 02:26 by overlandfan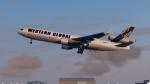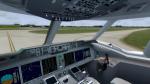 69.32Mb (419 downloads)
McDonnell Douglas MD-11 Native Prepar3D v4 model. This package contains the passenger version of the MD-11 in a real paint in World Airways livery. This Freeware model once was created for FS2004 by SMS Overland. You can now pilot this aircraft on Prepar3D v4.5+ with a virtual cockpit, Panel 2D, custom sounds from a real MD-11. All textures have been converted to 32-bit. Panel.cfg and Aircraft.cfg have also been upgraded for P3D. More SMS-Overland MD-11 repaints for P3D and also a Paintkit, you will find on http://www.adrastea.de/md11.html. Joerg Zeitschel, SMS-Overland
Posted May 13, 2020 11:22 by overlandfan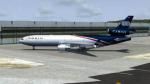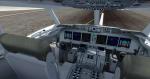 69.79Mb (214 downloads)
McDonnell Douglas MD-11 Native Prepar3D v4 model. This package contains the passenger version of the MD-11 in a real paint in World Airways livery. This Freeware model once was created for FS2004 by SMS Overland. You can now pilot this aircraft on Prepar3D v4.5+ with a virtual cockpit, Panel 2D, custom sounds from a real MD-11. All textures have been converted to 32-bit. Panel.cfg and Aircraft.cfg have also been upgraded for P3D. More SMS-Overland MD-11 repaints for P3D and also a Paintkit, you will find on http://www.adrastea.de/md11.html . Joerg Zeitschel, SMS-Overland
Posted May 13, 2020 11:09 by overlandfan
68.47Mb (246 downloads)
McDonnell Douglas MD-11 Native Prepar3D v4 model. This package contains the passenger version of the MD-11 in a fictional paint in Eastern Airlines livery. This Freeware model once was created for FS2004 by SMS Overland. You can now pilot this aircraft on Prepar3D v4.5+ with a virtual cockpit, Panel 2D, custom sounds from a real MD-11. All textures have been converted to 32-bit. Panel.cfg and Aircraft.cfg have also been upgraded for P3D. More SMS-Overland MD-11 repaints for P3D and also a Paintkit, you will find on http://www.adrastea.de/md11.html
Posted May 13, 2020 11:04 by overlandfan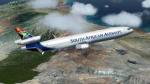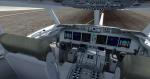 65.34Mb (291 downloads)
South African McDonnell Douglas MD-11 Native Prepar3D v4 model. This package contains the passenger version of the MD-11 in a fictional paint in South African Airways livery. This Freeware model once was created for FS2004 by SMS Overland. You can now pilot this aircraft on Prepar3D v4.5+ with a virtual cockpit, Panel 2D, custom sounds from a real MD-11. All textures have been converted to 32-bit. Panel.cfg and Aircraft.cfg have also been upgraded for P3D. More SMS-Overland MD-11 repaints for P3D and also a Paintkit, you will find on http://www.adrastea.de/md11.html
Posted May 12, 2020 01:35 by overlandfan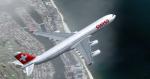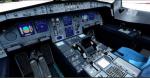 73.23Mb (2634 downloads)
FSX/P3D Airbus A340-300 Swiss package. Switzerland's flag carrier airline is based at Zurich Kloten and is part of the Lufthansa group. Currently Swiss have 5 A340-300 and fly to destinations worldwide. Model by Thomas Ruth. Added the better Thomas Ruth modified VC with latest updates by Chris Evans and Louis Quintero. Added correct jetway configs, wing views and wheel levels. Manual included. Zip preview for larger pictures. Checklist by Werner Schott included. Textured and assembled for P3D v4.5 by Chris Evans. Should work in FSX and earlier P3D versions.
Posted May 11, 2020 09:51 by chris evans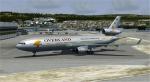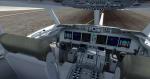 69.41Mb (387 downloads)
Base Package V.2.0 of the McDonnell Douglas MD-11 Native Prepar3D v4 model. This package contains the passenger version of the MD-11 in a fictional paint in Overland livery. This Freeware model once was created for FS2004 by SMS Overland. You can now pilot this aircraft on Prepar3D v4.5+ with a virtual cockpit, Panel 2D, custom sounds from a real MD-11. All textures have been converted to 32-bit. Panel.cfg and Aircraft.cfg have also been upgraded for P3D. More SMS-Overland MD-11 repaints for P3D and also a Paintkit, you will find on http://www.adrastea.de/md11.html
Posted May 11, 2020 02:43 by overlandfan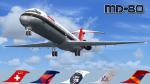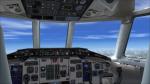 170.50Mb (3452 downloads)
FSX/P3D McDonnell Douglas MD83 with classic liveries collection. Based on the SGA/Eric Cantu's model, FSX native conversion by Eagle Rotorcraft Simulations, featuring a new Airfile and a new 2D Panel with a clean set of xml gauges. The original VC by Mitsushi Yutaka has been completely re-worked, with updated VC textures and gauges. The VC is sadly not fully working but it is very convincing. Great sounds, engine auto-smoke, lighting, effects and most of all, well balanced flight dynamics. This collection contains 5 beautiful liveries from some iconic airlines, including: Swissair, American Airlines, Alaska Airlines, Delta Airlines and Avianca. A "White" texture is also included for those of you who would like to make more liveries. All textures have been saved as DXT5 and are extremely detailled, with new alpha layers. I fixed the specular lighting by adding the missing Fresnel ramp file. All metallic textures have been enhanced to display realistic reflections and dynamic shine. The new panel features the following extra gauges: FMC by Garret Smith, TCAS by Dietmar Loleit, and my own VSpeed, Altitude Callout, Icons32, Brake and Cockpit sounds. Most of these gauges are using the FSX XML Sound gauge by Doug Dawson. This package contains both MD83 exterior models: Cone and Flat. New MD80 Checklist and Reference files. Superb Pratt and Whitney JT8D environment sound files with sound cones, from unknown authors, compiled by me. Tested in FSX Acceleration (DX10) and FSX Steam Edition (DX9). Not tested in P3D but should work correctly up to V3. Sound effects may not work in V4 or V5.
Posted May 9, 2020 09:34 by Philippe Marion