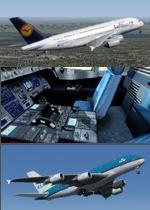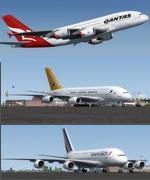 283.32Mb (9672 downloads)
FSX/P3D>v4 Airbus 380-800 Multi Livery pack (revised). Liveries include Lufthansa, Qantas, Emirates, China Southern, British Airways, Air France, DHL, Airbus House, 1st Flight, JAL, KLM, Korean, Lufthansa cargo, Malaysia, Singapore, Thai, UPS, Virgin. Model by Project Airbus. Added the better Thomas Ruth VC with updates by Chris Evans and Louis Quintero. Use FMC under Views/Instrument panel in FSX menu. (FSX : Go to Views -Instrument Panel. P3D: Go to Vehicle - Instrument panel) I included the photo-realistic textures by many. RR engine sounds. Includes built in FMC by Garret Smith. Original package by Larz. Custom revised package by Chris Evans
Posted Mar 25, 2018 17:21 by chris evans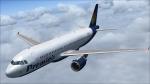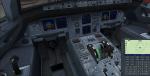 49.37Mb (568 downloads)
FSX/P3D Airbus 320-212 Premiair OY-CNC package. Premiair was a charter airline that was created by joining the older companies Scanair and Conair of Scandinavia. Premiair was wholly owned by Scandinavian Leisure Group.In 2002 Premiair changed its name to MyTravel Airways and later In 2008, was re-branded to Thomas Cook Airlines Scandinavia Based off the Project Airbus A320 - Uses the default A321 VC with added FMC, CFM56 engine sounds. Jetway configured (CTRL+J). Fully compatible with GSX,(FSX/P3D)
Posted Mar 25, 2018 16:13 by bexel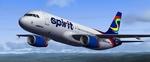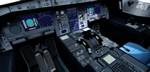 63.92Mb (1031 downloads)
FSX/P3D Airbus 320-200 Spirit Airlines package. Based at Miramar, Florida, Spirit Airlines is the US's 8th largest airline flying roputes throughout the US, South America and the Caribbean. As of March 2018, Spirit operate 52 A320 with a further 10 on order. Model by Project Airbus. Added the better Thomas Ruth VC with updates by Chris Evans and Louis Quintero. Use FMC under Views/Instrument panel in FSX menu. (FSX : Go to Views -Instrument Panel. P3D: Go to Vehicle - Instrument panel) I included the photo-realistic textures by Private Custard and the A320 checklist by Werner Schott. A320 sounds by Abid Mounir. Includes FMC by Garret Smith. A320 sounds and manual included. Custom revised package by Chris Evans
Posted Mar 24, 2018 12:43 by chris evans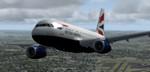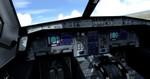 70.87Mb (2359 downloads)
FSX/P3D> v4 Airbus A319-100 British Airways package. British Airways currently (March 2018) fly 44 Airbus A319-100. The Airbus A319-100 is part of the A320 family carrying up to 160 passengers and with a range of up to 6900km/4300miles. High quality FSX native model by Project Airbus. Added the better Thomas Ruth VC with updates by Chris Evans and Louis Quintero. Use FMC under Views/Instrument panel in FSX menu. (FSX : Go to Views -Instrument Panel. P3D: Go to Vehicle - Instrument panel) I included the great textures by Mathieu Vos. Includes FMC by Garret Smith. Airbus sounds and manual included. Custom packaged by Chris Evans
Posted Mar 23, 2018 06:35 by chris evans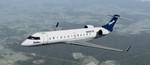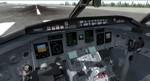 84.21Mb (1499 downloads)
FSX/P3D >v4 Bombardier CRJ-200 Skywest package. Skywest Airlines is based in St. George, Utah and is said to be the largest regional airline in the US. It operates along with partner airlines and currently (March 2018) has a fleet of 20 CRJ-200 flying with the Skywest livery. FSX native CRJ200 model by Iris with new upgraded VC by David Hoeffgen. Includes built in FMC, working wipers and more (see VC docs in folder). High quality model. All credit to the fantastic talents of the Iris team and David Hoeffgen. Thanks to Matthew Miler for the great textures. Other updates by Chris Evans.
Posted Mar 22, 2018 14:14 by chris evans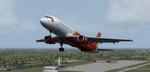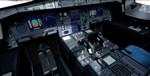 63.25Mb (881 downloads)
FSX/P3D (all versions) Airbus 320-200 Vietjet Air package. Vietjet is a Vietnamese low cost airline and currently flies 24 A320-200 (March 2018). Model by Project Airbus. Added the better Thomas Ruth VC with updates by Chris Evans and Louis Quintero. Use FMC under Views/Instrument panel in FSX menu. (FSX : Go to Views -Instrument Panel. P3D: Go to Vehicle - Instrument panel) I included the photo-realistic textures by Sergey Gleba and the A320 checklist by Werner Schott. A320 sounds by Abid Mounir. Includes FMC by Garret Smith. A320 sounds and manual included. Custom revised package by Chris Evans
Posted Mar 21, 2018 14:05 by chris evans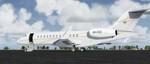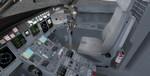 81.84Mb (2701 downloads)
P3D 3/4 /FSX Bombardier Global Express XRS (9H-FED) Package. The Bombardier Global Express is a large, ultra long range business jet manufactured by Bombardier Aerospace in Toronto, Ontario. This particular aircraft is owned by Hyperion Aviation Ltd, as private jet hire. FSX Native model by Iris with added enhanced new upgraded VC by David Hoeffgen , includes built in FMC, working wipers and more (see VC docs in folder). Added the high quality textures by Quincio. Includes Honeywell FMC (Find it in Instrument panel - Views) and revised MFD and custom sounds. High quality model with opening doors and stairs. Updates by Chris Evans.
Posted Mar 19, 2018 13:33 by chris evans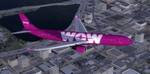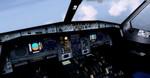 59.99Mb (5064 downloads)
FSX/P3D >v4 Airbus A330-300 Wow Air package for FSX. Wow Air is an Icelandic budget airline based at Keflavik International Airport and flies routes mainly around Europe and the USA. As of march 2018, Wow operate 3 Airbus A330-300. Model by Thomas Ruth. Added the better Thomas Ruth modified VC with latest updates by Chris Evans and Louis Quintero. I added the great textures by Cillian Coleman. Includes built in FMC by Garret Smith. Fixed contact points so wheels do not sink into concrete. FMC will display in VC. Includes A330 manual. Custom A330 sounds included. Requires either FSX Acceleration or Service packs 1 & 2. Assembled and tested in P3Dv4 by Chris Evans Should also be fine in FSX and earlier P3D versions
Posted Mar 18, 2018 05:55 by chris evans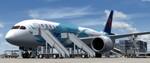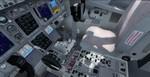 75.15Mb (1691 downloads)
FSX/P3D 3 & 4 Boeing 787-8 China Southern package with new enhanced VC. Based in Guangzhou, China, China Southern is the largest airline in China and the 6th largest world airline by passengers carried and currently flies 10 Boeing 787-8 (March 2018). High quality FSX native model by TDS/ Tenkuu Developers Studio. The VC is the Alejandro Rojas Lucena/FSND fantastic revised Boeing 737-800 VC model blended with Ken Wiggington's work on the default 737 VC to make it more resemble a 787. This VC model includes Working wipers (right mouse click on switch) with rain effect. Switches for LCD Screens, EICAS, PFD, MFT. Autobrake switch. Opening pilots window. Cabin Lights switch. Realistic FMC. Ground Proximity Warning System (GPWS), More Realistic night VC textures. There are custom Boeing sounds included for that extra realism. I added the fine textures by Jan9896. Added extra views. Model is not modified in any way. VC views and wheel levels corrected. TDS wonderful native FSX Boeing 787-8 model. See VC docs to get the best out of the VC and FMC. Assembled and prepared for P3D 3/4 & FSX by Chris Evans.
Posted Mar 17, 2018 10:42 by chris evans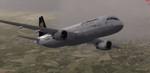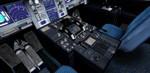 63.37Mb (1584 downloads)
FSX/P3D Airbus 320-200 Lufthansa D-AIPW package (revised). Lufthansa is Germany's national airline and currently (March 2018) operate 67 A320-200 and have 51 A320NEO on order. Model by Project Airbus. Added the better Thomas Ruth VC with updates by Chris Evans and Louis Quintero. Use FMC under Views/Instrument panel in FSX menu. (FSX : Go to Views -Instrument Panel. P3D: Go to Vehicle - Instrument panel) I included the photo-realistic textures by Denis Minaev and the A320 checklist by Werner Schott. A320 sounds by Abid Mounir. Includes FMC by Garret Smith. A320 sounds and manual included. Custom revised package by Chris Evans
Posted Mar 16, 2018 10:40 by chris evans