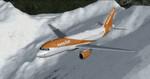 66.74Mb (2408 downloads)
FSX/P3D>v4 Airbus 320-200 Easyjet 'Switzerland' package. Easyjet Switzerland is a franchise of Easyjet based in Geneva and EuroAirport Basel–Mulhouse–Freiburg, Switzerland. As of April 2018, Easyjet Switzerland operate 15 A320-200. Model by Project Airbus. Added the better Thomas Ruth VC with updates by Chris Evans and Louis Quintero. Use FMC under Views/Instrument panel in FSX menu. (FSX : Go to Views -Instrument Panel. P3D: Go to Vehicle - Instrument panel) I included the photo-realistic textures by Stefan Bree, the A320 checklist by Werner Schott. A320 sounds by Abid Mounir. Added wing views. Includes FMC by Garret Smith. A320 sounds and manual included. Custom revised package by Chris Evans
Posted May 1, 2018 07:10 by chris evans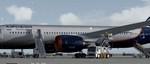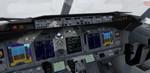 136.70Mb (1710 downloads)
FSX/P3D 3 & 4 Boeing 787-8 Aeroflot package with modified VC. Russia's flag carrier, Aeroflot, had 18 Boeing 787-8 on order. Although it was reported this order was cancelled other reports suggest there are still orders for the 787-8 as part of Aeroflot's aquisition of long range modern aircraft, along with the A350 for example. Fantastic model by TDS/ Tenkuu Developers Studio with advanced 737-800 VC added. The VC is the Alejandro Rojas Lucena/FSND fantastic revised Boeing 737-800 VC model blended with Ken Wiggington's work on the default 737 VC to make it more resemble a 787. This VC model includes Working wipers (right mouse click on switch) with rain effect. Switches for LCD Screens, EICAS, PFD, MFT. Autobrake switch. Opening pilots window. Cabin Lights switch. Realistic FMC. Ground Proximity Warning System (GPWS), More Realistic night VC textures. There are custom Boeing sounds included for that extra realism. I added the high quality textures by Ricardotv. Improved flight dynamics by Bob Chicilo. Aircraft.cfg edited to allow correct VC views and jetways. TDS wonderful native FSX Boeing 787-8 model. See VC docs to get the best out of the VC and FMC. Assembled and prepared for P3D 3/4 & FSX by Chris Evans.
Posted Apr 30, 2018 09:50 by chris evans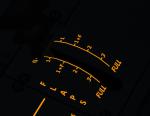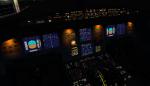 18.81Mb (1271 downloads)
Updated textures and lighting for the virtual cockpit on all aircraft included within the Francois Dore A320 Family. Replaces the stock low resolution textures with CokiBH's high resolution A321 cockpit textures, with orange night lighting. Flap position markers on centre console have been changed to reflect the updated flap modelling on the aircraft. Credit goes to CokiBH for the original and beautiful textures, with only minor changes done by me to the flap position markers, and aircraft .CFGs to revert the lighting to that of the original PA A318/19/20/21 aircraft.
Posted Apr 30, 2018 05:18 by Simon Kelly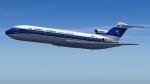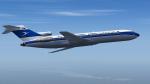 10.85Mb (187 downloads)
Textures only for the TDS B727-200 in Kuwait Airways 1980 colors. The freeware 727-200 by Tenkuu Developers Studio (TDS) is needed for this repaint. Kuwait Airways operated 4 727-200s which were mainly used on their Middle East and European routes. This repaint was tested on P3D v3. It should work on FSX & FSX-SE.
Posted Apr 30, 2018 04:25 by Ted Giana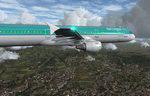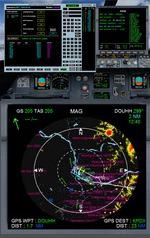 485.82Mb (1969 downloads)
FSX/P3D Project Airbus A321 FD-FMC version 1.55 To install aircraft, launch Setup program and follow instruction. In case of Setup program crash, you can install manually aircraft. Read Install Manual for DLL declarations This aircraft is based on Project Airbus A318 with following improvement: - New AIR file with new engines setting, flight dynamics - updated VC by Bjoern Kesten (fix Navigation display position) with rain effect - New VC textures, High definition, by CokiBH (2 set for night) - FD-FMC version 1.55 with 300 airports procedures, with SID, STAR, Approaches, holding pattern, DME-ARC management, preditive gradient during approach, full N1 management, real vertical navigation. Francois Dore
Posted Apr 29, 2018 09:06 by uploader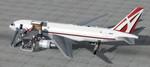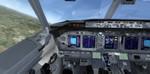 58.87Mb (1464 downloads)
FSX/P3D>v4 Boeing 767-200/SF ABX Air Package. ABX is a cargo airline based in Wilmington, Ohio. Founded in 1980, ABX currently (April 2018) has a fleet of 37 Boeing 767-200 of which 21 are 'SF' versions. ABX main customer is DHL and many of it's aircraft are painted in DHL livery. Boeing 777-200SF with virtual cockpit and working Honeywell FMC for FSX. Includes revised VC and Honeywell FMC (via Views-Instrument panel). Project Opensky model features opening doors & cargo doors, detailed textures, accurate paint, dynamic shine & effects, dynamic flexing wings that respond to turbulence, fully independent suspension, trim animation, gear steering, accurate flight dynamics, spoiler animation, reflective cockpit windows, crash effects, animated tilting bogies, full night lighting, stairs, ground service vehicles when cargo doors open, (FSX find it under - Views/P3D Vehicle - Instrument panel - - Posky Utility), detailed virtual cockpit and more. Added custom B777 sounds. To use FMC - Go to Views - Intrument panel - FMC. See FMC docs. Fantastic native FSX model by Skyspirit/Project Opensky. Jetway exits. I have included the great textures by Paul Craig. Zip preview for images. Prepared, tested and assembled for P3Dv4 by Chris Evans. Should also work in FSX and earlier P3D versions.
Posted Apr 28, 2018 07:53 by chris evans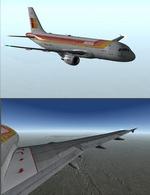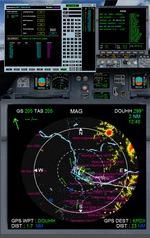 485.31Mb (2652 downloads)
Project Airbus A320 FD-FMC version 1.55 CFM & IAE engines. To install aircraft, launch Setup program and follow instruction. In case of Setup program crash, you can install manually aircraft. Read Install Manual for DLL declarations This aircraft is based on Project Airbus A320 with following improvement: - New AIR file with new engines setting, flight dynamics - updated VC by Bjoern Kesten (fix Navigation display position) with rain effect - New VC textures, High definition, by CokiBH (2 set for night) - FD-FMC version 1.55 with 300 airports procedures, with SID, STAR, Approaches, holding pattern, DME-ARC management, preditive gradient during approach, full N1 management, real vertical navigation. Francois Dore
Posted Apr 28, 2018 07:20 by uploader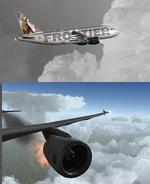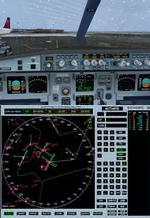 229.28Mb (1844 downloads)
Project Airbus A318 FD-FMC Revision Package 1.55. This aircraft is based on Project Airbus A318 with following improvement: - New AIR file with new engines setting, flight dynamics - updated VC by Bjoern Kesten (fix Navigation display position) with rain effect - New VC textures, High definition, by CokiBH (2 set for night) - FD-FMC version 1.55 with 300 airports procedures, with SID, STAR, Approaches, holding pattern, DME-ARC management, preditive gradient during approach, full N1 management, real vertical navigation. Francois Dore
Posted Apr 27, 2018 14:35 by uploader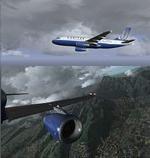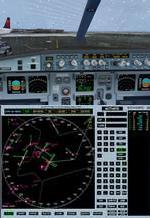 229.28Mb (2000 downloads)
Project Airbus A319 FD-FMC Revision Package version 1.55 CFM & IAE engines. This aircraft is based on Project Airbus A318 with following improvement: - New AIR file with new engines setting, flight dynamics - updated VC by Bjoern Kesten (fix Navigation display position) with rain effect - New VC textures, High definition, by CokiBH (2 set for night) - FD-FMC version 1.55 with 300 airports procedures, with SID, STAR, Approaches, holding pattern, DME-ARC management, preditive gradient during approach, full N1 management, real vertical navigation. Francois Dore
Posted Apr 27, 2018 14:13 by uploader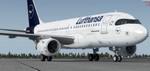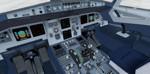 167.04Mb (2884 downloads)
FSX/P3D Airbus A319-100 Lufthansa 2018 livery registration D-AILF with high def. textures. Model by Project Airbus. Revised updated VC by Bjoern Kesten. Hi spec texture 2048X2048 px. Repaint by JALOPEZR ***SEE MISSING GAUGES ABOVE***
Posted Apr 27, 2018 05:32 by JALopezR