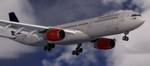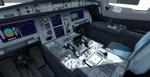 37.22Mb (2702 downloads)
FSX/P3D Airbus A330-300 Scandanavian Air Services (SAS) package for FSX. SAS is the combined flag airline of Sweden, Norway and Denmark and is the largest airline in Scandanavia. SAS currently (2017) operate 8 A330-300 - all equiped with wifi . Includes VC. Model by Thomas Ruth. Added the better Thomas Ruth VC with latest updates by Chris Evans and Louis Quintero. I added the great textures by John Hancock. Includes built in FMC by Garret Smith. Fixed contact points so wheels do not sit too high. FMC will display in VC. Includes A330 manual. Custom A330 sounds included. Assembled and tested in P3D and FSX by Chris Evans
Posted Mar 12, 2017 14:07 by chris evans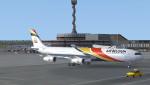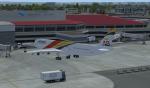 37.19Mb (1884 downloads)
Airbus A340-300 Air Belgium. Air Belgium is a Belgian scheduled and charter airline headquartered in Mont-Saint-Guibert and based at Brussels South Charleroi Airport. Includes default A321 VC. Model by Thomas Ruth. Textures by Fougasses Design
Posted Mar 12, 2017 12:34 by Fougasses Design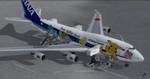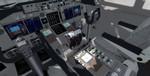 46.09Mb (1878 downloads)
FSX/P3D Boeing 747-400 ANA Pokemon 'Jet '98' Package. All Nippon Airways (ANA) operated the Boeing 747-400 between 1991 and 2011. Several aircraft were decorated with various Pokemon themes on the body and interior. Project Opensky Boeing 747-400 assembled and upgraded for FSX with the developed B747 VC (virtual 3d cockpit) from Alejandro Rojas Lucenda (Manual included). This is the Project Opensky FSX native Boeing 747-400 model, and includes ground cargo servicing, stairs (FSX - Go to Views - Instrument Panel -Posky Utility), fixed jetways and more. Included CF engine sounds from BrandonG, with realistic jet whine to make your flight sound great. Thank you to Project Opensky for their contributions to the worldwide community of flight simulation. I have added the realistic textures by thepilotchef. Also includes the Boeing 747 VC textures upgrade. This give a much clearer 747 interior virtual cockpit look. Zip preview for larger pictures. Assembled and edited for FSX by Chris Evans.
Posted Feb 22, 2017 12:56 by chris evans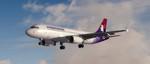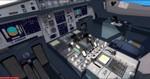 78.63Mb (3727 downloads)
FSX/P3D Airbus A320-200 Hawaiian Airlines package. Full working VC, working wipers, with groundhandling gauge and FMC. Added exits for Jetways (press Ctrl J) and better Thomas Ruth VC with updates by Chris Evans and Louis Quintero. Use FMC under Views/Instrument panel in FSX menu. (FSX : Go to Views -Instrument Panel. P3D: Go to Vehicle - Instrument panel), Custom CFM sounds. Also added jetway configs (Ctrl J). Model by Project Airbus. Added the great textures by Chance Whitman. Assembled for FSX/P3D by Chris Evans (VC textures fixed after some users reported problems but not all!)
Posted Jan 31, 2017 12:12 by chris evans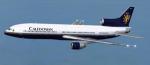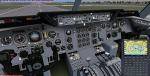 52.03Mb (4294 downloads)
Lockheed L1011-100 Tristar Caledonian "Loch Earn" package for FSX. British Airtours/Caledonian, operated 3 Lockheed L1011 100's in 1984. Includes VC. Model and VC by Thomas Ruth. Included Honeywell FMC by Garrett Smith. I included the great textures by Paul Craig. Custom packaged by Chris Evans (Textures fixed. Apologies for error)
Posted Jan 18, 2017 01:32 by chris evans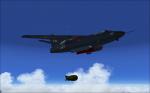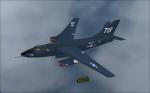 12.34Mb (3092 downloads)
Alphasim's classic rendition of this essential naval bomber, updated to FSX mdlX format, animations and materials. The largest aircraft ever designed for regular ship-board use, the A3D (A-3B, post 1962 tri-service) was designed by the brilliant Ed Heinemann at Douglas Aircraft. The navy 1949 specification was a demanding document, calling for a ship-board aircraft with medium bomber speed, warload and range. Most manufacturers responded with 120,000 lb behemoths, sea-going B-47's intended to operate from the then un-built super carrier United States. Heinemann thought BuAir had their heads up their auspufrhor's, and designed his bomber to fly off the Essex class ships at 70,000lbs. The rest is history. Huge Bravo_Zulu for Henk, Essex, Arno; and the crew at SOH and FSDevloper With the kind permission and encouragement of Phil at Virtavia.com A large thanks for Bob Chilco for the various flight dynamics and effects updates. Without help and support from these folks, none of this would happen. Works in FSX and P3D.
Posted Oct 13, 2016 06:10 by LLS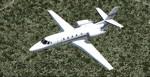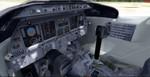 88.67Mb (2705 downloads)
Aryus Cessna 56X With VC. This aircraft was created by Alex Sandro Guedes Silva. Permission was given to convert it to FSX/P3D. It uses the stock Learjet 45 VC sounds by Christoffer Petersen. Paint Job Created by Jeffrey S. Bryner. Converted by Bigmike.
Posted Apr 30, 2016 01:56 by ChrisE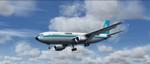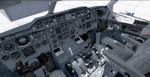 46.16Mb (1126 downloads)
FSX/P3D Airbus A300B4 Luxair package. The A300 is a short to medium range wide bodied jet airliner produced between 1971 and 2007. Luxair operated the 1 A300B4 in the 1970's/80's. Model and VC by Thomas Ruth. Added FMC by Garret Smith. I included the textures by Mike Pearson and custom CFM soundpack. Added correct jetway configs. Manual included. Zip preview for larger pictures. Assembled for Prepar3D and FSX by Chris Evans. Requires FSX Acceleration or Service packs installed
Posted Apr 27, 2016 10:03 by chris evans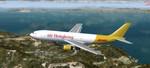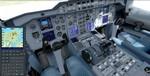 56.60Mb (1752 downloads)
FSX/P3D Airbus A300-600F Air Hong Kong package. Air Hong Kong is a Hong Kong based cargo airline, jointly owned by Cathay Pacific and DHL and operating throughout the East. Air Hong Kong currently (2016) operate 10 A300-600F aircraft. Model and VC by Thomas Ruth. Added FMC by Garret Smith. I included the textures by Volamus and custom CFM soundpack. Manual included. Zip preview for larger pictures. Assembled for Prepar3D and FSX by Chris Evans. Requires FSX Acceleration or Service packs installed
Posted Apr 26, 2016 05:52 by chris evans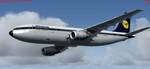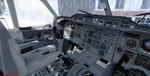 46.38Mb (2564 downloads)
FSX/P3D Airbus A300B4 Lufthansa package. The A300 is a short to medium range wide bodied jet airliner produced between 1971 and 2007. Lufthansa operated the A300 B4 between 1977 and 1987. Model and VC by Thomas Ruth. Added FMC by Garret Smith. I included the textures by Thomas La Gerfo and custom CFM soundpack. Added correct jetway configs. Manual included. Zip preview for larger pictures. Assembled for Prepar3D and FSX by Chris Evans. Requires FSX Acceleration or Service packs installed
Posted Apr 23, 2016 04:47 by chris evans