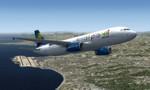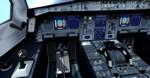 62.98Mb (861 downloads)
FSX/P3D>v4 Airbus A320-232 Small Planet Airlines package. Lithuanian airline, Small Planet Airlines is based in Vilnius Airport in Lithuania. As of April 2018, Small Planet operate 21 A320-200. Model by Project Airbus. Added the better Thomas Ruth VC with updates by Chris Evans and Louis Quintero. Use FMC under Views/Instrument panel in FSX menu. (FSX : Go to Views -Instrument Panel. P3D: Go to Vehicle - Instrument panel) I included the photo-realistic textures by Xudeva Irribarra and the A320 checklist by Werner Schott. A320 sounds by Jeffrey S Bryner. Includes FMC by Garret Smith. A320 sounds and manual included. Custom revised package by Chris Evans
Posted Apr 8, 2018 09:39 by chris evans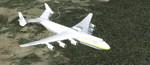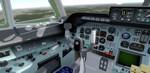 34.77Mb (10932 downloads)
Much worked on version of the AN-225 to make it more accurate, yet as easy to fly as the real "Dream" it was designed to be. Everything has been incorportated in this version in order to make this the best of the best AN-225 versions for FSX ever produced. This work required well over 50 flight test hours and thousands of dollars worth of research and skill. It's all free, and offered for educational use. Anyone who has flown the previous versions will see a huge improvement in all aspects now offered in this fully refurbished model, based entirely on modern design data and aerodynamic details offered only recently. This model includes all factual performance, weight/balance, and aerodynamic details, and realistic thrust points with high turn radius wheel design. This model is absolutely realist in ever aspect. Originally Created by: Thomas Ruth & Alexander Kvitta (2009), Sounds by: Mike Maarse, Panel by Philippe Wallaert, Real World Flight Aero/Engine Dynamics, Effects and Data by: Douglas E. Trapp. (Initial version had no VC gauges)
Posted Apr 8, 2018 02:48 by uploader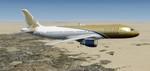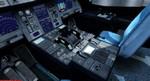 62.97Mb (937 downloads)
FSX/P3D>v4 Airbus 320-200 Gulf Air package. Gulf Air is the flag carrier of Bahrain and is based at Bahrain International Airport with destinations throughout the globe. As of April 2018, Gulf operate 16 A320-200 aircraft. Model by Project Airbus. Added the better Thomas Ruth VC with updates by Chris Evans and Louis Quintero. Use FMC under Views/Instrument panel in FSX menu. (FSX : Go to Views -Instrument Panel. P3D: Go to Vehicle - Instrument panel) I included the photo-realistic textures by Ben Jones the A320 checklist by Werner Schott. A320 sounds by Abid Mounir. Added wing views. Includes FMC by Garret Smith. A320 sounds and manual included. Custom revised package by Chris Evans
Posted Apr 5, 2018 06:41 by chris evans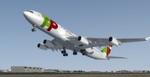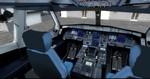 68.79Mb (2385 downloads)
FSX/P3D Airbus A340-300 TAP Air Portugal package. As of April 2018, TAP operate 4 Airbus A340-300 aircraft flying globally. These are due to be phased out in 2020. Model by Thomas Ruth. Added the better Thomas Ruth modified VC with latest updates by Chris Evans and Louis Quintero. Textures by Cillian Coleman. Incluced VC texture upgrade by Enrique Cornejo. Added correct jetway configs, wing views and wheel levels. Manual included. Assembled for FSX by Chris Evans.
Posted Apr 1, 2018 08:32 by chris evans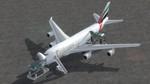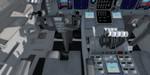 51.06Mb (1612 downloads)
FSX/P3D>v4 Boeing 747-400ERF Emirates SkyCargo Package. Emirates Skycargo is based in Dubai in the United Arab Emirates and is currently the world's 2nd largest cargo airline. As of March 2018, Emirates Sky Cargo operate 2 Boeing 747-400F flying to destinations throughout the world. Project Opensky Boeing 747-400 assembled and upgraded for FSX with the upgraded Boeing 747 internal cockpit (VC) from Alejandro Rojas Lucenda (Manual included). This is the Project Opensky FSX native Boeing 747-400F model, and includes ground cargo servicing, stairs (FSX - Go to Views - Instrument Panel -Posky Utility. P3D go to Vehicle - Instrument Panel -). Included CF engine sounds from BrandonG, with realistic jet whine to make your flight sound great. Thank you to Project Opensky for their contributions to the worldwide community of flight simulation. I have added the realistic textures by RyanC. Also includes the Boeing 747 VC textures upgrade. This give a much clearer 747 interior virtual cockpit look. Zip preview for larger pictures. Assembled and edited for P3D 3 / 4 & FSX by Chris Evans.
Posted Mar 31, 2018 07:42 by chris evans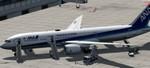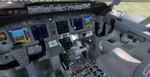 60.00Mb (1935 downloads)
FSX/P3D>v4 Boeing 787-9 All Nippon Airlines (ANA) Package. ANA is Japan's 2nd largest airline and is based at Tokyo–Narita and Tokyo–Haneda Airports. As of March 2018, ANA operate 27 Boeing 787-9 with a further 17 on order. The wonderful Boeing 787-9 from TDS will be enjoyed by many more people who do not know how to install a VC into a FSX native model. The VC is the Alejandro Rojas Lucena/FSND fantastic Boeing 737-800 VC cockpit blended with Ken Wiggington's revisions for the default B737 VC to make it more resemble a 787. This VC model includes Working wipers (right mouse click on switch) with rain effect. Switches for LCD Screens, EICAS, PFD, MFT. Autobrake switch. Opening pilots window. Cabin Lights switch. Realistic FMC. Ground Proximity Warning System (GPWS), More Realistic night VC textures. There are custom Boeing sounds included for that extra realism. I added the great textures by the Yuki Otsuka. TDS high spec. native FSX Boeing 787-9 model. See VC docs to get the best out of the VC and FMC. Prepared and assembled for P3D & FSX by Chris Evans.
Posted Mar 28, 2018 11:42 by chris evans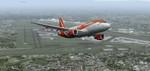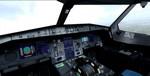 71.15Mb (2697 downloads)
FSX/P3D > v4 Airbus A319-100 Easyjet 'Amsterdam' package. Easyjet is Europe's 2nd largest airline in passengers carried after Ryanair and currently (March 2018) operates 91 Airbus A319. This aircraft, G-EZDN, was delievered in 2008 and is painted in the special 'Amsterdam Hub' livery. The Airbus A319-100 is part of the A320 family carrying up to 160 passengers and with a range of up to 6900km/4300miles. High quality FSX native model by Project Airbus. Added the better Thomas Ruth VC with updates by Chris Evans and Louis Quintero. Use FMC under Views/Instrument panel in FSX menu. (FSX : Go to Views -Instrument Panel. P3D: Go to Vehicle - Instrument panel) I included the photo real textures by Mathieu Vos. Includes FMC by Garret Smith. Airbus sounds and checklist included. Custom packaged by Chris Evans
Posted Mar 27, 2018 09:51 by chris evans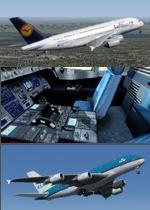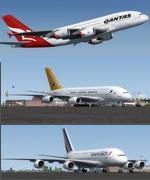 283.32Mb (9895 downloads)
FSX/P3D>v4 Airbus 380-800 Multi Livery pack (revised). Liveries include Lufthansa, Qantas, Emirates, China Southern, British Airways, Air France, DHL, Airbus House, 1st Flight, JAL, KLM, Korean, Lufthansa cargo, Malaysia, Singapore, Thai, UPS, Virgin. Model by Project Airbus. Added the better Thomas Ruth VC with updates by Chris Evans and Louis Quintero. Use FMC under Views/Instrument panel in FSX menu. (FSX : Go to Views -Instrument Panel. P3D: Go to Vehicle - Instrument panel) I included the photo-realistic textures by many. RR engine sounds. Includes built in FMC by Garret Smith. Original package by Larz. Custom revised package by Chris Evans
Posted Mar 25, 2018 17:21 by chris evans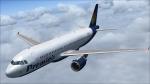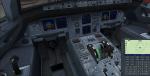 49.37Mb (586 downloads)
FSX/P3D Airbus 320-212 Premiair OY-CNC package. Premiair was a charter airline that was created by joining the older companies Scanair and Conair of Scandinavia. Premiair was wholly owned by Scandinavian Leisure Group.In 2002 Premiair changed its name to MyTravel Airways and later In 2008, was re-branded to Thomas Cook Airlines Scandinavia Based off the Project Airbus A320 - Uses the default A321 VC with added FMC, CFM56 engine sounds. Jetway configured (CTRL+J). Fully compatible with GSX,(FSX/P3D)
Posted Mar 25, 2018 16:13 by bexel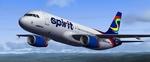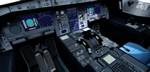 63.92Mb (1065 downloads)
FSX/P3D Airbus 320-200 Spirit Airlines package. Based at Miramar, Florida, Spirit Airlines is the US's 8th largest airline flying roputes throughout the US, South America and the Caribbean. As of March 2018, Spirit operate 52 A320 with a further 10 on order. Model by Project Airbus. Added the better Thomas Ruth VC with updates by Chris Evans and Louis Quintero. Use FMC under Views/Instrument panel in FSX menu. (FSX : Go to Views -Instrument Panel. P3D: Go to Vehicle - Instrument panel) I included the photo-realistic textures by Private Custard and the A320 checklist by Werner Schott. A320 sounds by Abid Mounir. Includes FMC by Garret Smith. A320 sounds and manual included. Custom revised package by Chris Evans
Posted Mar 24, 2018 12:43 by chris evans