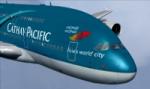 9.67Mb (9079 downloads)
A repaint of Project Airbus's wonderful Airbus A380. Model included in download.
Posted Oct 22, 2010 10:42 by Christian Silvers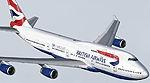 13.13Mb (6375 downloads)
Boeing 747-400 British Airways. Model by Project Opensky.
Posted Oct 10, 2010 04:11 by Ryan C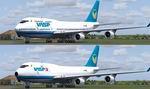 3.24Mb (1925 downloads)
VASP, TAM and Vaspex textures for the default Boeings 777-200 and 747-400.
Posted Oct 9, 2010 10:32 by Michel O Florindo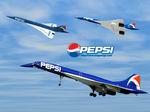 5.72Mb (6035 downloads)
Concorde Pepsi Textures. Textures only for the FS2004/FSX Concorde by Libardo Guzman.
Posted Oct 8, 2010 07:09 by unknown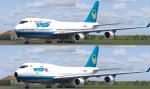 1.96Mb (696 downloads)
Vasp and Vaspex B747-400 textures only for the default Boeing 747-400. By Michel O.Florindo.
Posted Oct 5, 2010 11:22 by Michel O. Florindo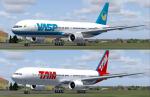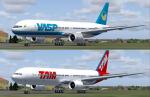 1.28Mb (1696 downloads)
VASP and TAM Boeing 777-300 textures only for the default Boeing 7777-300. By Michel O.Florindo.
Posted Oct 5, 2010 11:18 by Michel O.Florindo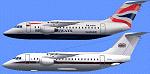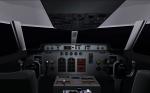 8.39Mb (9953 downloads)
The BAe 146 is a medium sized commercial aircraft, powered by four turbofan jet engines, which was manufactured in the United Kingdom by British Aerospace. Production ran from 1983 until 2002. In August 2008, a total of 140 BAE 146 aircraft (all variants) remained in airline service worldwide. The 146 has very quiet operation, it sees wide usage at small city-based airports. In its primary role it serves as a regional jet, short-haul airliner or regional airliner. Full package for FS2004 with custom panels and VC, full moving parts and air stairs. Realistic and pleasant flight dynamics. The package includes British Airways livery and the RAF CC2 variant with VIP interior. More liveries and paint kit available on the PAD web site. By Jean-Pierre Brisard and Bob May - Premier Aircraft Design.
Posted Oct 5, 2010 09:44 by bob.may@premaircraft.com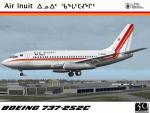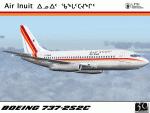 8.13Mb (1658 downloads)
I am proud to present this repaint of Air Inuit's Boeing 737-2S2 combi, registration C-GAIG. Air Inuit is based in Dorval, Quebec, Canada. It is wholly owned by the people of Nunavik through the Makivik Corporation. This aircraft flies into and out of Montreal's Pierre Elliott Trudeau International Airport (CYUL) to various destinations throughout Quebec. This aircraft began its service as N204FE (now registered as a B722F) flying for Federal Express. It was delivered to FedEx in September of 1979, making it over 31 years old. For this as with all of the aircraft I paint, I paid attention to detail and realism as much as possible and generated this repaint with realistic but not overstated details. The textures in this repaint are 32-bit. This is a textures only package; you must have the Tinmouse 737-200adv v2 base package and all updates to enjoy this repaint. Model by Tinmouse II Project, repaint by Jeffrey S. Bryner.
Posted Oct 2, 2010 16:56 by Jeffrey S. Bryner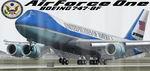 19.35Mb (13042 downloads)
FS2004/FSX Air Force One Boeing 747-8F Air Force One Boeing 747-8F,the most acurate paintalong with realistic shadow, shine and reflective effectsFeaturing 32bit Highly Detailed graphics with night light effects,The model includes all the usual things as a steering nosewheel, taxi and landing lights, dynamics shine and all moving parts, including a fully animated landing gear animation. Some special things include three opening doors, with visible interior. Flexing wings, wing views and trim animation for the horizontal stabilisers. Model, dynamics by: Project Opensky, Repaint By: Aziz Palas.
Posted Oct 1, 2010 09:07 by Aziz Palas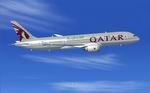 5.39Mb (1494 downloads)
FS2004 Qatar Boeing 787-8 V2. Versions 2 includes aircraft design improvements plus new animations. This CamSim Version 2 is also includes three aircraft with different Animated Ground Servicing (AGS) with Qatar new revised tail logo. No VC. Model design and paint by Camil Valiquette.
Posted Oct 1, 2010 08:18 by Camil Valiquette