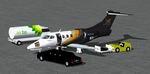 2.75Mb (3978 downloads)
FS2004 Executive Express Embraer Phenom 100 Biz Jet by CamSim, including exterior Animated Ground Servicing (AGS) and special interior animations and configuration: 4 passengers in seating position and 1 passenger who will stand up and walk back and forth in the cabin and return to is "seating position", plus pilot and co-pilot moving arms. For these animations press (Shift+E+2). Model design and paint: Camil Valiquette
Posted Nov 9, 2009 05:08 by Camil Valiquette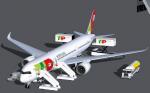 7.99Mb (4590 downloads)
FS2004 TAP Portugal Airbus A350-900 XWB V2. Versions 2 is an all new version of the A350-900 seen at the Paris Air Show 2009, with a new nose, new cockpit windows, new wings and winglets. This CamSim Version 2 is also includes three aircraft with different updated new Animated Ground Servicing (AGS). Model design and paint by: Camil Valiquette
Posted Oct 30, 2009 14:15 by CamSim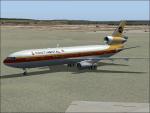 0.11Mb (2473 downloads)
FS2004 - SMS - MD-11 UPDATE. This file adds smoke effects configuration and new aircraft.cfg file with reworked flight dynamics. Requires "SMS-CAL-11" and "njs_final.zip" (BEAUTIFUL lights and smoke effects) by Nick Needham. By Libardo Guzman.
Posted Oct 27, 2009 13:19 by Libardo Guzman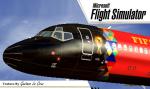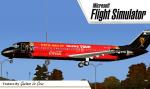 1.29Mb (1642 downloads)
DC-9-32 Global Aviation,ZS-GAJ Edition FIFA WORLD CUP. Textures only. Model by SGA, texture by Gustavo La Cruz. Needed files:
Posted Oct 27, 2009 00:38 by Gustavo La Cruz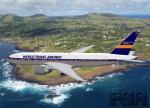 10.26Mb (2141 downloads)
World Travel Airlines textures only for the Project Open Sky 777-200. All 3 versions, GE, Trent and RR included. Repaint by Jason A. Lee. Requires any Project Opensky B777-200 as a base.
Posted Oct 25, 2009 07:16 by Paul Atreides

0.80Mb (475 downloads)
Textures for the default aircraft in the new Livery of Whitestar Airlines, a fictional carrier bassed at Southhampton International. Whitestar serves the U.K., U.S., Asia, and Australia. Repaint by Don Brynelsen
Posted Oct 21, 2009 13:30 by Don Brynelsen

1.28Mb (838 downloads)
Textures for the default 747 Jumbo in the new livery of Whitestar Airlines, a fictional carrier based at Southhampton International. Whitestar serves the U.K., U.s., Asia, and Australia. Repaint by Don Brynelsen using the paintkit by Rob Smith
Posted Oct 21, 2009 13:27 by Don Brynelsen

0.97Mb (499 downloads)
New livery for Whitestar Airlines, a fictional business class carrier based at Southhampton International that serves the U.K. and Europe. Repaint by Don Brynelsen using the paintkit by Rob Smith
Posted Oct 21, 2009 13:23 by Don Brynelsen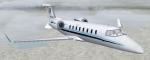 0.43Mb (1404 downloads)
Alternative textures to give you a change from the default "Nike Swoosh" Repaint by Don Brynelsen using the paintkit by Simon Jamie
Posted Oct 19, 2009 13:22 by Don Brynelsen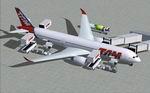 5.67Mb (6483 downloads)
FS2004 TAM Airbus A350-900 XWB V2. Versions 2 is an all new version of the A350-900 seen at the Paris Air Show 2009, with a new nose, new cockpit windows, new wings and winglets. This CamSim Version 2 is also includes three aircraft with different updated new Animated Ground Servicing (AGS). Model design and paint by: Camil Valiquette
Posted Oct 15, 2009 09:37 by Camil Valiquette