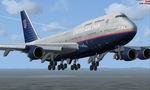 12.25Mb (3812 downloads)
United Airlines Boeing 747-400 Old Colors. Boeing 747-400 V4 Model by Project Opensky.
Posted Jan 31, 2009 10:01 by Ryan C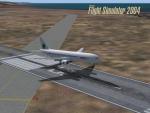 1.60Mb (950 downloads)
This is another repaint for the FS9 Default 777. The repaint is fictional, there is no Boeing aircraft in MEA service. However, there were Boeing aircraft operated in the past in the 1990s. A repaint has been portrayed if there were 777s in MEA service. Splash screen included. 777-300 Paint Kit by Rob Smith. Note: No detailing at the back of the fuselage due to reflections on one side of the fuselage. By Victor Vu.
Posted Jan 30, 2009 21:56 by Victor Vu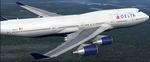 16.32Mb (2774 downloads)
Boeing 747-400 Delta Air Lines 2008 livery.Model by Project Opensky. Repaint by Saarth Sathey
Posted Jan 30, 2009 03:36 by John Paul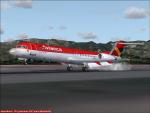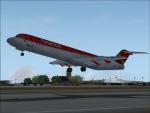 2.70Mb (4688 downloads)
Avianca HK-4444 textures only for the Project Fokker F100. Texture by Luis Fernando Quimbayo and Juan Pablo Rivera.
Posted Jan 27, 2009 16:30 by Luis Fernando Quimbayo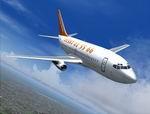 1.52Mb (779 downloads)
FS2004 VistaLiners Boeing 737-200 EasyJet G-BECG Circa 1996 Textures only. One should hardly be surprised that the world's most prolific manufacturer of commercial aircraft is also the producer of the world's most popular jetliner. The 737 became the best-selling commercial jetliner worldwide when orders for it hit 1,831 in June 1987 (surpassing Boeing's own 727 as the previous champ). However, it wasn't always that ways in the first few years of production, there were so few orders that Boeing considered canceling the program. They didn't, and the airplane has more than proven itself in over three decades of service.Requires the FREEWARE aircraft by Vistaliners. Repaint by Ben Hartmann
Posted Jan 27, 2009 05:35 by Ben Hartmann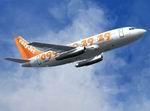 1.45Mb (1039 downloads)
FS2004 VistaLiners Boeing 737-200 EasyJet G-BECH Circa 1997 Textures only. One should hardly be surprised that the world's most prolific manufacturer of commercial aircraft is also the producer of the world's most popular jetliner. The 737 became the best-selling commercial jetliner worldwide when orders for it hit 1,831 in June 1987 (surpassing Boeing's own 727 as the previous champ). However, it wasn't always that ways in the first few years of production, there were so few orders that Boeing considered cancelling the program. They didn't, and the airplane has more than proven itself in over three decades of service.Requires the FREEWARE aircraft by Vistaliners. Repaint by Ben Hartmann
Posted Jan 27, 2009 05:33 by Ben Hartmann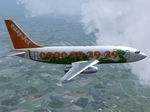 1.55Mb (1895 downloads)
FS2004 VistaLiners Boeing 737-200 EasyJet G-BECG 'Loch Ness' Circa 1997 Textures only. One should hardly be surprised that the world's most prolific manufacturer of commercial aircraft is also the producer of the world's most popular jetliner. The 737 became the best-selling commercial jetliner worldwide when orders for it hit 1,831 in June 1987 (surpassing Boeing's own 727 as the previous champ). However, it wasn't always that ways in the first few years of production, there were so few orders that Boeing considered canceling the program. They didn't, and the airplane has more than proven itself in over three decades of service.Requires the FREEWARE aircraft by Vistaliners. Repaint by Ben Hartmann
Posted Jan 27, 2009 05:32 by Ben Hartmann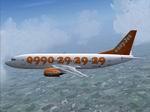 1.90Mb (1209 downloads)
FS2004 VistaLiners Boeing 737-300 EasyJet G-EZYA Circa 1998 Textures only. One should hardly be surprised that the world's most prolific manufacturer of commercial aircraft is also the producer of the world's most popular jetliner. The 737 became the best-selling commercial jetliner worldwide when orders for it hit 1,831 in June 1987 (surpassing Boeing's own 727 as the previous champ). However, it wasn't always that ways in the first few years of production, there were so few orders that Boeing considered cancelling the program. They didn't, and the airplane has more than proven itself in over three decades of service.Requires the FREEWARE aircraft by Vistaliners. Repaint by Ben Hartmann
Posted Jan 27, 2009 05:30 by Ben Hartmann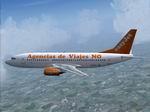 1.91Mb (1450 downloads)
FS2004 VistaLiners Boeing 737-300 EasyJet 'Agencias de Viages NO' Circa 2000 Textures only. One should hardly be surprised that the world's most prolific manufacturer of commercial aircraft is also the producer of the world's most popular jetliner. The 737 became the best-selling commercial jetliner worldwide when orders for it hit 1,831 in June 1987 (surpassing Boeing's own 727 as the previous champ). However, it wasn't always that ways in the first few years of production, there were so few orders that Boeing considered cancelling the program. They didn't, and the airplane has more than proven itself in over three decades of service.Requires the FREEWARE aircraft by Vistaliners. Repaint by Ben Hartmann
Posted Jan 27, 2009 05:29 by Ben Hartmann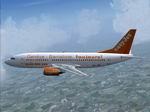 1.90Mb (2430 downloads)
FS2004 VistaLiners Boeing 737-300 EasyJet 'Geneve - Barcelona, Toujours!' Circa 2000 Textures only. One should hardly be surprised that the world's most prolific manufacturer of commercial aircraft is also the producer of the world's most popular jetliner. The 737 became the best-selling commercial jetliner worldwide when orders for it hit 1,831 in June 1987 (surpassing Boeing's own 727 as the previous champ). However, it wasn't always that ways in the first few years of production, there were so few orders that Boeing considered cancelling the program. They didn't, and the airplane has more than proven itself in over three decades of service.Requires the FREEWARE aircraft by Vistaliners. Repaint by Ben Hartmann
Posted Jan 27, 2009 05:27 by Ben Hartmann