0.75Mb (1192 downloads)
Escape to the sun aboard Sunchaser Airways! These textures represent a low cost carrier catering to those flying to Florida, Mexico, and the Bahamas.
Posted Apr 11, 2009 13:44 by Don Brynelsen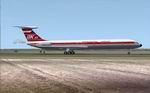 33.31Mb (11554 downloads)
Project Tupolev Ilyushin Il-62M, Version 1.03 - Ilyushin Il-62M Vim Airlines with several custom features (e.g. extendable/retractable landing light, tail support, etc.) - Captain, Copilot and Navigator Panel - custom Autopilot - authentic NV-PB Navigation System with several modes incl. the standard maneuver mode (rectangular approach pattern). - Interial Navigation System I-21 INS - KLN-90B GPS (Beta) - Weather radar 'Groza' - custom Joystick Setup device - a lot of unique features, e.g. landing gear tail support, custom elevator and stabilizer handling - continuous Flaps operation - authentic reverse thrust control (incl. opening/closing of reverser doors), reverse selectable when airborne - flight data recordeP - basic soundset (authentic soundset will follow soon) - preliminary manual. FS2004 aircraft. Includes 2d panel but no VC. ByStepan Gritsevsky and Michael Ackermann
Posted Apr 10, 2009 12:43 by Project Tupolev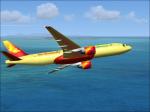 71.90Mb (2019 downloads)
Boeing 777-200 v2 for FS2004/FSX with 'Air-Butterfly' texture. Repaint by Monatbord Miguel. "Air-Butterfly" is a Virtual airline company. Includes a virtual cockpit model and a wings view model, both with Ground Service Vehicles when cargo door open. And more... Happy flights !
Posted Apr 7, 2009 19:12 by MONTABORD Miguel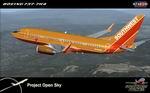 8.67Mb (7338 downloads)
Boeing 737-700 Southwest N748SW Old Colors. This package contains N748SW in the old colors with Southwest.com winglets. Features: Dynamic flexing wings that respond to turbulence. Fully Animated control surfaces, pushback truck with animated ground crew, opening doors & cargodoors, accurate FDE, highly detailed textures, etc... This package includes the winglet (no eyebrow) model. Model Builder: Hiroshi Igami and supported by Project Opensky members
Posted Apr 7, 2009 04:19 by John Paul

15.24Mb (2370 downloads)
Boeing 747-400FV4 JAL Cargo Silver. Boeing 747-400 V4 model by Project Opensky.
Posted Apr 7, 2009 04:17 by RyanC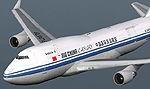 12.64Mb (4039 downloads)
Boeing 747-400SF Air China Cargo. Original Boeing 747-400 V4 model by Project Opensky.
Posted Apr 4, 2009 17:38 by RyanC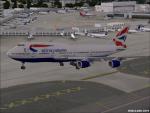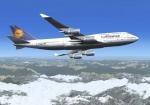 0.13Mb (4607 downloads)
Flying around with the default Boeing 747-400, I realized that some things were very unrealistic. Take for example, the braking distance. It's way too short. Among the things I changed were; gear warnings, flap speeds, reversers, and a few autopilot things.
Posted Apr 3, 2009 17:45 by Joshua Gallaher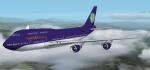 1.79Mb (984 downloads)
Starting with a Colorado gold strike in the 1870's the O'Donoghue family built a business empire that came to be symbolized by a golden letter "O" emblazoned on a map of the world. Today their decendents maintain stewardship over this empire, flying to it's far corners aboard this specially fitted out Jumbo Jet. Repaint by Don Brynelsen.
Posted Apr 1, 2009 12:52 by Don Brynelsen

1.32Mb (539 downloads)
A tribute to the Artist Charles Dana Gibson and his enduring creation, the "Gibson Girl". Textures for the default 747 repainted by Don Brynelsen.
Posted Apr 1, 2009 12:48 by Don Brynelsen

0.79Mb (528 downloads)
The default Boeing done up in my interpretation of the colors of American Pacific, one of the airlines from the sim. Repaint by Don Brynelsen
Posted Apr 1, 2009 12:45 by Don Brynelsen