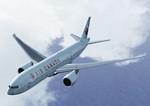 20.53Mb (957 downloads)
Air Canada Boeing 777-200LR. Model created by Skyspirit and textures by Megan Kelly.
Posted Jul 15, 2014 07:31 by chris E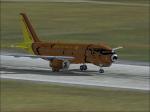 13.33Mb (558 downloads)
iFDG Airbus a-319 model German wings 'Bearbus' textures. I hope you like it. This is an actual Germanwings A319 livery. Textures by Bojan. Model by Albaro Villegas and Ric Barker
Posted Jul 11, 2014 07:52 by Bojan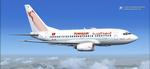 15.42Mb (999 downloads)
Tunisair Boeing 737-600. Model by Project Opensky. Textures by Xudeva Irribarra
Posted Jul 10, 2014 08:53 by chris E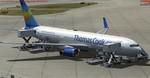 12.47Mb (1334 downloads)
Boeing 767-31K/ER Thomas Cook Heart WL Package. SkySpirit2010 767-300 v5. Model features High resolution textures, Dynamic flexing wings, Body gear steering, Nose gear steering, Rudder lock, Ground spoilers, Low speed aileron locks at high speed, Fully animated control surfaces, Fully independent suspension, Trim Animation, Opening Passenger Doors, Animated tilting bogies, Rolling wheels, Animated thrust reverser's with reverser block doors, Detailed textures, Full night lighting, Crash affects, Ground Service Vehicles And more. Model Designer Hiroshi Igami/Yosuke Ube. Flight Dynamics Designer Warren C. Daniel and Brandon Henry. Textures by Philip Foglar. Livery by Kyle Schurb.
Posted Jul 9, 2014 07:28 by chris E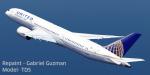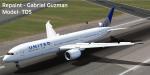 26.94Mb (4316 downloads)
FS2004 United Airlines Boeing 787-9, registration N38950. N38950 was the first B787-9 delivered to United. Model developed by Tenkuu Developers Studio (TDS). Model features high resolution textures, dynamic flexing wings, body gear steering, nose gear steering, rudder lock, ground spoilers, low speed aileron locks at high speed, fully animated control surfaces, fully independent suspension, trim animation, opening passenger doors, animated tilting bogies, rolling wheels, animated thrust reversers with reverser block doors, detailed textures, full night lighting, ground service vehicles and more. Model design by Hiroshi Igami/Yosuke Ube. Flight dynamics design by Maurino M-Bezel Brown, Nick Wilkinson. Master Textures by Yosuke Ube. Livery by Gabriel Guzman.
Posted Jul 9, 2014 00:00 by Gabriel Guzman

12.17Mb (1212 downloads)
Iberia Boeing 747-8 Intercontinental V4B for FS2004 ONLY The Boeing Company - Iberia Livery by Xudeva Irribarra. Model by Skyspirit/Project Opensky
Posted Jul 8, 2014 05:58 by chris E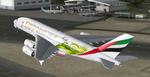 21.94Mb (4429 downloads)
Airbus A380-800, Emirates "2014 FIFA World Cup Brazil" A6-EEQ. Model by Project Airbus. Textures by Stefan Bree.
Posted Jul 7, 2014 05:19 by chris E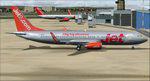 8.57Mb (1660 downloads)
Project Opensky Boeing 737-800 Jet2.com for Microsoft Flight Simulator 2004. Author: Mathieu Vos
Posted Jul 5, 2014 11:46 by chris E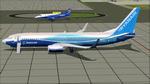 7.47Mb (1536 downloads)
Boeing 737-800WL Ryanair dreamliner livery painted on the Project Opensky model. Textures by Mathieu Vos
Posted Jul 5, 2014 07:53 by chris E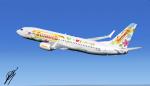 76.02Mb (803 downloads)
This is the Boeing 737-800 of the Tenkuu Developers Studio team. Adapted for FS9. But also for FSX use. The Repaint contains the Transavia Sunweb Livery 2014. This year 2 transavia aircraft will fly in this livery. The registration is: PH-HZG Model Included. Also B737-800 2d panel and CFM-56 sound are included. i used the paintkit made by Kyle Schurb. Repaint by Mees Jansen (LRI)
Posted Jul 2, 2014 21:07 by Mees Jansen