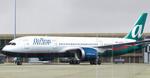 14.72Mb (810 downloads)
FS2004 AirTran Airways B787-8 GENx AirTran Airways B787-8 GENx, Model features high resolution textures, dynamic flexing wings, body gear steering, nose gear steering, rudder lock, ground spoilers, low speed aileron locks at high speed, fully animated control surfaces, fully independent suspension, trim animation, opening passenger doors, animated tilting bogies, rolling wheels, animated thrust reversers with reverser block doors, detailed textures, full night lighting, ground service vehicles and more. Model design by Hiroshi Igami/Yosuke Ube. Flight dynamics design by Maurino M-Bezel Brown, Nick Wilkinson. Master Textures by Yosuke Ube. Livery By: Aziz Polash.
Posted Aug 4, 2014 06:37 by chris E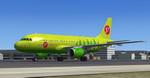 8.80Mb (775 downloads)
Airbus A319 S7 Siberia Airlines for FS2004. OJSC Siberia Airlines, operating as S7 Airlines, is an airline headquartered in Novosibirsk Oblast, Russia, with offices in Moscow. As of 2008 it was Russia's biggest airline, based on number of domestic passengers. Model by Project Airbus. Textures by Daniel Alamilla.
Posted Aug 3, 2014 04:40 by chris E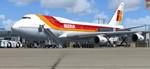 10.96Mb (1426 downloads)
Boeing 747-400 Iberia. Model by Project Opensky. Iberia textures by Xudeva Irribarra
Posted Aug 1, 2014 11:16 by chris E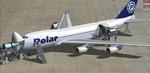 10.56Mb (1078 downloads)
Boeing 747-400F Polar Air Cargo Package with Advanced VC. this is a repaint of the posky 747-400F v4 in the current Livery version by Xudeva Irribarra
Posted Aug 1, 2014 00:02 by chris E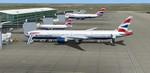 15.75Mb (1402 downloads)
Boeing 777-300ER British Airways G-STBJ. Model by Skyspirit. Textures by Stephen Groom.
Posted Jul 30, 2014 21:30 by chris E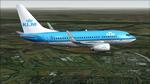 13.51Mb (1795 downloads)
Boeing 737-600 fictional KLM colors. Model byProject Opensky. Painted by Mathieu Vos
Posted Jul 29, 2014 00:42 by chris E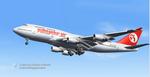 11.72Mb (558 downloads)
FS2004 Pullmantur Air Boeing 747-412. A repaint for the Project Open Sky B747-400 v4. By Xudeva Irribarra.
Posted Jul 27, 2014 00:18 by chris E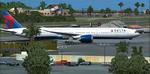 15.66Mb (2618 downloads)
FS2004 Delta Airlines B777-9X. Boeing launched the B777-9X at the Dubai Air Show on Sunday 17th was the official day of the launch of the Boeing 777-9X. Model by Hiroshi Igami. Features: dynamic flexing wings, body gear steering under 15kt above 1kt, nose gear steering under 60kt above 1kt, rudder lock under 60kt above 1kt, ground spoiler only works on ground, low speed aileron locks at high speed, fully animated control surfaces, fully independent suspension, trim animation, opening passenger doors, animated tilting bogies, rolling wheels, animated thrust reversers, detailed textures, full night lighting, crash affects, ground service vehicles when cargo door open and more. By: Aziz Polash
Posted Jul 26, 2014 02:12 by chris E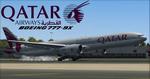 16.93Mb (2319 downloads)
FS2004 Qatar Airways B777-9X. Boeing launched the B777-9X at the Dubai Air Show on Sunday 17th was the official day of the launch of the Boeing 777-9X. Model by Hiroshi Igami. Features: dynamic flexing wings, body gear steering under 15kt above 1kt, nose gear steering under 60kt above 1kt, rudder lock under 60kt above 1kt, ground spoiler only works on ground, low speed aileron locks at high speed, fully animated control surfaces, fully independent suspension, trim animation, opening passenger doors, animated tilting bogies, rolling wheels, animated thrust reversers, detailed textures, full night lighting, crash affects, ground service vehicles when cargo door open and more. By: Aziz Polash
Posted Jul 26, 2014 02:09 by chris E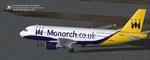 10.64Mb (1403 downloads)
A320-214 Monarch Airlines. Model by Project Airbus. Monarch is a British airline based at Luton Airport, operating scheduled flights to destinations in the Mediterranean, Canary Islands, Cyprus, Egypt, Greece and Turkey, with additional charter services to Europe, the United States, the Caribbean, India and Africa. Repaint by Xudeva Irribarra
Posted Jul 23, 2014 20:54 by chris E