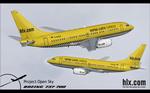 9.05Mb (457 downloads)
Boeing 737-700 Hapag-Lloyd Express. Hapag-Lloyd Express (previously also marketed as HLX.com) was a no-frills, high-frequency, express airline based in Langenhagen, Germany. It operated services within Germany and to destinations in Europe. In a January 2007 restructuring, it combined its operations with Hapag-Lloyd Flug to become TUIfly. Model by Project Opensky. Textures by Corey Ford.
Posted May 8, 2014 11:34 by chris E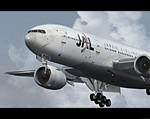 15.34Mb (1462 downloads)
FS2004 Boeing 777-289 Japan Airline Arc Sun livery, registration JA009D, with PW engines. Seen previously as the JAS Rainbow aircraft, this 777 has also seen two more liveries, including the Arc sun livery and JAL's new Crane livery. This livery is one that includes mostly a dirty aircraft, however, she still is a good one to add to your JAL fleet. SkySpirit2012 777-200 model included. By Megan G. Kelly.
Posted May 8, 2014 05:15 by chris E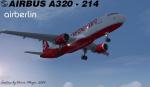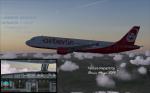 31.98Mb (3459 downloads)
Airbus A320-200 Air Berlin Merged BER ETH livery. Repaint by Mathieu Vos.
Posted May 8, 2014 03:11 by Denis Meyer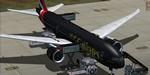 15.37Mb (1727 downloads)
FS2004 Emirates B777-200LR Black Livery, Model features include fully animated control surfaces, fully independent suspension, main gear steering, trim animation, opening passenger doors, opening cargo doors, dynamic flexing wings, animated tilting bogies, rolling wheels, animated thrust reversers, fully reflective textures (each part has different degree of reflection based on material), accurate flight dynamics (accurate FDE with full profiles for wheels, tires, struts, leading/trialing struts, engine types; tested by real pilots), newly re-defined individual part damage profiles, accurate spoiler animation, detailed textures, full night lighting, visible landing lights from the cockpit, reflective cockpit windows, crash effects, transparent nav light lenses, newly re-defined individual part damage profiles. Model, dynamics by Project Open Sky, repaint by Aziz Polash.
Posted Apr 29, 2014 06:56 by chris E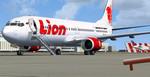 6.93Mb (1609 downloads)
Boeing 737-900ER Lion Air 50th Aircraft. Model by Project Opensky.
Posted Apr 25, 2014 09:10 by chris E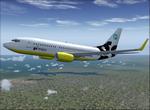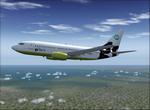 132.27Mb (445 downloads)
TDS Boeing 737-700 Go textures pack. This Package contains 16 different liveries for the TDS Boeing 737-700. Liveries are based on 737-300. Model not included! Repaints made for FS2004 (not tested in FSX). Liveries painted by Pascal Disch, Model design by Hiroshi Igami. Flight dynamics design by Nick Wilkinson and David Biggar. Paint Kit by Kyle Schurb.
Posted Apr 23, 2014 11:27 by chris E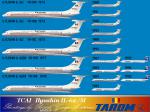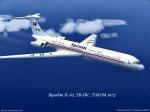 4.87Mb (571 downloads)
FS2004 Tarom Ilyushin IL-62/M. First two Il-62s were delivered to Tarom in April 1973 (YR-IRA and YR-IRB) and the third in April 1975 (YR-IRC). Subsequently received two "Il-62 M" (in September 1977 - YR-IRD, in December 1978 - YR-IRE). Used on middle, long-hauls for about 20 years were withdrawn in the mid 90s. Unfortunately, some Tarom Il-62s were scrapped and other sold. TCAI Ilyushin IL-62 /M basepacks are available separately. Textures by Patrick-George Mititeanu.
Posted Apr 13, 2014 01:16 by Patrick-George Mititeanu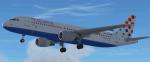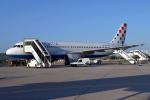 7.34Mb (1186 downloads)
Project Airbus A320 Repaint by Filip Bastalic REGISTRATION: 9A-CTK (Split)
Posted Apr 10, 2014 15:07 by Filip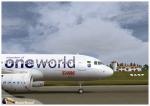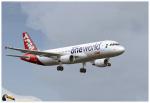 11.03Mb (1037 downloads)
Tam is a Brazilian airline, the largest in Latin America and one of the 20 largest world. Is a leader in passengers carried across the southern hemisphere. TAM One World photoreal textures in 32 bit format for the freeware Project Airbus A320 v2.1 (model not included). Repaint by: Manuel Jose Larrahondo Burgos, Contact Ground. Happy flights.
Posted Apr 6, 2014 16:19 by Manuel Jose Larrahondo Burgos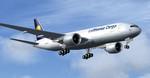 13.24Mb (4085 downloads)
Lufthansa Cargo Boeing 777-FBT (D-ALFA). Lufthansa Cargo livery painted on SkySpirit2012 Boeing 777-200 Freighter aircraft. The textures are saved in 32bit format for quality graphics. Its features are opening doors & cargo doors, detailed textures, accurate paint, dynamic shine & effects, dynamic flexing wings that respond to turbulence, fully independent suspension, trim animation, gear steering, accurate flight dynamics, spoiler animation, reflective cockpit windows, crash effects, animated tilting bogies, full night lighting, ground service vehicles when cargo door open, transparent navigation light lenses and many more. Abdullah Rahman
Posted Apr 6, 2014 02:33 by chris E