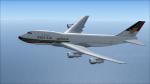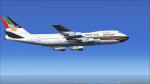 6.89Mb (157 downloads)
This is a repaint of the 747-200 in Gulf Air colors. The freeware 747-200 v4 by Project Open Sky - POSKY is needed for this repaint. The model needed is "OS742V4_JT9D". Gulf Air leased a couple of 747-200s in the mid 1980s. They never purchased this type outright. This repaint was tested on P3D v3 and FSX (will not work in P3Dv4+).
Posted Jun 29, 2018 00:00 by Ted Giana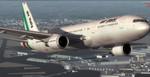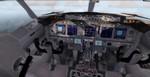 72.12Mb (1807 downloads)
FSX/P3D >v4 Boeing 767-300ER Air Italy package. Air Italy is, not surprisingly, an Italian airline and is based at Olbia Costa Smeralda Airport flying to destinations over Europe, the US, South America, Africa, Russia and Thailand. As of June 2018, Air Italy operate 3 Boeing 767-300. Package includes Boeing 767 2d panel as well as the advanced 737-800 VC added. Includes utility for ground services, cargo, stairs, etc (FSX find it under - Views/P3D Vehicle - Instrument panel - - Posky Utility) The layout fof the 767 cockpit is not a million miles away from the advanced 737-800. Added the Philippe Wallaert Boeing 767 2d panel plus Alejandro Rojas Lucena/FSND fantastic revised Boeing 737-800 VC model. Added HUD. This VC model includes Working wipers (right mouse click on switch) with rain effect. Switches for LCD Screens, EICAS, PFD, MFT. Autobrake switch. Opening pilots window. Cabin Lights switch. Realistic FMC. Ground Proximity Warning System (GPWS), More Realistic night VC textures. There are custom Boeing sounds included for that extra realism. Jetways also edited (Ctrl j). Exits, wheel levels and views corrected for FSX/P3d. I have added the high quality textures by Kevin Goolaerts and added 767 sounds for more realism. Fixed viewpoints and jetways. Added wing views. See VC docs to get the best out of the VC and FMC. Packaged for P3D/FSX by Chris Evans
Posted Jun 27, 2018 12:58 by chris evans
71.32Mb (1285 downloads)
FSX/P3D>4 Airbus A320-232 Volaris Airlines package. Low cost carrier Volaris is Mexico's 2nd largest airline based in Mexico City and flying to destinations around Latin America and the USA. As of June 2018, Volaris operate 43 A320-200 with orders for 8 more. Model by Project Airbus. Added the better Thomas Ruth VC with updates by Chris Evans and Louis Quintero. Use FMC under Views/Instrument panel in FSX menu. (FSX : Go to Views -Instrument Panel. P3D: Go to Vehicle - Instrument panel) I included the textures by Manuel Jose and the A320 checklist by Werner Schott. A320 sounds by Abid Mounir. Includes FMC by Garret Smith. A320 sounds and manual included. Custom revised package by Chris Evans Tested with P3D4 but should be fine in FSX and earlier P3D versions
Posted Jun 26, 2018 11:17 by chris evans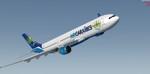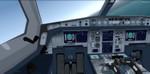 61.52Mb (1759 downloads)
FSX/P3D>v4 Airbus A330-300 Air Caraibes package for FSX. Air Caraibes is a French Caribbean airlines based in Guadeloupe and Martinique. As of June 2018, Air Caraibes operate 4 A330-300 flying to destinations mainly around the Caribbean but also to Paris. Model by Thomas Ruth. Added the better Thomas Ruth modified VC with latest updates by Chris Evans and Louis Quintero. I added the great textures by unknown. Includes built in FMC by Garret Smith. Fixed contact points so wheels do not sink into concrete. FMC will display in VC. Includes A330 manual. Custom A330 sounds included. FSX : requires either FSX Acceleration or Service packs 1 & 2. Assembled and tested in P3Dv4 by Chris Evans Should also be fine in FSX and earlier P3D versions.
Posted Jun 25, 2018 12:50 by chris evans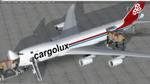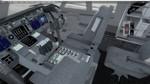 77.60Mb (2483 downloads)
FSX/P3D>v4 Boeing 747-8F Cargolux Package. Based at Luxembourg Airport, Luxembourg, Cargolux flies to destinations all over the world. As of June 2018, Cargolux operate 14 Boeing 747-8F and was a launch customer of the type. Project Opensky Boeing 747-8F FSX native model assembled and upgraded with the upgraded Boeing 747 internal cockpit (VC) from Alejandro Rojas Lucenda (Manual included). Model includes opening cargo doors, stairs (FSX - Go to Views - Instrument Panel -Posky Utility. P3D go to Vehicle - Instrument Panel -). Included CF engine sounds from BrandonG, with realistic jet whine to make your flight sound great. Added the great textures by Paul Graig. Thank you to Project Opensky/Skyspirit for their contributions to the worldwide community of flight simulation. Package includes 747 manual. Also includes the Boeing 747 VC textures upgrade. This give a much clearer 747 interior virtual cockpit look. Zip preview for larger pictures. Assembled and edited for P3D (all versions) & FSX by Chris Evans.
Posted Jun 24, 2018 13:48 by chris evans
120.46Mb (2865 downloads)
First prototype of the 747, which introduced the era of the jumbo jet almost 50 years ago! Final version from my side of this mod with many improvements like better readable gauges for the VC FE panel, new 747 classic engine gauges for 2d and VC main panel and others! Pease take a look into the documentation folder for more info! Again many thanks to Christian Koegler from the RFP team for the permission to publish this mod with their 747-200 with VC model, to Barnaby Britton for his permission to use his great "RA001, the first jumbo jet" Flight engineer panel photo as 2d & VC FE panel background, Dietmar Loleit for his still great working TCAS, Jacob Larsen and Anthony Eades for the very useful V speeds callout gauge, Charles Owens for his innovative icing mod and last but not least Mike Maarse for his "it will knock your socks off" Pratt & Whitney soundset! I have reworked two panels for this mod! Installed as default is the "Norm" panel without a lot of bells and whistles, the second is the "FEMod" panel with a bit more complexity and gadgetry! Both panels are also preconfigured to use them with the great freeware CIVA INS by Marco Ravanello & Gianfranco Corrias! Tested only in FSX & Acceleration!
Posted Jun 22, 2018 17:16 by Andiroto
80.58Mb (2585 downloads)
FSX/P3D >v4 Airbus A319-100 Lufthansa 2018 Livery package. Lufthansa currently (June 2018) flies 30 Airbus A319-100. The Airbus A319-100 is part of the A320 family carrying up to 160 passengers and with a range of up to 6900km/4300miles. High quality FSX native model by Project Airbus. Added the better Thomas Ruth VC with updates by Chris Evans and Louis Quintero. Use FMC under Views/Instrument panel in FSX menu. (FSX : Go to Views -Instrument Panel. P3D: Go to Vehicle - Instrument panel). I added the photo real textures by JA Lopez. Includes FMC by Garret Smith. Airbus sounds and checklist included. Custom packaged by Chris Evans
Posted Jun 22, 2018 09:38 by chris evans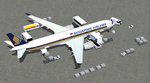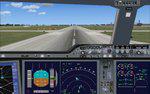 7.25Mb (821 downloads)
FSX Singapore Airlines Airbus A350-900 ULR (Ultra Long Range) V5L. Night lighting effects have been upgraded, also featuring the newest winglets and a new 2D panel. Including CamSim's own static displays and Animated Ground Servicing (AGS). 2d panel but no VC. Model design and paint by Camil Valiquette.
Posted Jun 22, 2018 03:16 by Camil Valiquette
68.93Mb (2006 downloads)
FSX/P3D>v4 Bombardier CRJ-700 Air Nostrum/Iberia Regional package. Iberia Regional/Air Nostrum is the regional Spanish airline of Iberia and currently (June 2018) operate 42 Bombardier CRJ-200, 900 and 1000 but not as yet the 700, to destinations around Europe as well as Algeria and Morocco. FSX Native model by Project Opensky with VC. Brilliant new upgraded VC by David Hoeffgen , includes built in FMC, working wipers and more (see VC docs in folder). High quality model with opening doors and stairs. All credit to the fantastic talents of the Project Opensky team. Thanks to Torsten Marke for the great textures. Other updates by Chris Evans.
Posted Jun 20, 2018 09:53 by chris evans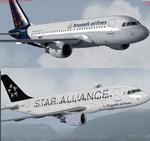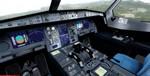 75.75Mb (1921 downloads)
FSX/P3D > v4 Airbus A319-100 Brussels Airlines twin package. Standard and Star Alliance liveries. Based at Brussels International Airport, Brussels Airlines flies to destinations all over Europe as well as North Africa and as far as India. As of June 2018, Brussels operate 22 A319-100, one in Star Alliance livery. The Airbus A319-100 is part of the A320 family carrying up to 160 passengers and with a range of up to 6900km/4300miles. High quality FSX native model by Project Airbus. Added the better Thomas Ruth VC with updates by Chris Evans and Louis Quintero. Use FMC under Views/Instrument panel in FSX menu. (FSX : Go to Views -Instrument Panel. P3D: Go to Vehicle - Instrument panel) I included the photo real textures by Vital Vanbeginne and Bart De Bruyn. Includes FMC by Garret Smith. Airbus sounds and checklist included. Custom packaged by Chris Evans
Posted Jun 19, 2018 10:01 by chris evans